Description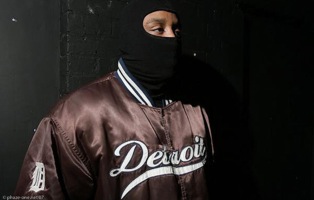 in cahoots with
drumro[ll] & Article
DJ Stingray
Ryan Elliott
The Black Dog
Forgemasters
Sheffield and Detroit. Two cities whose industrial decline has been offset by a surge in creativity, pioneering hubs of electronic music that in place of cars and cutlery now export some of the most important records in the world. Sensoria,

drumro[ll] and Article Magazine bring together some of the most important acts from each city for an all-night dancing party that showcases each city's sounds in an old warehouse that used to produce cutlery, and now makes techno. Ace.
---------------------------
DJ Stingray:
Taught to play records by one Kenny Dixon Jr (aka the marvelous Moodymann), a collaborator with Carl Craig and Antony 'Shake' Shakir and the tour DJ for Drexciya, it's safe to say that Sherard Ingram is one of Detroit's most exciting exports - a man who's seen it all and done even more. Whether under his marine moniker or as Urban Tribe, DJ Stingray has taken the 4/4 through some of it most elegiac, elastic and exciting forms, all while masked up in a sweaty balaclava.
Ryan Elliott:
Your don't get much more Michigan than Ryan Elliott. A former car salesman who traded in a jet-setting life shilling Detroit's best-known export for a jet-setting life shilling its second. He's a member of the city's second wave, coming across the sea with Ritchie, Magda and pals to set up Berlin as the bastion of a machine-driven techno that drips with soul. His sound is deep, dark and dubby, Detroit as imagined through a European prism. As a resident in his adopted continent's most famous all-night decadence spot, Ryan's veins flow with a blend of Berghain's blood and Michigan's motor oil.
The Black Dog:
As anyone who attended drumro[ll]'s Park Hill shindig last year can attest, The Black Dog are techno in its most thudding and scudding form. True electronic pioneers, they've spent two decades putting out genre-defining records from their base in Sheffield's former industrial district. Their most recent Liber releases showcased a Steel City take on the sounds pounding out of Berlin and has seen them tour through Berghain, Moscow and onwards in a charge of stainless, brutal techno music.
Forgemasters:
Twenty-three years ago, three men from Sheffield distributed 500 copies of the first single from a new Sheffield record label in the back of a borrowed car. The double-sided 'Track With No Name' was the humble opening for a record label that has since been the home for the most vital and innovative records ever pressed to wax. Forgemasters and Warp brought Sheffield bleep techno into the public consciousness, and we're more than a wee bit excited to have them bringing that noise to our warehouse.
---------------------------
Article Magazine will be filling the CADS complex with an array of visuals, showing the parallels between these two former industrial powerhouses and their respective progression. The venue is as much a part of this event as the artists, and to have not only the best venue in Sheffield but also one that embodies the death of Sheffield's manufacturing wraps things up rather elegantly, no?
Tickets are available for £9.50 advance and £12 on the door. This is a unique party, so buy early or you'll be standing out in the cold, lonely and sad. Also available from Bungalows & Bears.
Event devised by Alex Keegan.
Part of Sensoria's Listening to the City programme strand.
Organizer of Motor City vs. Steel City