Description
Wow! Heffers is lucky enough to be welcoming award-winning author Tracey Corderoy to the children's department where you can join her for a reading from her new book, Mouse's Night Before Christmas, and take part in a festive craft activity!
It's Christmas Eve and everyone is fast asleep . . . except for a lonely mouse who lives in the grandfather clock. So when Santa arrives, lost in a blizzard, Mouse is the only one who can show him the way. Together they embark on a magical sleigh ride, delivering presents all around town. But the best present of all is for Mouse . . . a special friend to share Christmas Day with.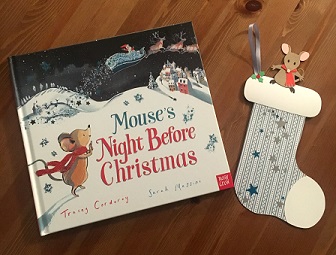 Please note, booking is essential as spaces are limited. There will be two sessions - one at 2pm and another starting at 3pm, so make sure you book a ticket for the time you would like to come! There is a small charge of £3 per ticket (one ticket required per child) but this is redeemable when buying a copy of Mouse's Night Before Christmas, which you can get signed by Tracey!
Tickets can be booked through this page, by calling 01223 463200 or in person at Heffers bookshop.
Like this? See a full list of our forthcoming events by clicking here.