About this Event
**This event will be recorded and a playback will be available to ticket buyers for up to 7 days after the event.**
Beginning with Shiva Rea presenting Prana Flow - Vinyasa & Mudra as Movement Meditation in Soulful Times​, gently flowing Oasis of Sound, a sound bath led by festival favourite Anne Malone.
Prana Flow - Vinyasa & Mudra as Movement Meditation in Soulful Times
Join us for a juicy gathering to create a home sanctuary for all.
Experience the alchemy of yoga, movement, mudra, meditation to recalibrate
our system to the rhythms of life.
Dive into a retreat-style regenerative full-spectrum practice of Prana Vinyasa
Flow with global founder Shiva Rea.
Our retreat will include a 1 hour full spectrum solar-lunar prana vinyasa
with an alchemical global rhythmic soundscape landing in a guided shavasana
with the healing sound bath of Anne Malone. After we will share a cup of tea
for those that want to be together in soulful conversation.
Prana Flow ...
Prana Flow focuses on the art of flow to harmonise your brain wave, heart
rhythm and feeling state to caress stress and move into an optimal regenerative
state for your health and well-being. Curated for energetic balance and
sequenced for all levels, Shiva will invite you to enter vinyasa as movement
meditation for listening, whole-body connection and regeneration.
Prana Flow cultivates the unifying state of yoga focusing on
• kinesthetic knowing
• rhythmic movement patterns
• intelligent, creative sequencing for all levels
• integrating strength + fluidity, relaxation in action
• embodying cellular wisdom and regenerative states
Oasis of Love
a Journey into the Heart of Sound
SoundBath with Anne Malone
... drifting delicately from Shiva's alchemical global rhythmic flow n
soundscape we will fall into the magical healing sounds of Oasis Sound ... a
simple yet profound way to connect with the core of our being and tune our
body at a cellular level through the gentleness of its resonance. As you relax
and bathe in the exquisite healing sounds and vocal tones, releasing stress and
blockages using healing sounds of Tibetan Singing Bowls, Gong, Celtic Drum,
Rainstick, Vocal Toning and Mantra … the SoundBath gently 'retunes' you with
healing sounds and song ...
Sound Healing is all about vibration, instrument and intention ... every sound is
vibration and vibration touches every cell in our body, every sound that has
loving intention is a Healing Sound ... therefore we not only hear sound, we feel
it physically, emotionally and soulfully.
The only side affect is happiness and harmony!
This event will be recorded and a playback will be available to ticket buyers for up to 7 days after the event.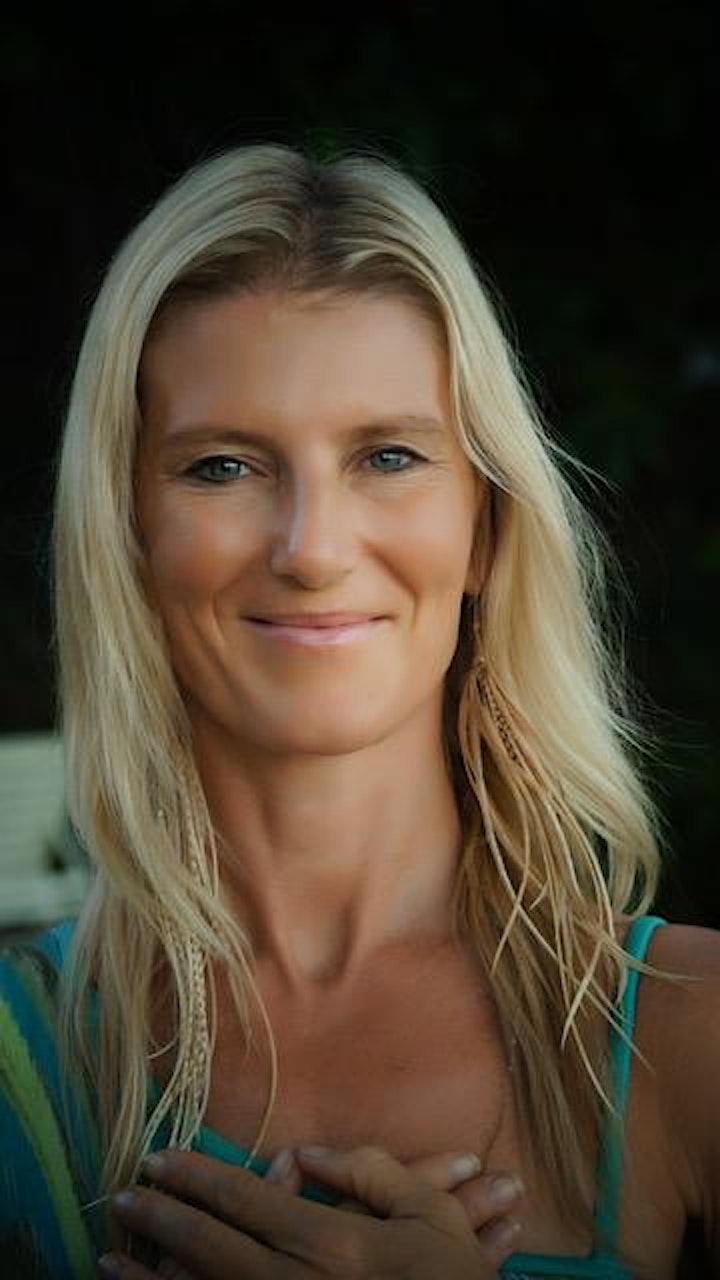 Movement is life for Shiva Rea, M.A, global prana vinyasa teacher, activist,
and innovator in the evolution of vinyasa yoga around the world from largescale festivals and conferences to unplugged retreats. She has taught thousands
of students, teachers, and movers and shakers how to integrate yoga as a way
of life.
As founder of Prana Vinyasa & Samudra Global School for Living Yoga, she
integrates the roots of vinyasa, yoga, ayurveda, and tantra in creative and lifetransforming online courses, workshops, retreats, and trainings. Her studies in
the Krishnamacharya lineage, kalarippayatu, world dance, yogic arts, and
somatic movement infuse her approach to living yoga and embodying the flow.
Shiva has collaborated across many fields and is known for offering the
synthesis form of Vinyasa Flow throughout the world, bringing the roots of
yoga alive for modern practitioners in creative, dynamic, and life-transforming
ways for over 25 years around the globe.
Her life-work in reviving the art of namaskar through diverse namaskars or
salutations as well as developing wave-sequencing, three-part vinyasa to
teaching alignment in the flow, energetic alignment, multi-dimensional
sequencing, mandala circular wave-sequencing, rasa prana vinyasa, and
integrating the creative, spontaneous movement known as "sahaja" in postmodern yoga.
As a musician and a student of yoga and meditation, Anne has a deep
understanding of how music and movement flow and unfold with ease and
grace, creating a world of Sacred Sound & Motion with Pure Devotion.
Anne's love of yoga and meditation has added depth of devotion and physical
awareness throughout her journey, her constant inspiration & guide, Prem
Rawat, her Teacher of Meditation is at the core of Anne's heArt share, and by
combining her training in Sacred Sound: (Chris James/ SoundsWonderful),
The Journey (Brandon Bays) and Shamanic Ceremony (Annie Spencer/Hart
Lodge) she offers a unique yogic musical exploration ... and has been
privileged to share musical journeys with Shiva Rea over many joyful years.
Her passion for music has taken her on a journey of sound from the vibrant
music of Dublin in Ireland to the tropical rhythms of Latin America, the eclectic
sounds of USA and the rich folk traditions of Europe. With a wealth of recorded
music, a nomination for an NME Award and iTunes top 10 chart, Anne's love
of SoundScapes allows her to share her internal souworld.
Anne's pioneering Sacred Sound Trainings have grown over past 8 years, and
now partners with Yogacampus, Mind Body Spirit, Ministry of Sound and
numerous Retreat Centres and Corporate Companies sharing the magic of
Sound and Song.
www.oasisofsound.com