Sales Have Ended
Ticket sales have ended
Sorry, you have exceeded the 60 minute limit to complete your registration. Please start your booking request again, or email clpp@eastkent.ac.uk if you are not sure whether your booking was recorded.
Sales Have Ended
Ticket sales have ended
Sorry, you have exceeded the 60 minute limit to complete your registration. Please start your booking request again, or email clpp@eastkent.ac.uk if you are not sure whether your booking was recorded.
Description
*** EVENT IS NOW SOLD OUT ***
Care leavers, like most vulnerable student groups, are particularly vulnerable during times of transition; from school on to college, university, or on to a training programme. These are times when there can be uncertainty about entitlements, changes in support received, and possibly living arrangements. The challenges are both emotional, and practical.
This event will help inform practitioners about some of the practical and emotional issues faced by care leavers during these times, in order to enhance the support they can offer the young people they work with. Within this, there will be a particular, but not sole, focus on financial entitlement and money management for care leavers.
This event is aimed primarily at practitioners who support care leavers in their education and training progression post-16.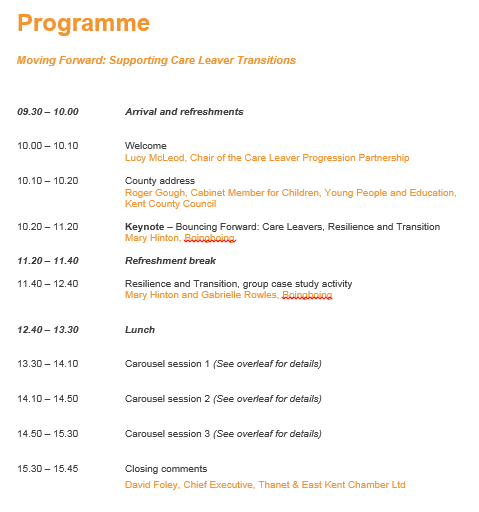 Carousel session details:
Delegates will have pre-selected three out of six of the sessions below and will move around the tables for each session.
THE FINANCIAL CAPABILITY OF CARE LEAVERS
Ann Griffiths, Policy Manager for Children and Young People and Steve Stillwell, Financial Capability Manager, The Money Advice Service.
The Money Advice Service (MAS) is leading on the UK Financial Capability Strategy. Priorities in the strategy include a focus on preventative work to ensure all children and young people get the financial education they need, supporting young adults in transition, recognising that 18-24 year olds are making crucial financial decisions as they move to independent living, and, that some young people may be particularly vulnerable because of their circumstances. We know care leavers tend to become financially independent earlier and with less support than the average young person. They can face particular challenges as they start managing money day-to-day and begin to make critical financial decisions about their future. The degree of financial capability they display during this transition can have a major bearing on their resilience and wellbeing throughout their adult lives.
MAS is keen to play its part in helping care leavers make a successful transition to independent living. We will offer our thoughts and suggestions on ways to support care leavers' financial capability and seek your views on challenges and barriers faced, and good practice you've seen. We will ask for feedback on our plans to see if it makes sense. We want to hear from you about what works and what more you would value from MAS to help.
THE WORLD OF NEW SECONDARY ACCOUNTABILITY MEASURES
Joanne Kelly, Assistant Head, Virtual School Kent
What are PROGRESS 8 and ATTAINMENT 8? This session will explore the new secondary accountability measures, the new GCSE grades, and what all this means for Post 16 providers as well as the students taking exams this summer.
PLAYING WITH WORDS
Sharon Potter, Freelance Artist, and former Arts in Health Coordinator at NHS
Sharon has many years' experience working in mental health facilities, devising creative projects to address particular needs. This session will take the form of a creative activity which practitioners can use with young people they work with to help them through times of transition. It will involve looking at words in newspapers and finding those which speak to you, whilst thinking about times of change or anxiety. Words will be torn out and made into art works. No previous creative experience or skills necessary to take part!
BENEFIT ENTITLEMENTS FOR CARE LEAVERS
Andrew Holmes, Integrated Partnership Manager, Department for Work and Pensions
This session will give practitioners an overview of the financial benefits which care leavers are entitled to as they transition out of their looked-after status. What is the eligibility criteria? How and when do they apply? And what can you, as practitioners, do to help and support them through this?
HOUSING AND HOMELESSNESS AMONG CARE LEAVERS
Dr Carin Tunaker, Project Manager, Young Persons' Services (S. and E. Kent), Porchlight
Carin has worked in supported accommodation for young people for a decade, and will be drawing on her experience in working with youth as well as a PhD in Social Anthropology, which specialised in youth homelessness. Many care leavers and young people who have been in care at some point in their life are at risk of homelessness and may struggle with independent living. This session will give practitioners information and advice for supporting young people in care in their transition into independent living, and give practical examples for how to avoid homelessness and where to turn for help.
TRANSITIONING TO HE: BRIDGING THE GAP FOR CARE LEAVERS
Jeni Clack, Admissions Support Manager, Supporting Professionalism in Admissions (SPA)
SPA is the independent and objective voice on UK higher education admissions. They promote professionalism, fair admissions and access to higher education in the UK by developing and leading on evidence-based good practice in the recruitment and selection of students. This session will look at the importance of supporting care leavers throughout the whole applicant experience, to aid transition to higher education. Case studies and good practice examples from higher education providers on supporting transition to higher education – what are the benefits and challenges? What works best and what is still missing?
Organiser of Moving Forward: Supporting Care Leaver Transitions