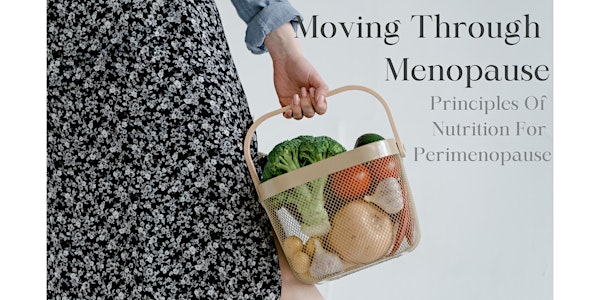 Moving Through Menopause - Principles of nutrition for perimenopause
What is Menopause? Principles of nutrition for perimenopause by Beth Hughes, Registered Nutritionist.
About this event
Menopausal women are the fastest-growing demographic in the workplace.
Whilst this is a really exciting statistic, the symptoms of menopause can be debilitating and even career-ending in some cases for women. In fact, that number can be as high as 1 million women in today's world.
A woman experiencing menopausal symptoms may feel as clueless about this phase of life as those people around her; colleagues, family, friends. Women can feel a loss of control and confidence in many aspects of life; physically, mentally and emotionally. And often we think we are going mad, getting fat and life is miserable, sometimes even hopeless.
We are a group of women who have researched menopause according to our own areas of expertise. We all currently coach, treat or work with women and want to bring our knowledge to as many women as possible. We speak in real language, we like to laugh, we debunk myths and most importantly we will signpost you to resources and places that can help you even further along your menopause journey.
Each webinar will deliver insights into different elements of menopause and we will give women in the audience an opportunity to ask relevant questions. This can either be as a private DM to the host during the event if participants prefer to remain anonymous but we will also ensure we share our contact details for anyone to follow up with us after the event. Our mission is to make women's health clearer and more accessible.
WEDNESDAY 11th MAY 13:00-14:00 - online - PRINCIPLE OF NUTRITION FOR PERIMENOPAUSE
During our first event, Hayley Ward will take you through Menopause Foundations;
- what it is
- why it happens
- when it happens
- who it happens to
- where to go for support
- how you can get ready for it
We will then hear from Beth Hughes, Registered Nutritionist. BSc (Hons), MSc Nutrition Science & Practice. mBANT rCNHC
Personal experience of suffering with rheumatoid arthritis and the enormous benefits I've seen as a result of changes to my diet and lifestyle motivated me to study an MSc in Nutrition Science and Practice. I truly believe that what we do every day; what we put into our body in terms of food, lifestyle and environment has the power to fundamentally change our health and wellbeing.
I set up Beth Hughes Nutrition to support and empower others in rediscovering their health through changes to diet and lifestyle. I work 1:1 with clients, run online and face to face group programmes and deliver corporate webinars and workshops on a variety of topics. I have a special interest in hormonal and digestive health in women aged 40 plus, with a focus on perimenopause/menopause.
beth@bethhughesnutrition.com
Instagram - @beth_nutrition
Facebook - @bethhughesnutrition
OUR SUBSEQUENT EVENTS ARE AS FOLLOWS:
Weds 18 May 13:00-14:00
The Functional Hygienist, Caroline Smith. How you breathe, how you eat and how you sleep are all integral to life, what needs to happen and how do we need to adapt these in this next phase of life to thrive? @thefunctionalhygienist
Weds 25 May 13:00-14:00
Just cardio 'ain't gonna cut it anymore!! Fitness Coach, Emily Sheridan will detail how you need to be moving your body to stay strong, healthy and as part of weight management in menopause. @phasefitwoman
Weds 1 June 13:00-14:00
Kate Morgan, women's health & general practice nurse with a special interest in Menopause. Tackling HRT, alternative therapies and sexual health. @talkmenopausewithkate
This event is funded by the Hertfordshire Health Protection Board and supported by Hertfordshire Better Business for All. The event will promote trading safely and help encourage footfall into the town centre as businesses recover from the impact of the pandemic.
Visit https://www.hertfordshirelep.com/business/better-business-for-all/ for more information.