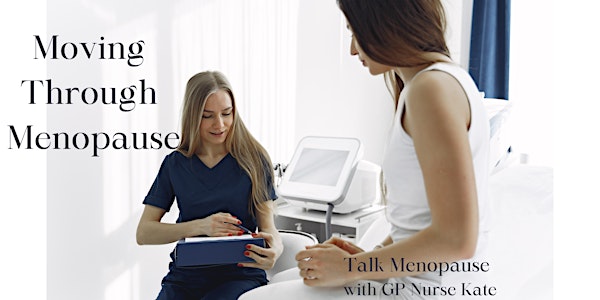 Moving Through Menopause - Talk, support & advice with GP Nurse Kate
Women's health & general practice nurse with a special interest in Menopause. Talking HRT, alternative therapies & sexual health.
About this event
WEDNESDAY 1st JUNE - MOVING THROUGH MENOPAUSE - 13:00-14:00 - ONLINE
Kate is a women's health nurse with a special interest in Menopause Health, a Family Planning specialist and general practice nurse.
With no mandatory training on the curriculum for general health practitioners, Kate took it upon herself to gain essential insights and knowledge that can truly empower women during menopause. She is on a mission to help women live their happiest, healthiest life by providing support and advice.
Kate is a fountain of knowledge and if you struggle to get answers from your local GP, she will be a fantastic starting point and can advise on your next steps.
It is not just HRT, she is clued up on sexual health in our 40s and beyond, as well as managing menopause at work (particularly with male colleagues or managers) as well as covering alternative therapies as part of a treatment and soothing plan for symptoms.
Even if we do say so ourselves, this is yet another 'not to be missed' piece of women's health information that is purely public service and stuff that should already be out there. Hear ye hear ye!! See you there :O)
This event is funded by the Hertfordshire Health Protection Board and supported by Hertfordshire Better Business for All. The event will promote trading safely and help encourage footfall into the town centre as businesses recover from the impact of the pandemic.
Visit https://www.hertfordshirelep.com/business/better-business-for-all/ for more information.