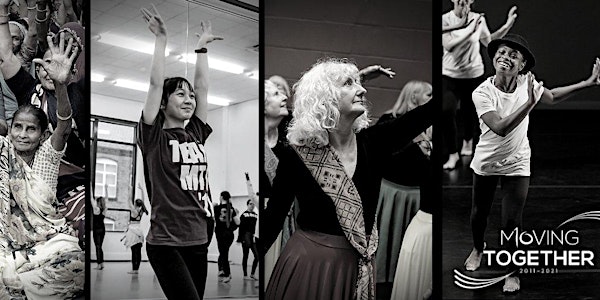 Moving Together Dance Performance and Film Premiere
Join Moving Together for an evening of dance and film exploring human rights themes
About this event
The 8th annual Leicester Human Rights Arts and Film Festival invites you to an evening of dance and film.
Organised by Moving Together, the event takes place in person in Room CC2.13/14, De Montfort University Campus Centre, The Gateway, Leicester LE1 9BH on Wednesday, 8 Dec 2021 and will run from 7pm till 8pm.
As part of the evening, Moving Together's DMU funded core youth Arts Award programme are premiering two new pieces based on the subject matter of human rights.
The Moving Together Senior Dance Company, made up of local women over the age of 55, will also be sharing their award nominated film 385 Days followed by a live continuation of the piece, which is based on women's individual experiences of the pandemic.
Moving Together are a community dance company that provide engagement opportunities for people of all ages and abilities.
About The Festival
The Leicester Human Rights Arts and Film Festival runs from 4 December through to 10 December every year and is now in its 8th consecutive year.
The festival aims to explore human rights issues through film and the arts and to give a platform through which people can engage with human rights issues at home and abroad. The festival also aims to draw attention to International Human Rights Day which is celebrated annually, across the world, on December 10.
Organiser of Moving Together Dance Performance and Film Premiere