Multiple Dates
Moving towards Mid-life, support for men and women
Find out about what happens to men and women in mid-life. Explore other factors that could help create a positive mid-life experience
About this event
The Unite Union WULF project are pleased to be fully funding and supporting this training.
The webinar will be delivered by Jayne Woodman from The menopause Team and is funded by the Unite Union Wales Union Learning Fund.
Please note, this webinar is only open to residents of Wales, United Kingdom
Understanding Mid-Life:
For most of us our life is made up of around 4000 weeks. At around 2000 weeks we sometimes accept things that perhaps we should be challenging.
Moving towards who and what you want to be in mid-life and beyond is a process that takes time. Find out about what happens to men and women in mid-life. Explore other mid-life factors that could help create a positive mid-life experience for both men and women. This session will help you become informed and sign-post you to evidence based research, which is key.
What the sessions entail:
• Context: the mid-life experience for women and men
• Considerations and types of health
• Self care
• Examples of Joy, purpose and adventure
• The importance of thinking time
• How to use mid-life as a positive platform
What attendees will gain:
• An understanding of the mid-life experiences of men and women
• The different types of health
• Why self care is important
• Knowledge of why we need space to think (busy being busy etc)
• How to strengthen your personal mid-life platform
Online Training Delivery
This training will be delivered online using the MS Teams video conferencing app.
A link to join the session will be sent out 1 hour before the webinar starts
Please log in to the training 5 minutes beforehand to allow the training to start on time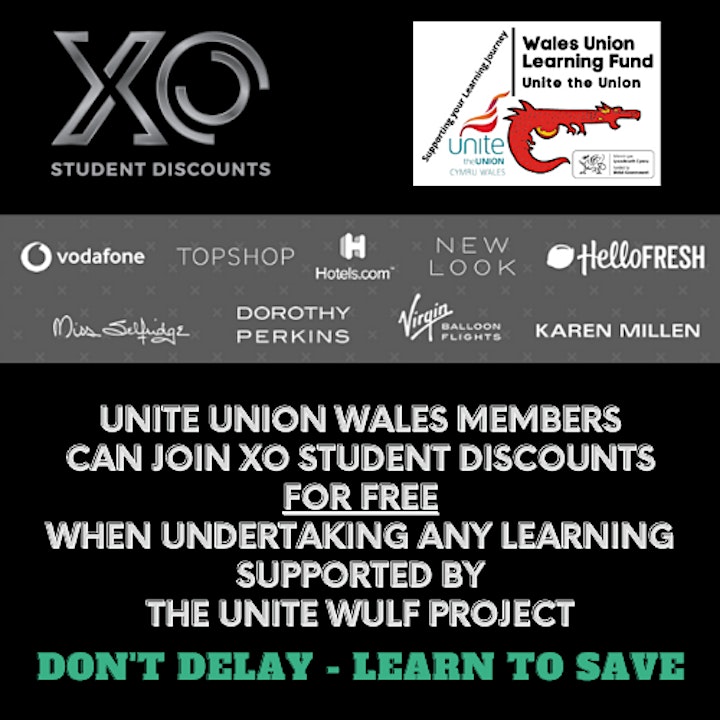 Student Discount
If you are a Unite the Union member living in Wales, who undertakes any training supported by the Unite WULF project, you can join XO Student Discounts For FREE (normally £10 per annum).
Click HERE to join see more from XO Student discounts
If you want to join XO Student discounts, then please contact the Unite WULF team: Learnwithunite.wulf@unitetheunion.org
Not a member then ......
Join Us
If you are not a member of Unite the Union, you can join by clicking HERE to access additional benefits and support as part of your Union Membership.
Follow Us
Please follow the Unite WULF social media feeds for the latest updates on training offers and courses:
Facebook: https://www.facebook.com/UniteWalesLearning Click here
Twitter: https://twitter.com/UniteWulf Click Here
Web: https://unitewulf.cymru Click HERE
Contact Us
If you have any questions, please contact the Unite Wales Learning team: learnwithunite.wulf@unitetheunion.org
About the Speaker
Jayne Woodman has over twenty years of blue chip company experience in Human Resource Management.
She now lectures in the areas of leadership and management (on a part-time basis) at Swansea University. Her two, very cute, Scottish Terriers are credited with keeping her sane during the lockdowns!
She runs mid-life programmes to encourage attendees to make the most of their lives beyond 2000 weeks!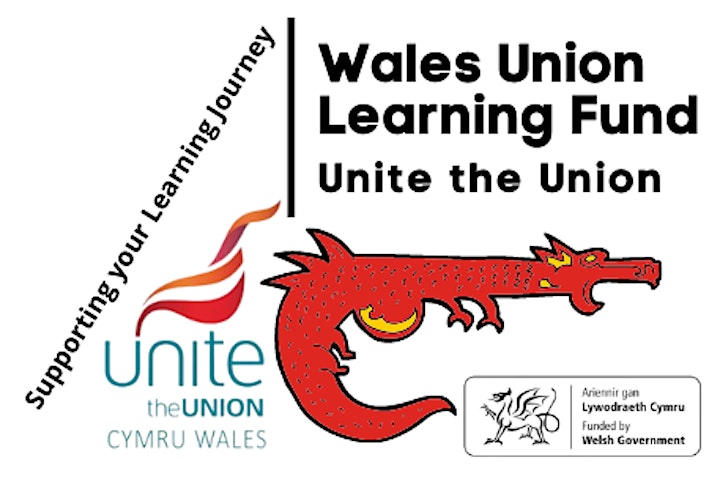 A Note About Data Collection
This training is funded by the Welsh Government funded Wales Union Learning Fund (WULF) project.
Please note that, for you to receive support from the WULF project, we are required to collect specific information from you during the registration process. This information is collected for project monitoring and evaluation purposes only.
Get in touch with learnwithunite.wulf@unitetheunion.org prior to making your booking should you have any queries or questions about providing the information requested.
Organiser of Moving towards Mid-life, support for men and women
The Unite Wales Union Learning Fund (WULF) Project is funded by Welsh Government.
The purpose of the fund is to help people living and working in unionised workplaces in Wales access support, advice and funding for vocational training and personal development.
Unite WULF covers all of Wales and most sectors where there are Unite members and has helped thousands of workers and union members to upskill and be job ready.
We organise a broad range of training including Health & Safety, Mental Health and Wellbeing, literacy. numeracy and digital skills training, and any qualifications that will help you to progress within your work and career.
The Project can signpost to a wide range of online courses that are fully funded or discounted and also takes applications for funding bursaries up to £200 per person.
The funding is available to union and non union members alike as long as you live in Wales, if you want to know more please contact us directly at learnwithunite.wulf@unitetheunion.org
If you are not a member of Unite the Union, you can join HERE to access additional benefits and support as part of your Union Membership.