Moving with Fascia: A 21st Century Emerging Human Biology - Kevin O'Connor
This is a 6-week series of workshops that bridges movement, theory and science in relation to fascia.
About this Event
Short Description:
In this series of workshops we will walk, dance, and be moved by metaphors, images, models, scientific research and somatic practices cultivated in relation to fascia. Guided by Kevin O'Connor, a dance artist and somatic practitioner, working as a choreographer, dancer, and installation artist from Ontario, Canada, now based in the San Francisco Bay area (see Kevin's full bio below).
Schedule:
Six Thursdays from February 4th – March 11th 2021
5.00pm – 6.30pm UK Time
Cost:
Full course - Waged £60 / Low or un-waged £40
Drop in – Waged £12 / Low or un-waged £7
If you cannot attend every class and sign up for the whole series you will receive a video of the class you missed.
Level:
All levels welcome
Detailed Description :
Fascia is often referred to as connective tissue and seen as simply wrapping muscles. But it is also an active, intelligent and communicative sensory organ enveloping, permeating, and constituting the body. As the "fabric" of our form, it shifts our perspective from a body made up of parts to the wholeness of the architecture holding them together. We will learn to read biology in order to put it into play as one step in this process of being moved by it. Paying attention to this biology in formation highlights how the multiple connective issues that make up this biological material, also make up ourselves, our categories (including racialized and gendered categories), and sense-abilities. In thinking with fascia as an unformed emerging material biology entity, the challenge is to consider how to denaturalize without dematerializing it and to simultaneously attend to materiality without fixing it. Fascia researchers are some of the scientists to watch in order to see what forms of life and what materialities are coming to matter in the twenty-first-century emerging human biologies.
My aim in these workshops is to demonstrate that dance practice and training and anatomical understanding of the body are entangled in multiple ways. This project serves as an initial examination of thinking with how these knots can be explored and teased open for their political, social, biological, mythical and cultural complexities while at the same time moving and being moved in new ways.
For further information: https://www.ecologicalbodying.com/
Takeaways from this course:
Cultivate a fascia sene-sability, understanding how our biology is always entangled in social/cultural and political practices, understanding science as a situated practice and as just one way of understanding what a body can do.
Language of Instruction: English
Duration of each session: 90 minutes
Technical platform for the course: Zoom Pro
Biography - Kevin O'Connor (facilitator):
Kevin O'Connor is a dance artist and somatic practitioner, working as a choreographer, dancer, and installation artist from Ontario, Canada, now based in the San Francisco Bay area. He is involved with the Strange Strangers collective, a decade-long artistic collective exploring participatory de-colonizing performances within polluted watersheds in Ontario. Over the last few years, he has worked with NAKA dance in Oakland, Skywatchers in the Bay Area, Oncogrrrls feminist art collective in Spain, Nita Little, and collaborated with Inuit hunter and designer Paulette Metuq on a project in Nunavut in the Canadian Arctic. He is currently working with Ishmael Houston Jones, Keith Hennessey, Jose Abad, and Snowflake Calvert exploring experimental improvised dance as a means to subvert traditional notions of race and masculinity. He has been learning with the Axis Syllabus community for over two decades and is a biodynamic CranioSacral practitioner. He holds a Ph.D. at the intersections of performance studies and science and technology studies at the University of California, Davis. His research examines anatomies, body performance capacities, interventions, and imaginations in relation to science studies, including the material-bio-cultural tissue called fascia. His writing can be found at www.ecologicalbodying.com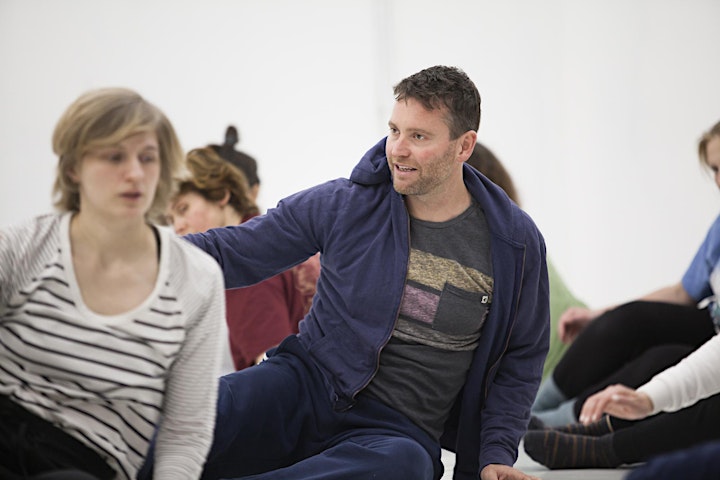 Photography and recording of any part of the event, where allowed by the facilitator, should be used for non-commercial, personal purposes only. Photographs, film or other audio visual material that is recorded may not be sold, used or published commercially in any way whatsoever unless authorised in writing by Intercultural Roots. The use of photographic equipment, mobile telephones tablets or other electronic devices, must not inconvenience any other person at the event. Television, live streaming and other film cameras maybe in operation at the event. By booking and attending you consent to filming, photography and sound recording of yourself. Intercultural Roots and related parties may use such films, photographs and/or recordings (Including any copies) of your actual or simulated likeness without payment in perpetuity.
Medical disclaimer - In attending this Intercultural Roots event you attest that, to the best of your knowledge, you suffer from NO medical or physical condition or disability that will or might increase the normal risks associated with exercise; and/or your doctor has approved your participation in our activities. You are agreeing that you are responsible for your own health and safety before, during and after the session and will adapt any instructions given by the facilitator to meet you own individual needs and ability.