Description
Welcome to the Property Coffee Morning!
The Biggest and most attended regular daytime property networking event in the UK.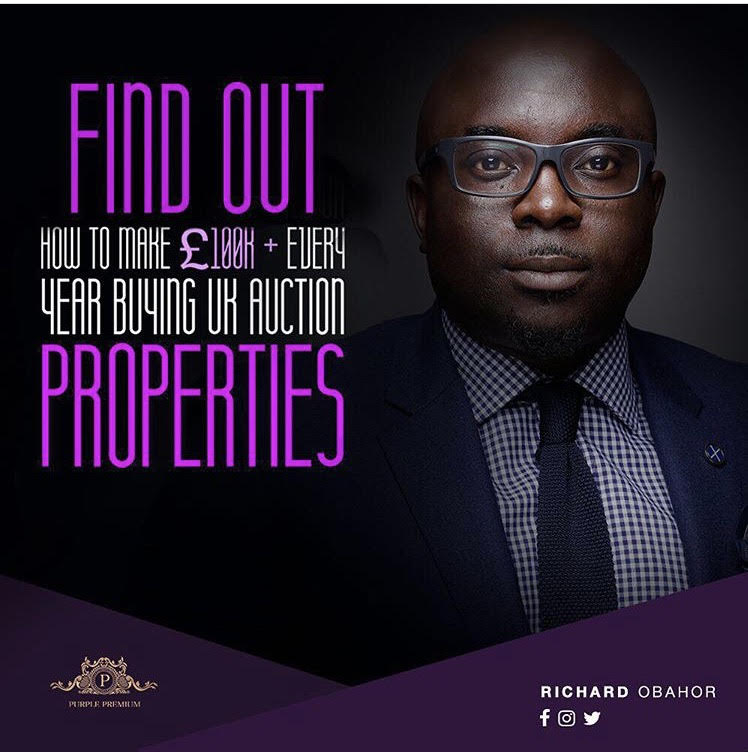 Richard Obahor is the CEO of Purple Premium Ltd, a U.K./Nigeria based Real Estate Company and he considers himself to have a dyed-in-the-wool attitude to accomplishment, doggedness and resilience.
Richard's career first started in the Real Estate industry in 2003 with Alandale Construction UK, where he worked as a Senior Manager on multi-million pound projects like theBankside 123 in the City of London, Tower Place, and Westfield Shopping Centre in West London. He set up his first Real Estate Company in the U.K. in 2008, offering property acquisition, property development, and property management services to his ultra-high net worth clients.
Soon after, he integrated into the Nigerian property market, catering for the demands of Nigerians based in the Diaspora whose intention is to own a home in Nigeria, but rather than transact with individuals would prefer to do business with a reputable company. The company now develops quality luxury homes. His philosophy is that if you would dream anyway, you might as well dream big and his vision is to build 2022 homes right across Nigeria, Ghana, Sierra Leone and Kenya by the year 2022, to house Africans living in the Diaspora.
Richard is a very firm believer in community development and under his corporate social responsibilities supports numerous community programmes right across Nigeria and the United Kingdom.
The serial entrepreneur, who is also a notable public speaker, a writer and a business mentor, has garnered several skills and experience from reputable professional institutions. He has been celebrated with a number of very prestigious, industry leading awards including the BEFFTA 2016 Leadership award, the 2016 Gathering of Africa's Best (GAB) awards for Excellence, the 2017 City People "Best Nigerian Real Estate Player in the Diaspora" award and was recently conferred with an Honorary Doctorate degree at the University of Westminster.
Richard believes that to win you have to be in the game, and because he is in the game for the long haul he is looking forward to a number of huge wins. He is married to Joan and has three wonderful children.


The Outline of his presentation will follow shortly...
Sam Fongho
Attendance is FREE and there is a complimentary coffee voucher for those who pre-register their place. We welcome all those interested to attend, irrespective of their experience with auctions.
==========================================================================
The Property Coffee Morning is an initiative of Auction House London in partnership with MIDAS Property Group and the Baker Street Meet. The event will be followed by the Auction House London auction at 11.30 and we do invite you to hang around and see the amazing Andrew Binstock doing what he does best!
===========================================================================