MRC Institute of Genetics & Molecular Medicine Doors Open Day 2019
Join our staff and students as they share our science through tours, talks, videos, posters and hands-on activities suitable for all ages.
About this Event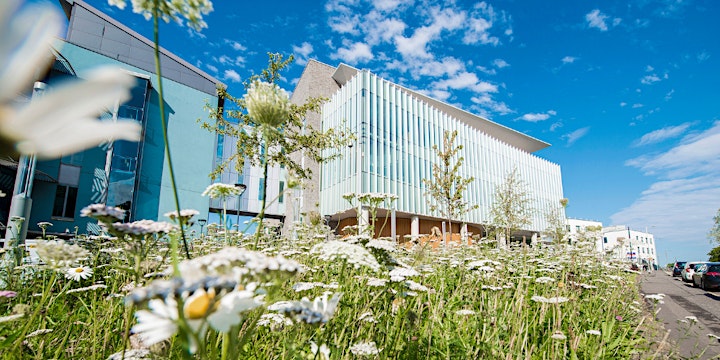 This Doors Open Day, visit the University of Edinburgh's MRC Institute of Genetics and Molecular Medicine (IGMM) to learn about our world-class biomedical research which is improving our understanding of human biology and disease, benefiting patients and society.
From 10am to 5pm Saturday 28 September our doors will be open to all as we welcome our local community to celebrate this year's Doors Open Day theme of global connections. Our Institute's research has global impact. We bring together scientists and clinicians from around the world, are part of international research collaborations and one third of our community are international.
Join our staff and students as they share our science through building tours, talks, videos, posters and hands-on activities suitable for all ages.
Our popular Nucleus Café will be open all day.
Hands-on activities:
1. Mighty Mitochondria
Discover how our cells make the energy we need to live – explore Mighty Mitochondria and help us activate energy production!
2. Targeting the Lung – Cystic Fibrosis
Learn about how the cells inside your lungs work and how these cells are affected by cystic fibrosis – an inherited condition that causes sticky mucus to build up in the lungs and digestive system
3. The Giant Cell
Explore the hidden microscopic world hidden inside our cells using fluorescent microscopy and step inside a ginormous cell to see what you can find using UV light
4. Microscopes Histology slides & Cell Windows Craft Activity –
Delve into the fascinating world of histology: the study of the microanatomy of cells, tissues, and organs as seen through a microscope. Look through the microscope to open the windows to different cells in the body and make your own Cell Window to take home.
5. Immunology Ball Pit
Explore how the immune system protects us from invaders and how these processes can be harnessed in immunotherapy for the treatment of cancer.
6. Strawberry DNA Extraction
Ever wondered what DNA actually looks like? Use the same equipment scientists use in the lab to extract DNA from a strawberry and find out!
7. Targeted Cancer Therapy
Discover how standard chemotherapy works and explore the new targeted approaches to cancer therapies being developed in our labs
8. Genetic Taste Test (MOBILE USHERETTE TRAY!)
Do you like Brussel sprouts? Take part in the genetic taste test and find out if you are a super taster! It's amazing how a tiny mutation in your DNA can change how people taste different foods.
9. Big Data Detectives
Meet our mental health data scientists and get hands-on with activities exploring genetics, medicines and big data. Roll the dice to find out how genetic & environmental risk factors add together to increase your chance of becoming unwell. Design paper people and choose which treatments to prescribe. Play Dr Data – a decision game.
How to find us: www.ed.ac.uk/transport
Nucleus Café: www.accom.ed.ac.uk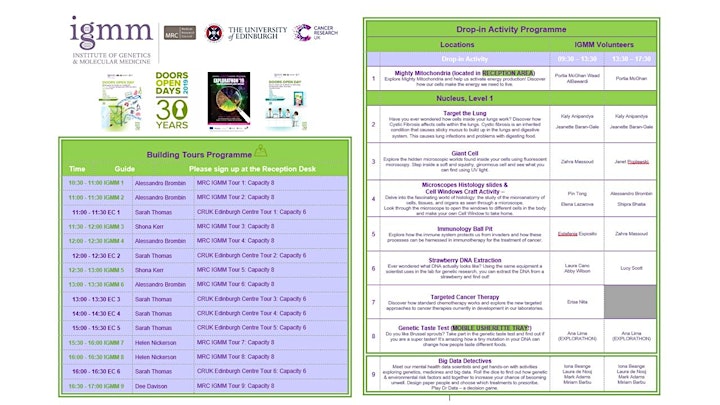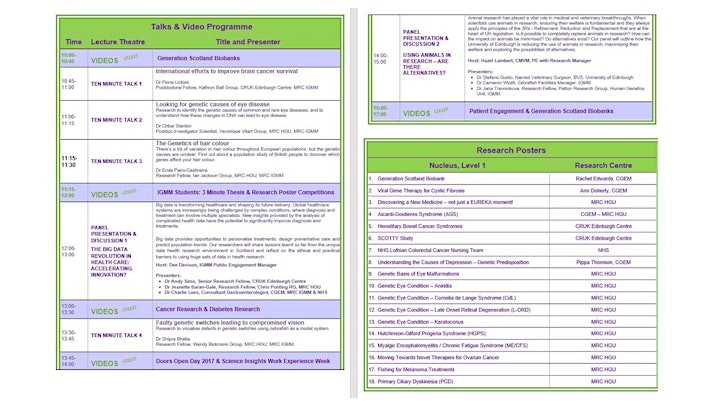 EVENT PHOTOGRAPHY/VIDEO
Photographs and/or video recording will take place during this event. Photographs and recordings will be held by the Institute of Genetics and Molecular Medicine at the University of Edinburgh and may be used after the event on the Institute's websites, social media channels and printed materials.If you do not wish to be photographed/filmed, please make a member of staff aware during the event or contact Communications@igmm.ed.ac.uk.
PRIVACY STATEMENT
Information about you: how we use it and with whom we share it.
We will use your personal data to allow us to process your registration, communicate with you and potentially obtain your feedback about the event. We are processing the information about you for these purposes because by registering for the event, you are entering into a contractual agreement for us to do so.
In order to facilitate online bookings for our events, we use Eventbrite - a third party service which is not operated by the University of Edinburgh. Details of Eventbrite's privacy policy can be found at: www.eventbrite.co.uk/support/articles/en_US/Troubleshooting/eventbrite-privacy-policy.
If you wish to attend an event organised by the Institute of Genetics and Molecular Medicine but do not wish to use Eventbrite, please email us at: Communications@igmm.ed.ac.uk.
If you have given us your permission, we will share your name, affiliation and contact details with the other participants in the delegate list. We will not share information about you with any other third party.
After the event, we may send you a survey as it is our legitimate interest to help us improve any future events we organise. We will hold the personal data you provided us for 6 months. If you have agreed to be contacted about future events, we will hold your personal data for as long as you subscribe to these updates. Where provided, financial data such as a payment record will be held for 7 years, but we will ensure that all information that can identify you directly is removed after 6 months. We do not use profiling or automated decision-making processes. If you have any questions, please contact Communications@igmm.ed.ac.uk.This Privacy Statement is continued at: www.edin.ac/privacy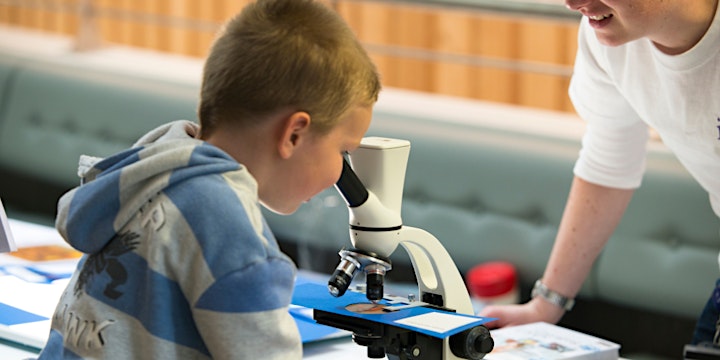 THE MRC INSTITUTE OF GENETICS AND MOLECULAR MEDICINE
The MRC Institute of Genetics and Molecular Medicine is a strategic partnership of the Medical Research Council Human Genetics Unit, the Cancer Research UK Edinburgh Centre and the Centre for Genomic & Experimental Medicine.
Part of the University of Edinburgh and based at the Western General Hospital Campus, the Institute carries out world-class genetic, genomic, cellular and clinical science to improve understanding of human development, physiology and disease, and the applications of this knowledge for the benefit of patients and society.
To find out more visit www.ed.ac.uk/igmm.
DOORS OPEN DAYS
Now in its 30th year, Doors Open Days give everyone a chance to explore some of Edinburgh's most significant buildings for free. From heritage landmarks to the city's newest architecture, Doors Open Days offers free access to properties that are either not usually open to the public or would normally charge an entry fee. The event also offers the public an opportunity to find out more about the capital's public buildings.
Doors Open Days is coordinated nationally by the Scottish Civic Trust and in Edinburgh by the Cockburn Association. It runs throughout Scotland every September as part of European Heritage Days.
For more information visit www.doorsopendays.org.uk