Description

The MSB Summit, CBI's event dedicated to medium-sized businesses, returns to central London on 22 June and we would be delighted if you could join us.

After three sell-out years the CBI, with Strategic Partners Lloyds Bank and Corporate Partners Advanced 365, e.on and Vodafone, will again bring together expertise from across the business community.

Our fantastic programme includes Charles Ross, Co-Founder of Fever Tree, Vitalise Business Woman of the Year Jacqui O' Donovan, Managing Director of O' Donovan Waste Disposal and Frazer Thompson, CEO, Chapel Down Management.

We are also delighted to have Breakfast Business Reporter and acclaimed journalist Declan Curry chairing the day which will include thought-provoking keynote addresses, lively panel discussions and practical break-out sessions focusing on key issues affecting growing firms, including:

Preparing for Brexit – Understand the latest with negotiations and how best your organisation can prepare for what changes may lie ahead

Internationalising your business - Discover the opportunities and threats in key international markets and what you need to know when approaching them

Driving a culture of innovation through your business – Explore how to ensure your workforce embraces innovation and embeds it into their day-to-day work

Alternative finance for business growth - Hear real world examples from businesses, like yours, which have successfully utilised alternative forms of finance
The day will be rounded off by a networking drinks reception, the perfect opportunity to share ideas and connect with your peers.

Join over 300 other senior business leaders and decision makers to explore the intelligence and capabilities needed to help your business succeed in the current climate.

Please note this event is for medium-sized businesses only (turnover less than £500million). CBI reserves the right to refuse the registration of any delegate for this event including those that don't meet this criteria.
For event terms and conditions please click here.
For further information please contact our events team: cbievents@cbi.org.uk
Programme
09:00 – 09:45 Registration, refreshments and networking
09:45 – 09:50 Welcome and housekeeping
Declan Curry, Breakfast Business Reporter
09:50 – 09:55 Welcome and Opening Address from CBI
Carolyn Fairbairn, Director-general, CBI
09:55 – 10:15 Q&A
Carolyn Fairbairn, Director-General, CBI and Andrew Bester, Group Director and Executive
Commercial Banking, Lloyds Banking Group and Speaker TBC

10:15 – 10:35 Keynote address
Speaker TBC

10:35 – 11:00 Panel discussion – Navigating the competitive business world
Jacqui O Donovan – O'Donovan Waste Disposal
Charles Rolls, CEO, Fever Tree
Other speakers TBC

11:00 – 11:30 Morning refreshment break and networking
11:30 – 12:55 Breakout sessions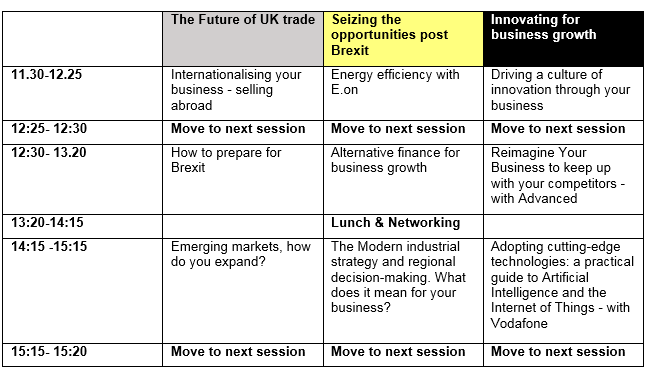 15:20 – 15:45 – Speaker TBC

15:45 – 16:20 In conversation with
Speakers TBC
16:20 – 16:30 Closing remarks

CBI & Tim Hinton, ‎Managing Director, Mid Markets & SME Banking, Lloyds Banking Group
16:30 – 18:00 Drinks reception