Event Information
Performers
Location
Communication Campus UPF
Roc Boronat 138 (classroom 52.019)
08018 Barcelona
Spain
Description
¿Qué es?
El objetivo del Proyecto de Missing Maps es crear mapas para aquellas zonas en países en vías de desarrollo que son más vulnerables a sufrir crisis. Con tu ayuda podemos mejorar las vidas de las personas más vulnerables.
El segundo Mapatón organizado por MSF y Missing Maps tendrá lugar el día 7 de Julio, con el apoyo de la Unidad de Excelencia María de Maeztu del Departamento de Tecnologías de la Información y las Comunicaciones de la Universidad Pompeu Fabra (DTIC-UPF).
Todas las personas son bienvenidas, tanto las que tengan experiencia en la creación de mapas como las que nunca lo hayan hecho con anterioridad. Por favor, elige tu entrada de acuerdo a tu nivel.
What is it?
The aim of the Missing Maps Project is to map the most crisis-prone parts of the developing world. With your help we can directly improve the lives of some of the planet's most vulnerable people.
The second MSF & Missing Maps Barcelona Mapathon, has been confirmed for Thursday 7th of July, with the support of Maria de Maeztu Unit of Excellence Coordination, Department of Information and Communication Technologies at Pompeu Fabra University (DTIC-UPF).
Both beginners and experienced mappers are welcome to join this mapathon, please choose your ticket according to your level of mapping skills.
---
¿Qué necesitas?
Solo necesitas un ordenador portátil (debes de traer tu propio ordenador), un ratón y entusiasmo (el ratón no es absolutamente necesario, pero te facilitará mucho la tarea de creación de mapas).
What do I need?
Just a laptop (you must bring your own with you), a mouse and enthusiasm (mouse isn't absolutely necessary but makes the mapping A LOT faster).

---
¿Dónde es?
El Mapathon tendrá lugar en:
Where is it?

The mapathon will take place at:
Communication Campus UPF, Roc Boronat 138 (classroom 52.019), 08018 Barcelona
Tube L1, Glòries
TRAM GLORIES (Ca l'Aranyó) –T5&T6 (La Farinera)
BUS H14, B25, 192, 92, 42, 40, 7, 6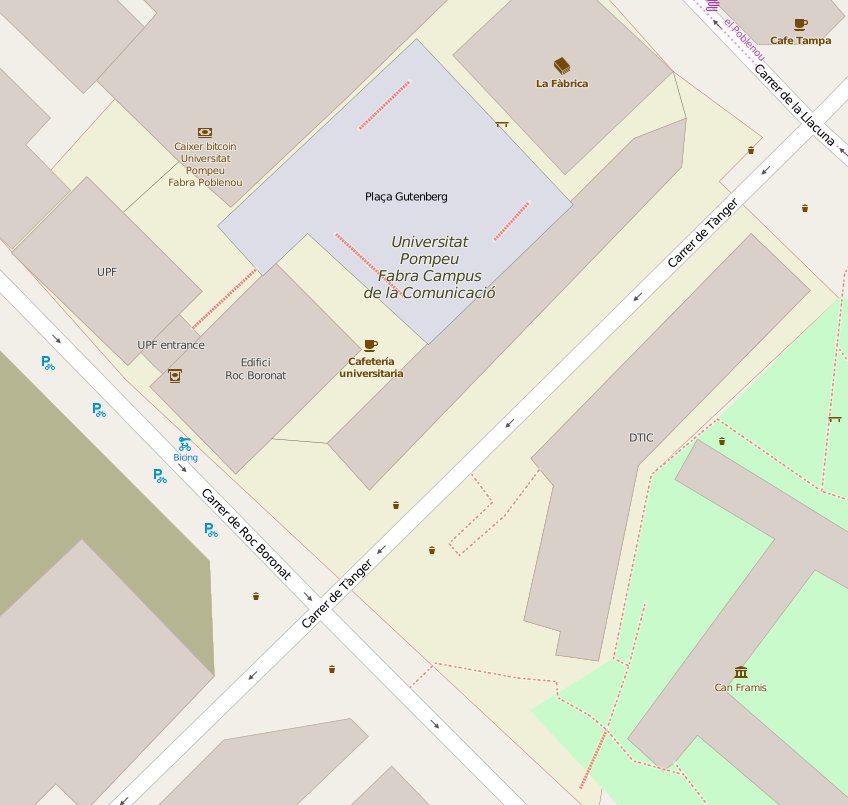 ---
¿Qué debo hacer ahora?
Por favor regístrate y consigue tu entrada en eventbrite.
También puedes ser parte del facebook group para mantenerte informado sobre esta y otras actividades futuras.
Nos vemos allí!
What do I do now?
Get yourself an eventbrite ticket for the event.
And feel free to join our facebook group to be kept in touch about future events.
See you there!
Performers
Date and Time
Location
Communication Campus UPF
Roc Boronat 138 (classroom 52.019)
08018 Barcelona
Spain