Join us for the first MsMono Meets session with casting directors Nikki Meadows and Claire Bleasdale.
About this event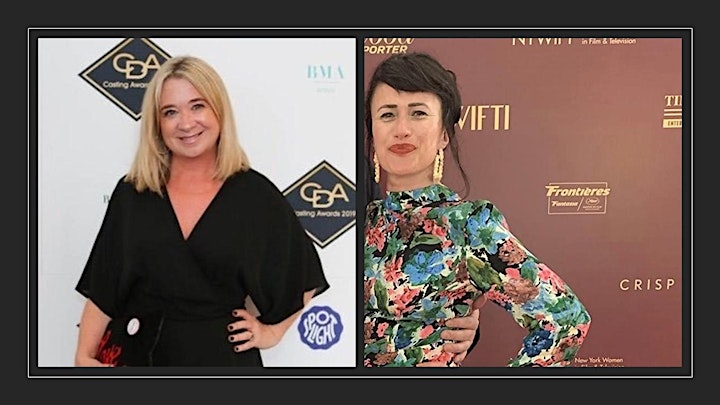 We are hosting the first 'MsMono Meets' event with casting directors Claire Bleasdale and Nikki Meadows. The event is open to all female filmmakers (directors, writers, producers, etc.) who have questions about the casting process and working with a casting director. The session is also an opportunity to network with Nikki, Claire, and other female filmmakers.
Please send any questions for Nikki or Claire to: team@msmono.com
Claire Bleasdale Casting (www.clairebleasdalecasting.com)
Claire has loved and been part of the creative world since joining Manchester's Contact Youth Theatre in 1992. From here she trained as an actor at Manchester School of Theatre (1999 - 2002) and worked professionally in theatre, film, television and radio before moving into casting. As a casting assistant she worked on the teams for BBC drama The Village, the feature film X&Y and at Lime Pictures on various productions. She then went on to work with a number of casting directors and United Agents in London.
Claire has been working as a casting director in film, theatre and commercials for six years. Her first film credit was the short film 'Break' by Nick Moss (starring John Hurt) which won Best Short at Manchester Film Festival 2015. Other films include 'Cowboy Dave' which won Best Short film at BAFTAS 2018, and 'Judy'; established theatre director Matthew Dunster's film directorial debut. She recently casted two projects for 2020's The Uncertain Kingdom.
Theatre Credits include - Manchester International Festival with 'Party Skills for the End of the World' 2017 and 'Dystopia 987' with Skepta in 2019, and 'Gypsy', the musical for the Royal Exchange Theatre. Claire has also worked with visual artists on gallery commissions, including Mark Leckey and his exhibition for Tate Britain 'O Magic Power of Bleakness'.
Nikki Meadows Casting (www.nikkimeadowscasting.com)
Nikki Meadows is a Casting Director working across TV, film and commercials but specialising in factual drama and drama documentary for television. She is a full member of the Casting Directors' Guild, The Casting Directors Association and a voting member of BAFTA.
She cast the critically acclaimed BAFTA winning Suffragettes with Lucy Worsley (BBC1 – Best Specialist Factual BAFTA winner 2019). Other notable broadcast credits include BIFA and Grierson nominated Tell Me Who I Am (Netflix – directed by Ed Perkins and produced by Simon Chin/Lightbox), an 8 part Damian Lewis fronted series Spy Wars (UK and US broadcasts) Henry VIII – The Rise of a Tyrant for Channel 5 and D-Day for National Geographic.
She cast BBC1 90 min feature length drama-doc Blitz Spirit, directed by Emma Frank, which was broadcast in March this year, and the 6 part series Lost Pirate Kingdom, currently streaming (and rating #3 in UK & US) on Netflix.
She was nominated for 2 awards for her drama-doc work at the CDA Awards 2020.
MsMono (www.msmono.com)
MsMono is an award-winning production company telling bold and ambitious female-centred stories. We also strive to increase female representation both in front of, and behind the camera. Our short film Pretty Bitch has been screened at festivals internationally, winning the Van D'or Award for Best Screenplay and was nominated in four other categories including Best Film, Best Actress, Best Drama and Best Director. Our music video, You, for Independent Artist Sharlene-Monique is also an award-winner, having won Best Female Solo, Best Inspirational and Music Video of the Year at the Jump Music Video Awards.
Our latest short film That Girl, Peugeot was completed in March 2020 and is currently on the festival circuit. It was produced with a 70% female cast and crew. We have an independent short film The Ride currently in production and two audio series written by women of colour and a short form comedy series in development.
MsMono Mailing List
Please note that by booking to attending this event you are consenting to your email address being added to the MsMono mailing list. You can unsubscribe from the list at any time.