Msza Święta w języku polskim.
About this event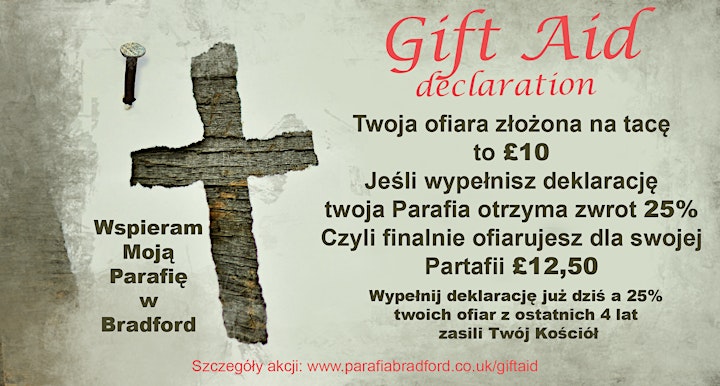 WYPEŁNIJ DEKLARACJĘ GIFT AID - POBIERZ TUTAJ >>>
Wypełnioną deklarację możesz oddać stewardom przy wejściu do kościoła, przesłać na adres Parafii: 29 Edmund Street, BD5 0BH Bradford lub email-em info@parafiabradford.co.uk.
Bóg Zapłać !
Msze św. w Wakefield, rezerwacja.
Prosimy o dostosowanie się do zaleceń stewardów przy wejściu do kościoła. Limit miejsc w Wakefield to 40 osób. Zasady opisane są poniżej.
FAST TRACK
Osoby, które zabiorą ze sobą wydrukowany bilet lub potwierdzenie w telefonie z widocznym kodem QR, nie będą musiały odszukiwać się na liście a jedynie przekażą swój bilet do zeskanowania. Przyspieszy to wchodzenie do kościoła i unikniemy oczekiwania w kolejce do odznaczenia obecności.
UWAGA
Rezerwacja biletów do godziny 21:30 w sobotę.
Due to COVID-19, it has become necessary for the parish to operate a registration system, in order for us to reduce the risk of infection for parishioners and visitors.
The registration system will allow individuals, families, and groups to secure a seat at Mass. It will also prove to be a useful tool which will help our stewards to co-ordinate visits safely on arrival.
Please note that one ticket is required for individuals and couple, and only 3 tickets are required for households of 3 or more. Visitors will be able to select the number of tickets at the top right-hand corner of the registration page.
The system will also ask permission to share data with the parish, and so ensuring that data protection measures are maintained. The Diocese Data Privacy Policy can be viewed here
Before registering to attend Mass, please ensure:
• You do not have any symptoms associated with COVID-19 (e.g. fever, cough, sore throat, shortness of breath, sneezing/runny nose or loss of sense of smell)
• You do not have COVID-19 nor are you awaiting the results from being tested for COVID-19
• You have not been in contact with any known or suspected cases of COVID-19 in the past 14 days
• You have not returned, or been in contact with anyone else who has returned, from overseas in the past 14 days.
We very much look forward to seeing you once again at Holy Mass