Description
Much Ado About Trading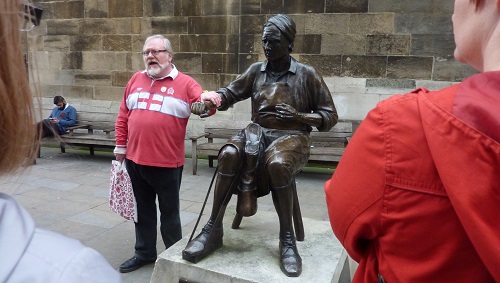 The Cordwainer (Alma Boyes) - photo © 2014 by Ann Flowers
Through the management of the Tudor dynasty, England's trade was extending the country's reach throughout the world and challenging the supremacy of the more established European powers. The centre of this trade explosion was the City of London.
Just so, London was the cradle for the new English drama, and City trade was to provide valuable material for the dramatists of what is seen widely as the Golden Age of English drama.
This tour explores the life of trade in Tudor London, with readings which show how it is reflected in the works of William Shakespeare, Ben Jonson, Thomas Middleton and many others.
Meet outside the exit from Cannon Street Underground Station, on Dowgate Hill.
Guide telephone: 07982 132231.
The walk will take approximately 2 hours, and finishes near Bank Underground Station. For information on travel, please use Transport for London's Journey Planner.
More tour details can be found here: http://charnowalks.co.uk/much-ado-about-trading