Description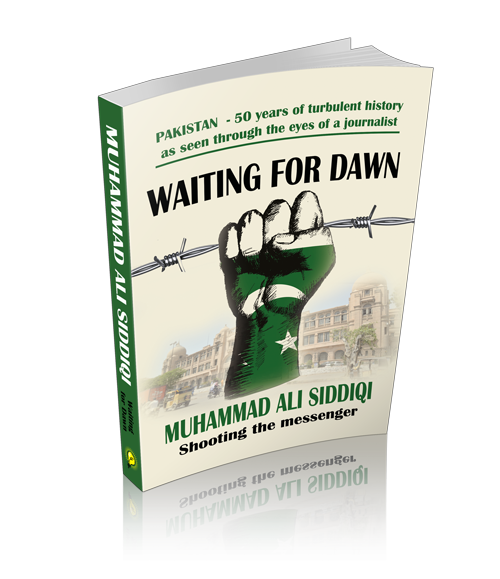 Mr Muhammad Ali Siddiqi, is an author and at present Readers' Editor of Dawn, Pakistan's most prestigious English daily. He is a seasoned journalist, having worked for more than five decades for various English dailies, including Dawn, Morning News and The Sun. He has been now with Dawn since 1973.
In Dawn, he has been news editor, city editor, magazine editor, political correspondent, column writer, diplomatic correspondent, leader writer and Dawn's Washington correspondent (1992-95) where he covered the State Department, Congress and the White House. In June 2014, he was appointed Dawn's first Readers' Editor.
With an MA in political science from the University of Karachi (1960), he has specialised in Middle Eastern affairs. The Cardiff-based Thomson Foundation gave him a scholarship for copy flow and layout in 1976. He has written over 3,550 editorials for Dawn on political, constitutional and foreign affairs. Besides hundreds of his articles in Dawn, he has also written for Washington Times, the Los Angeles Times, Khaleej Times, and the Times of India.
---
Muhammad Ali Siddiqi's memoirs show his immense fervour for his country and his profession
---
Stormy and tumultuous though be the times the country and the writer have faced, torn by a loss of confidence in oneself and the nation as some have been, the author's own sense of identity has remained rock- solid. In the third chapter 'Revanche!' he movingly recalls his arrival at Keamari Harbour on an afternoon in June 1949 to gain his first glimpse of his new homeland. Despite his deep attachment to the rich legacy of Hyderabad Deccan's syncretic culture, he was enraptured at first sight. He writes, " ... the passing decades have only tended to reinforce my child's love for Pakistan. For me, everything belonging to Pakistan is sacred ... those who do not regard Pakistan as sacred: would they kindly leave it?" Rooted in this fusion of soil and soul, the author surveys a wide range of subjects to produce a testament to his unique country's resilience and the humble patriotism of its citizens, whether they be ancestrally linked to this land or migrants.
Through most, if not all of Islam's history, religion has always been interpreted as possessing a public institutional role with the holy right and authority to enforce compliance. This imbues religion with an inherently coercive facet, bringing it uncomfortably close to fascism. While the creation of Pakistan was fortuitous, if not miraculous, the emergence of religious authoritarianism was largely inevitable, given the failure to firmly set clear ideological directions at its inception. The author pulls no punches in articulating his continuing disquiet on the long, dark, still-lingering shadow cast by Ziaul Haq's blatant misuse of religion to pursue his personal lust for power.
NO one could be more qualified to write a memoir on Pakistan's turbulent history than a grandstand viewer -- and a journalist to boot. With more than half a century of experience in journalism – 49 years in Dawn, South Asia's best paper, -- Muhammad Ali Siddiqi has been witness to events which have shaped today's Pakistan and Karachi. He lived history as a citizen, and reported and commented as a newsman -- in Pakistan and abroad. This book is, thus, his record for posterity of a mauled, brutalised nation's history. The book is also a mirror to the life of a typical, self-made Karachian struggling to acquire education, while making two ends meet as a typist. This is a tribute as much to the author as to the city that threw open its doors to all those who chose to make it their home. Life for him was anything but a bed of roses, for he would sleep on the editing desk of the Times of Karachi to proceed in the morning to the new campus – located in what then was a wilderness of barren hills and brown land. That was 1960. In 1992 he was at the White House reporting on the Benazir-Clinton summit conference as Dawn's Washington correspondent.
Because his entry in the profession coincided with the first military takeover in 1958, he like all Pakistani journalists worked within the oppressive atmosphere of a military dictatorship, though, strange as it appears, author Siddiqi mentions Ayub Khan all along with respect – a contradiction. He makes no secret of his admiration for Z.A. Bhutto, who, he said, was murdered because of his reforms, especially the nationalization of industry, and quotes Machiavelli "A man forgets his father (pater) but not his patrimony."
The book describes in detail the impact the military rule had on the press, the muzzling of the media, draconian laws, the journalists' epic struggle for freedom, the historic 1970 strike, the flogging of journalists during Ziaul Haq's tyranny, and the freedom which finally came after great sacrifices. Simultaneously, we get a glimpse of the technological revolution in printing, for Siddiqi began with hot metal and journeyed through photo-offset to finally enter the computer era when Dawn's page are sent to Islamabad and Rawalpindi by a click.