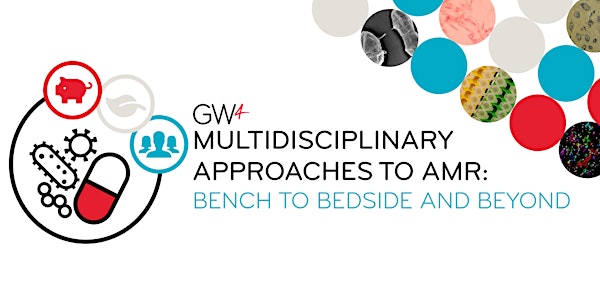 Multidisciplinary Approaches to AMR: Bench to Bedside and Beyond
Multidisciplinary Approaches to Antimicrobial Resistance: Bench to Bedside and Beyond
About this event
A free online symposium facilitating networking between researchers working across different disciplines with an interest in antimicrobial resistance (AMR).
Organised by GW4 early career researchers, this week-long event aims to address a 'One Health' approach to AMR, and will comprise interactive webinars from invited speakers and selected abstracts, themed discussion forums, an online poster session and an images of research gallery.
Representatives from multiple sectors including academia, industry, human and animal health, environmental science and public policy will be invited to create an accessible, engaging and diverse event. Several broad themes will be covered to explore mechanisms of AMR, novel therapies and technologies, epidemiology, stakeholder engagement and management strategies. This event is open to all researchers with an interest in helping to understand and tackle this global issue.
Confirmed invited speakers are:
• Professor Matthew Avison (Professor of Molecular Bacteriology, University of Bristol)
• Dr. David Verner-Jeffreys (Bacteriology team lead and AMR theme lead, CEFAS)
• Professor Judith Berman (Professor of Molecular Microbiology and Biotechnology, Tel Aviv University)
• Dr. Jim Spencer (Reader in Microbiology, University of Bristol)
• Professor Timothy Walsh (Professor of Medical Microbiology, University of Oxford)
• Dr Neciah Dorh (CEO and Co-Founder FluoretiQ Limited)
• Rebecca Sugden (Policy Advisor, Wellcome Trust)
• Professor Yamni Nigam (Professor of Biomedical Science, Swansea University)
Please register to attend the event and submit an abstract for a short talk or poster presentation using this link. We are also inviting submissions to our online 'Images of Research' gallery where we hope to display the diversity and beauty of AMR research, bench to bedside and beyond. Submit your image here.
Interactive event: Monday 30-Nov-2020 to Friday 04-Dec-2020
Live presentations: Tuesday 01-Dec-2020 to Thursday 03-Dec-2020
Registration deadline: Monday 16-Nov-2020
Abstract submission deadline: Friday 16-Oct-2020 (selected presenters will be notified by Monday 02-Nov-2020)
Image submission deadline: Monday 16-Nov-2020
For more information, visit our webpage
Follow us on Twitter: @GW4_AMR_2020
Contact: AMRSymposium2020@gw4.ac.uk
Please note: Abstract & Image submissions are being collected via Google forms which requires Google account log-in to access and upload attachments. All communication will be via the email address you provide to us, not the associated Gmail address. If you do not have a Google account, please contact AMRSymposium2020@gw4.ac.uk for an alternative electronic submission form.