We are so excited to be able to invite you to another Special Mums Must Pray Time Out weekend .
About this event
Dear Brethren,
We are so excited to be able to invite you to another Special Mums Must Pray Time Out weekend.  We thank the Lord for the various testimonies that people gave after the last meeting which we had in November 2019. The' Lock Down' Season prevented us having any meeting last year.
Again this year, we covet the manifest presence of the Trinity and extend our invitation to the angels and the heavenly host.
 It will be a refreshing time of fellowship, prayer, worship where we linger in the presence of the Lord.  Please make it a date. Join us in praying for the weekend. Also please prepare yourself to be blessed and also to be a blessing to someone else.
 The Group
It is meant to be a gathering of those who love the Lord and would like to join with others passionate about Him. in fellowshipping. We are hoping to have a few sessions of discussion/mentoring young husbands and husbands to be.
The Venue
It will be held at Pioneer Centre which is a Christian Conference centre near Kidderminister, West Midlands, England.
Please see website below
https://activity-centres.naycacuk.co.uk/pioneer-centre
The Centre address is  Cleobury Mortimer, Kidderminster,DY14 8JG
The Rooms 
The rooms are multi bedded with a minimum of 2 persons per room. Each multi bedded room has en-suite bathroom and each lodge has its own private and secure accommodation, with a lounge.
The cost of this visit will be £175 if you are coming for 3 nights and £145 if you are planning to spend only 2 nights (with 2 in a room).
Sharing a large room with another anointed sister has always proved to be good fun. You are free to choose your partner if both of you agree on that.  If however you do prefer single room occupancy, it is subject to availability and you will be charged an extra 50% . The rooms however are big and accommodate as many as 5 people normally, so there will be adequate space in a shared room.
The prices include Dinner at 6pm on the night of arrival, Lunch at 1pm on the day of departure and every meal in between.
In order to make it more affordable, we suggest you spread the cost over the next 3 months. A deposit of £30 is required on registration latest by 30th November 2022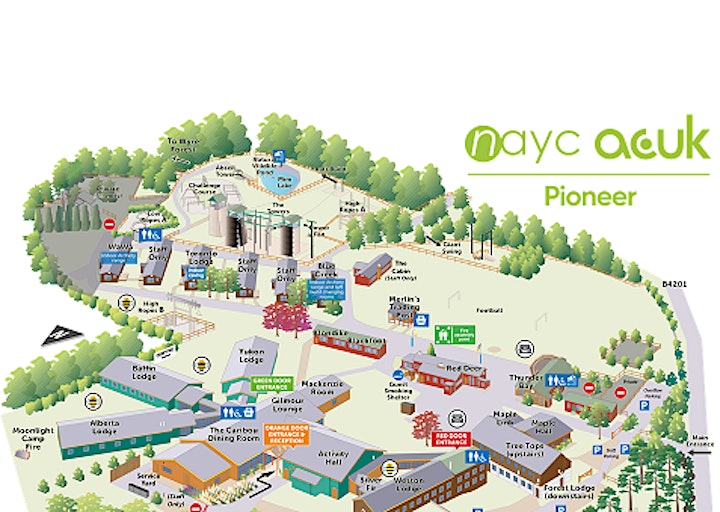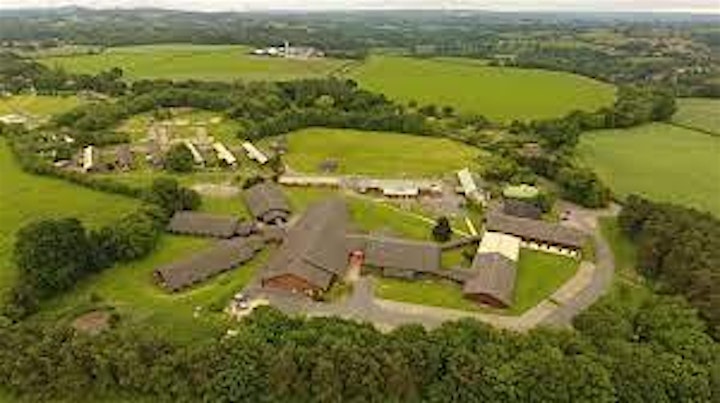 Above is a view of the centre from the air
Saturday Worship at our November 2019 Time Out Weekend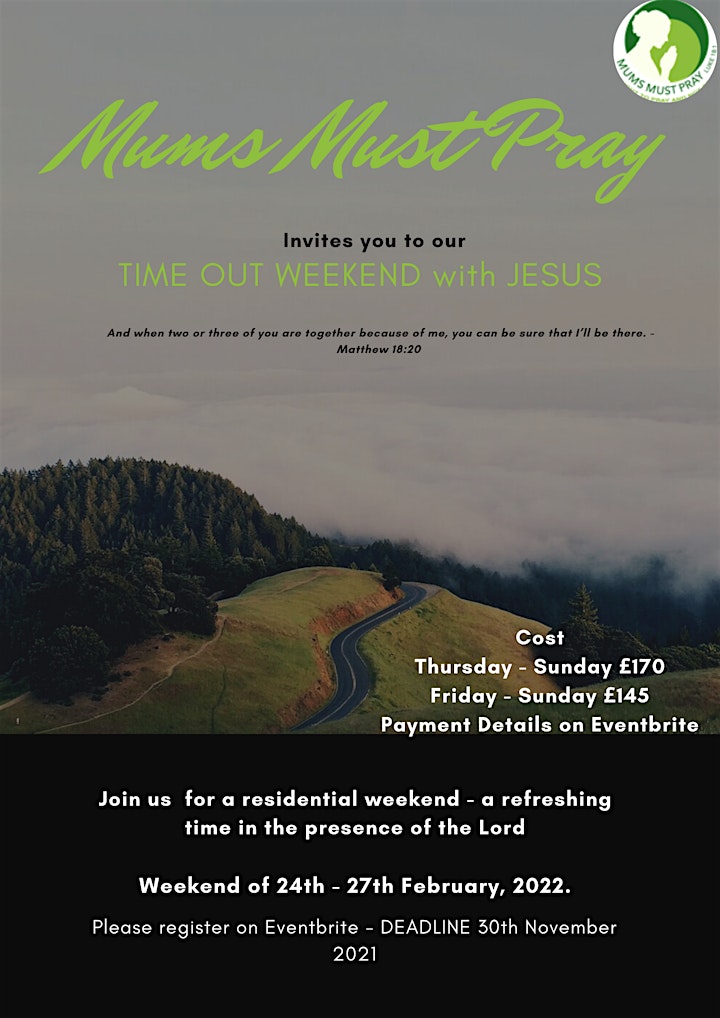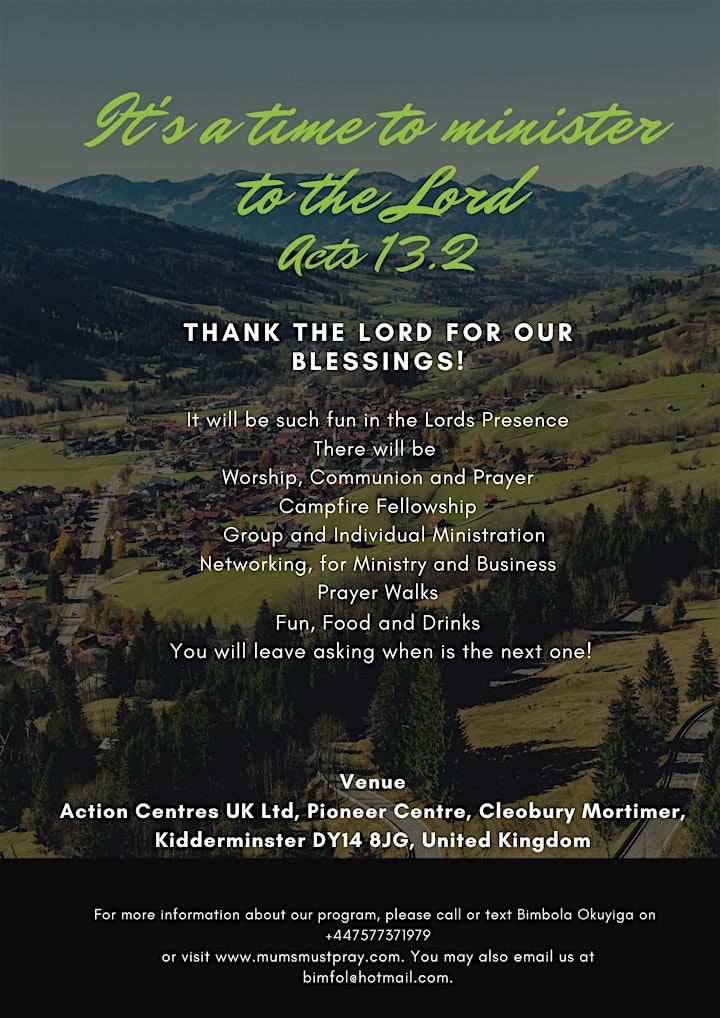 Organiser of Mums Must Pray – Time Out Weekend Feb 2022
Mums Must Pray is an international prayer outfit set up to encourage and gather mothers and grandmothers together frequently to pray for their children, grandchildren and other Christian children.
Our Vision is to bring together mothers of all types all over the world for the purpose of praying for their children and the children of others.
It also includes training mothers to use all kinds and manner of praying for children and helping mothers to reach their potential in Christ
In our prayer meetings , we encourage and endeavour to create an atmosphere where everyone feels comfortable and at liberty to share both what gladdens and saddens their hearts.
We also run KIDZ and TEENZ MUST PRAY where we encourage children in their walk with God.
Now Jesus was telling the disciples a parable to make the point that at all times they ought to pray and not give up and lose heart
(Luke 18:1 Amplified Bible)