Description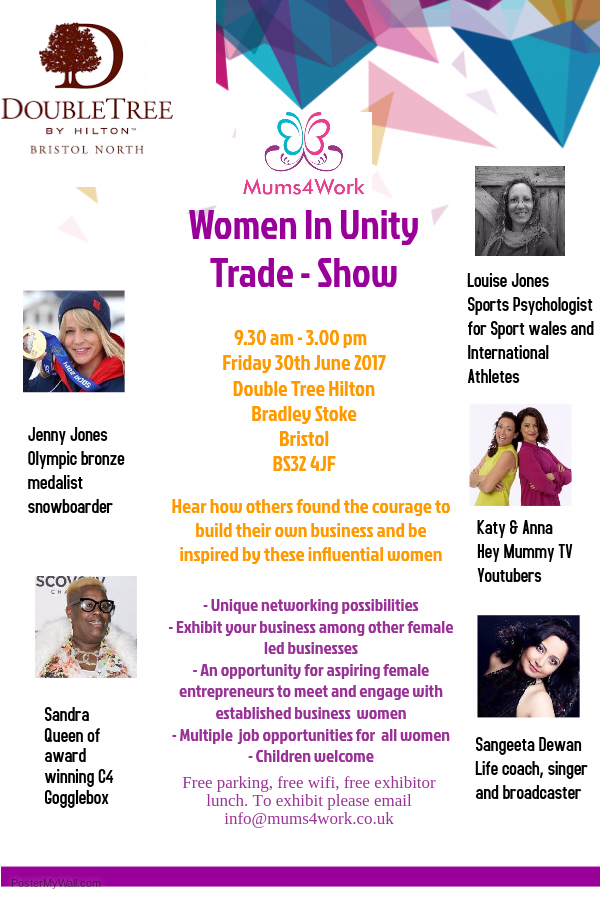 Bristol's Women in Unity Trade-Show
Speakers
Jenny Jones - Olympic bronze medalist snowboarder
Sangeeta Dewan - Life coach, singer and broadcaster
Sandra - Queen of award winning C4 Gogglebox
Katy & Anna - Hey Mummy TV, Parenting Youtubers
Do you offer fulltime, partime, self employed, franchise, workfromhome, contracted jobs or opportunities and would like to promote and exhibit your business please see the ticket options.
Exhibitors
Free WIFI, free lunch, free car park, 6 ft rectangle table & 2 chairs provided. (If electrical supply is required please let us know so we can place you in a allocated area with supply).
If you require accomModation please do let us know asap so we can make you aware of Double Tree Hilton's competitive rates.
*If there are individuals from the same network marketing company that book we will accept the first booking and we will refund anyone else from the same network marketing company. As it will not be fair to individuals to have the same company duplicating each other.
Delegates
Are you looking for work, and would like to see what potential opportunties are around? Book your Free delegate ticket. Children welcome.
If you require more information or would like to sponsor or help with goodie bags for this event please email info@mums4work.co.uk