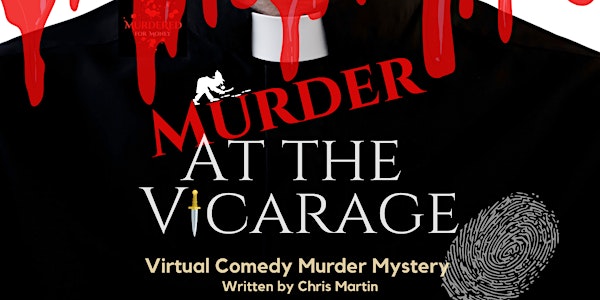 Murder at the Vicarage? - 5 day virtual mystery challenge
Sales Have Ended
Ticket sales have ended
Sorry tickets for this event are now sold out. If you would like to be the first to hear about forthcoming MurderedforMoney productions please sign up for our monthly email update at https://mailchi.mp/0683403ed12e/murderedformoneynewsletter Our next virtual mystery https://murderedformoney.co.uk/product/scream-halloween-virtual-murder-mystery/ Our next live venue mystery https://murderedformoney.co.uk/product/monster-murder-mystery-venue-event-thursday-21st-october-2021/ Best wishes The MurderedforMoney Team
Event Information
Location
Virtual Event
Your sofa
Your house
Your country
SO19 7BU
United Kingdom
Sales Have Ended
Ticket sales have ended
Sorry tickets for this event are now sold out. If you would like to be the first to hear about forthcoming MurderedforMoney productions please sign up for our monthly email update at https://mailchi.mp/0683403ed12e/murderedformoneynewsletter Our next virtual mystery https://murderedformoney.co.uk/product/scream-halloween-virtual-murder-mystery/ Our next live venue mystery https://murderedformoney.co.uk/product/monster-murder-mystery-venue-event-thursday-21st-october-2021/ Best wishes The MurderedforMoney Team
Calling all armchair detectives, can you catch the killer and claim the prize? Play on any device at times to suit you.
About this event
This event was originally due to take place on the 25th- 30th January however due to covid within the cast it has been postponed to the 22nd - 27th February. All Ticket holders will be automatically transferred to the new dates. If you are unable to attend on this new date and require a refund, please email Bridget@MurderedforMoney.co.uk
Join us this February in a village full of lies, jealousy and blackmail . The perfect ingredients for a sparkling murder mystery from the multi-award winning MurderedforMoney Team.
Sunday evening at the church of St Ignatius the Unflappable in the Village of Steeply Willows and all is not well. With a Vicar more concerned with his chances of making Bishop than the well being of his flock, a disgruntled curate and a fete committee on the warpath, things look like they are going to get worse before they get better. Add to the mix the scout masters new Bingo Calling machine, a sudden black out and cake knife, and you have the ingredients for a perfectly heavenly murder.
This virtual event is played at your own pace over five days culminating in a live zoom* interrogation of suspects on the Saturday evening. With a daily email of clues, footage and puzzles, a week of reviewing evidence and forming theories awaits.
For those playing alone or any player who would like to discuss their thoughts with others, our lively private Facebook Event Group is available throughout the week.
Challenge your thinking with our puzzles and clues, cry with laughter at our live interrogations, join our online community of sleuths.
INCLUDING
Video footage
Clues
Puzzles
Private Facebook Event Group (optional)
Interrogation session (optional)
Full instructions
Recommended for ages 11+
TICKETS
Tickets are £15 per household (+Eventbrite admin fee)
HOW TO PLAY
At 6pm on Tuesday 22nd February you will receive an email containing detailed instructions how to play.
At 12 O'Clock on Wednesday 23rd, Thursday 24th and Friday 25th January 2022 you will receive an email from us containing video footage, evidence, clues and puzzles relating to a crime.
At a time convenient to yourself watch the videos and considered the clues. You may choose to watch them everyday, or save them up until the end of the week and binge!
Then on the evening of Saturday 26th January, you have the option to attend a live interrogation of the suspects via zoom. With skillful questioning can you break the alibis, observe the tell tale body language of the liar(s) and reveal hidden clues?
Once the interrogation is over you then have until 6.30pm on Sunday 27th to submit your solution to be in with a chance to win a prize.
PLAY ON ANY DEVICE
You can play on any device on which you can receive emails and watch Youtube videos. This could be your phone, ipad, laptop, computer etc.
WHAT OUR CUSTOMERS SAY
It was a fabulous experience and immense fun! Highly recommendable!!
Engaging, witty and draws you in! Excellent and interactive production
Everyone involved made such a great effort. The challenge was fun and exciting.
Many thanks and congrats to the team for putting on a great experience.
This was a great self-paced mystery with an interesting story line. Complex enough to keep you thinking but not impossible to give us hope. It was entertaining to watch the characters live during the interrogation!
Thank you for getting our brains working and our suspicious minds racing.
LIVE OR RECORDED INTERROGATION
As part of the production we will be hosting live suspect interrogation sessions (via Zoom video conferencing). We hope you will join us and ask your questions, however for anyone who is not able to attend, or would prefer not to, a video of the sessions will be made available afterwards, so you will not miss a thing. If you would prefer not to attend the live interrogation session, please buy a recording only ticket.
By taking part in the live interrogation session you are giving your agreement to being recorded and having the session placed as an unlisted Youtube video for the period of one week.
WRITER
This play is written by Chris Martin and adapted for the virtual world by Jane Beesley
PRIZE
1st Prize: £30 Amazon voucher (winner to be chosen at random from all correct who-dunnit entries received)
Master Investigator award: Free ticket to February's virtual mystery challenge and Master Investigator certificate. This award is given for the most accurate and detailed explanation of how the murder(s) occurred. The winner will be chosen by the director of the mystery and their decision is final. No cash alternative is available.
Date and time
Location
Virtual Event
Your sofa
Your house
Your country
SO19 7BU
United Kingdom
Refund policy