Murdering Stereotypes: Real Women in Crime Fiction with Eva Dolan, Emma Fli...
Description
Step inside Bloomsbury Publishing as we deep dive into the depiction of women in crime fiction and
the challenges to the portrayal of real women

with two writers determined to smash the stereotypes.

Join us at the Bloomsbury Institute as we bring together three extraordinary women to help us better understand portraying women accurately in fiction - particularly in stories led by complex and flawed female characters - and how these are viewed (and reviewed!) by readers, critics and book lovers everywhere. Novelists Eva Dolan and Emma Flint will discuss the highs and lows of this important topic for all authors with Danuta Kean.

Date: Tuesday, March 20th
Timing: 6:30pm to 8pm (doors and drinks reception from 6pm)
Venue: Bloomsbury Publishing, 50 Bedford Square, WC1B 3DP
Nearest station: Tottenham Court Road
Tickets: £15 for adults / £10 students and concessions. Buy a copy of THIS IS HOW IT ENDS for £7 (normally £12.99) with your event ticket for only £20 and we'll keep it safe for you to collect on the night.

If you would like to bring a group of five or more together, please email institute@bloomsbury.com for a significant discount on your tickets.

This event is hosted by Bloomsbury Institute, a divison of Bloomsbury Publishing. Please read our Event Terms and Conditions carefully as by buying a ticket to this event, you confirm that you accept these terms and condition and that you agree to comply with them, alongside the Eventbrite terms and conditions.

***

Eva Dolan was shortlisted for the CWA Dagger for unpublished authors when only a teenager. The four novels in her Zigic and Ferreira series have been published to widespread critical acclaim: Tell No Tales and After You Die were shortlisted for the Theakston's Crime Novel of the Year Award and After You Die was also longlisted for the CWA Gold Dagger. She lives in Cambridge. Follow her @Eva_Dolan

Emma Flint grew up in Newcastle upon Tyne, and has been writing fiction since she knew what stories were. She graduated from the University of St. Andrews with an MA in English Language and Literature, later completing a novel-writing course at the Faber Academy. She worked in Edinburgh for four years, and now lives in north London. Follow her @Flint_Writes

Danuta Kean is Books Editor of Mslexia and a respected publishing expert and journalist. Her work appears regularly in national newspapers, including the Financial Times and Independent on Sunday. She is a regular speaker at festivals, interviewing authors and revealing the inner workings of a trade that seems opaque to many writers. When not writing she is invariably found at the back of gigs in small venues or looking guilty as she walks past her gym. Follow her on Twitter at @Danoosha.

****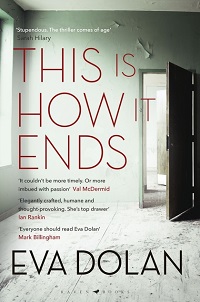 'Elegantly crafted, humane and thought-provoking. She's top drawer' Ian Rankin
This is how it begins.
With a near-empty building, the inhabitants forced out of their homes by property developers.
With two women: idealistic, impassioned blogger Ella and seasoned campaigner, Molly.
With a body hidden in a lift shaft.
But how will it end?
Praise for THIS IS HOW IT ENDS:
"Terrific...A haunting novel about friendship, suspicion and betrayal" – Sunday Times, Crime Book of the Month
"A thoroughly contemporary and distinctively intelligent thriller" – Mail on Sunday, Thriller of the Week
"Dolan is expert at the orchestration of tension, right up to the vertiginous climax" – Barry Forshaw, Guardian
"Expect clever plotting, complex characters and the best book yet from an author at the top of her game" – Lisa Gray, Daily Record
"I absolutely loved it. I don't think there's another crime writer around at the moment who's engaging so passionately with urgent social issues, and creating such thrilling drama out of them" – Mick Herron, author of the Jackson Lamb series
"A tense, intelligent, politically charged thriller, expertly crafted by a writer at the top of her game" – Mari Hannah, winner of the CWA Dagger in the Library
"Searing and uncompromising and so inventive in structure I could but marvel" – Rachel Rhys, author of Dangerous Crossing
"Angry and impassioned yet soulful and heartfelt, This Is How It Ends puts Eva Dolan firmly among the top rank of British crime fiction" – Martyn Waites, author of the Joe Donovan series
"Bold and unusual, Eva Dolan's exquisite writing perfectly captures contemporary London in this cleverly plotted novel" – Sarah Ward, author in In Bitter Chill
"Angry, compassionate and mind-blowingly clever, with a truly shocking ending" – Mark Edwards, author of The Devil's Work
"Fierce, timely, twisty and so well written" – Sarah Franklin, author of Shelter
"A sublime and relevant urban literary thriller ... Eva is a brilliant storyteller and the stories she tells are as compelling as they are important. She's a star" – Will Dean, author of Dark Pines
"Eva Dolan writes some of the most important crime fiction on the scene today" – Stuart Neville
"Eva Dolan's writing is snappy, confident and sharp as a blade, with a storytelling style that bubbles and fizzes" – Crime Fiction Lover
"One of crime fiction's brightest rising stars " – Chris Ewan, bestselling author of Safe House
"[Dolan] excels at presenting knotty, addictive tales that also force the reader to think more widely about the way in which society treats its most vulnerable members … A wonderfully prescient premise … Dolan keeps the tension rising as she expertly juggles two distinct voices and timelines … Dolan is a master of pace … Ultimately, this smart, deftly told story resonates so strongly because of the complex, claustrophobic relationship at its heart: like Molly, we are drawn inexorably to Ella's flame, unable to step away even when it might burn" – Independent
"Dolan has fashioned switchback twists with characters who are nuanced and transcend stereotype. A triumph" – Metro
"A thoroughly contemporary and distinctively intelligent thriller" – Mail on Sunday
"Contemporary London is brilliantly evoked in this timely, twisted story about social activism ... It sweeps you on a journey to a conclusion that lingers long in the memory" – Sunday Mirror