Join us on Wednesday, November 18, at 18.00 hrs (CET) for the closing symposium of Museum Affinity Spaces (MAS) research project.
About this Event
Are you thinking about incorporating cultural heritage in your classroom practice at school, but wondering how to use the affordances of an online environment and tools to promote meaningful and inclusive learning?
Or maybe you're a museum educator and wondering how to get in touch with schools and establish effective and sustainable partnerships?
How does COVID-19 affects your approach to teaching in and through cultural heritage?
What digital transformation is needed by museums, to act as agents of change in turbulent times?
This closing research project symposium will provide insights on the findings of a funded postdoctoral project: "Museum Affinity Spaces (MAS): Re-imagining Museum-School Partnerships for the 21st century through a Multiliteracies Lens".
MAS is a project funded by the Research and Innovation Foundation in Cyprus and runs between November 2018-October 2020.
Join us to discuss how to design for, implement and evaluate, sustainable and inclusive museum-school/community partnerships: findings from the integration of cultural heritage in compulsory education across Europe.
Agenda (Brussels time):
18:00 The project briefly
Speaker: Dr Stefania Savva, Postdoctoral Research Fellow, Art & Design, elearning lab for Social Change, Cyprus University of Technology (CUT)
- Project scope and goals
- MAS Infrastructure
- Key findings
- Conclusions and recommendations
18:30 "Digital Transformation in Museums at Time of Precarity"
Keynote speaker: Dr Haitham Eid, Associate Professor/Director, M.A. Museum Studies Program, Southern University at New Orleans
19.10 Q & A
19:30 Closing of the symbosium
Link to join: https://join.skype.com/gnba6rrF4ROT
(Skype Group name: Museum Affinity Spaces)
*Registration is mandatory - admission is free of charge.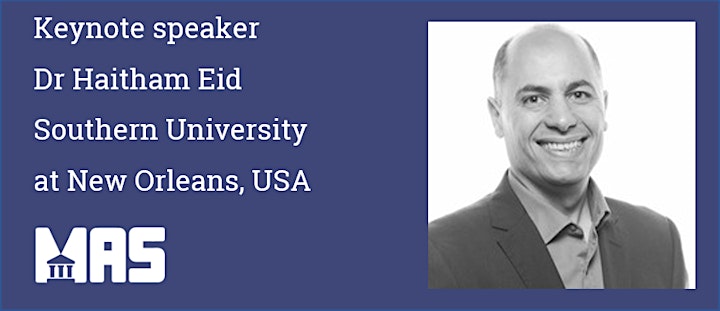 Keynote speaker's bio:
Dr. Haitham Eid is Associate Professor and Director of the Master of Arts in Museum Studies Program, Southern University at New Orleans, USA. He earned his BA in Archaeology majoring in Conservation from Cairo University, Egypt, his MA in Museum Studies from Southern University at New Orleans, USA and his PhD in Museum Studies from the University of Leicester, UK.
Dr. Eid's research interests include museum innovation models and the intersection of workplace diversity and innovation in museums. Informed by museology, business studies, social sciences, and technology literature, his research seeks to construct perspectives of innovation theories and practices in museums. Dr. Eid is the founder of the Museum Innovation Model (MIM), a framework that helps museums innovate by utilizing open innovation strategies, social enterprise, and the concept of social innovation.
Dr. Eid has published articles and book chapters in major publications such as the International Journal of the Inclusive Museum, Museums and the Web, and The Museum Blog Book. His award-winning book Museum Innovation and Social Entrepreneurship: A New Model for a Challenging Era (Routledge Research in Museum Studies 2019) is considered the first and only monograph in the museum studies literature that exclusively deals with the issue of museum innovation. He has received grant funding from local and national organizations, including the National Endowment for the Humanities and Jon Mitchell Foundation.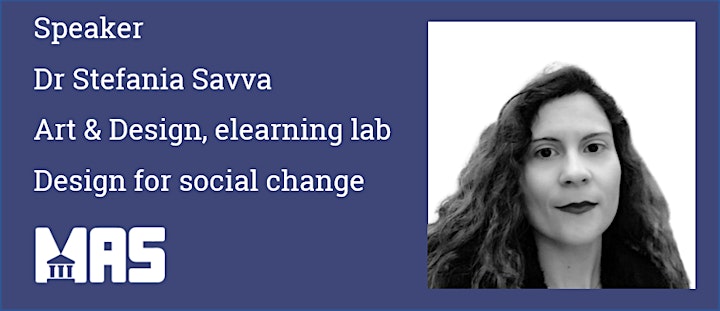 Speaker
Dr. Stefania Savva is an Educational Researcher and Museum Learning Architect. She holds a PhD in Museum, Gallery and Heritage Studies from the University of Leicester, UK in 2016, with a focus on developing innovative museum-school partnerships to support cultural diversity and multiliteracies-based pedagogy for the 21st century. Following on from her undergraduate studies in Primary Education in Greece, Dr. Savva completed an MA in Art, Craft and Design Education in London in 2009, investigating art education curriculum for social change and inclusion.
Combining practical experience as instructional designer in formal, non-formal and informal learning environments, with her interdisciplinary research endeavours, Dr. Savva has been working for the past eight years as research associate at the Art & Design, elearning lab for social change (CUT). Her focus is on the areas of education and inclusion, technology-enhanced museum learning, multiliteracies pedagogy, cultural heritage for social change, digital learning ecologies, and cultural and arts entrepreneurship.
Dr. Savva has received a number of scholarships to present in international academic conferences, while her research is featured in various peer-reviewed journals and edited volumes. She has a record of successful European funding acquisition and management, including Erasmus+ projects. In 2018, she was awarded funding for Museum Affinity Spaces, a postdoctoral fellowship research investigation, exploring sustainable digital pedagogical frameworks for integration of digital cultural heritage in compulsory education across Europe.