Description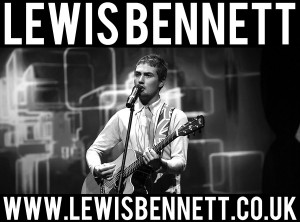 Lewis Bennett is a 24 year old Mod/Punk/Soul inspired singer-songwriter currently making waves along the south coast. Fresh off the back of performing at Birmingham NEC as an Open Mic UK national finalist, Lewis is building up an ever-growing local following and gaining a strong reputation for his energetic and passionate live performances. Find music at www.lewisbennett.co.uk.
Bethany Jade is an up and coming performer who has lived in Lindfield all her life and whose talent for performing arts became evident at an early age. She has performed in countless local productions and appeared on Children's BBC, been a featured model in a teen magazine and for a 'Childline' campaign. During a season with 'West End Kids' she was lucky enough to perform alongside a West End Musical cast in Canary Wharf and more recently appeared at the Lyric with YMT.
Bethany's love of singing won her a place in the semi-finals of the National Open Mic UK in 2013 - and earlier this year she was voted one of the winners of the Mid-Sussex Battle of the Bands. She is thrilled to be one of the support acts for the Brighton-based 'No Town Like Motown' and is looking forward to
appearing at 'The Haunt'. As a regular singer at Lindfield events she is delighted to be performing live again for you at this year's Arts Festival and will be singing a number of pop songs and ballads.
For more information, check out Bethany's Twitter page www.twitter.com/nowbethanyjade where you can also see her singing on Youtube (www.youtube.com/watch?v=lyHM8EC_Lf4).
Epiphany are a local band (formerly 'Don't Speak') who initially met through Rok Skool. They love singing all types of songs varying from mashups to their own acoustic interpretations and they rehearse weekly to broaden their repertoire. They each bring something valuable and diverse to the group and consequently gel really well together. 'Epiphany' have performed at many local venues and are frequent performers at the 'Lindfield Village Day' and 'Lindfield Arts Festival' . They are soon to perform at St John's Church and will be performing at other local venues throughout the year.