Description
Music for Youth presents... Frequencies Bristol
Are you a musician or artist of any style, aged 21 or under? Or keen to work in a different area of the industry and find out more about the different options there are in working with artists off-stage?
Get the insider knowledge, try out new sounds, sign up to perform live on stage and get 1:1 professional feedback, collaborate with professionals and other upcoming artists, and meet industry representatives who want to help you become the music industry of the future.
Taking over The Station, Bristol for our first event of 2018, Frequencies is back in the South West, and bigger than ever. (Catch us in London on the 14th October and Newcastle on the 22nd October)
If you're 21 or under, sign up to join us for a day of:
- Industry panels and connecting with professionals and other artists, including a pizza and networking session as we head in to the evening
- "In the Know" sessions including Royalties and Licensing 101, Intro to Live Mixing, & Social Media Content Tricks & Tips
- Live jam sessions collaborating with other young artists and musicians of all styles, run by professional sound artists, musicians, and performers including our resident artists, listed below
- Live evening showcase of eight emerging local artists
- Potential links to future performance opportunities and projects, including the Royal Albert Hall in 2019


See you on the 29th September!
---
Meet some of our resident artists, creatives and professionals who you will meet and work with as part of the day:
Hobbit - https://www.hobbitbeats.co.uk/
Hobbit is an international beatbox champion, vocal noise maker and loopstation artist. Hobbit performs everything from intimate gigs to stadium tours across the world, and his work has taken him everywhere from Glastonbury Festival to Times Square. As well as working across genres from classical cellists and Indian kathak performers, through to theatre productions and musical comedy, Hobbit also produces soundscapes and mixes live for performances of all different kinds, while also finding time to voice the character 'Juke' on Cartoon Network show "The Amazing World of Gumball" among much more.
Jennifer John - http://jenniferjohn.co.uk/

Jennifer John is something of a creative dynamo. She is a singer/songwriter, performer, choir director, vocal arranger, teacher, workshop leader, mentor, manager and business woman. From classical beginnings through to pop, jazz and a capella, Jennifer's ethos is all about encouraging people to think of the voice as a musical instrument.
John Evans

John Evans is a freelance composer, guitarist, arranger and educator. He has played for The Divine Comedy, Ray Davies, and Tom Chaplin amongst others, as well as in the West End shows, Jersey Boys and Billy Elliot. He has composed for Channel 4 and arranged for BBC orchestras for Sinead O'Connor and Duke Special. He teaches composition and performance.
Taneisha Jackson - https://www.umusicpub.com/uk/Artists/T/Taneisha-Jackson.aspx
Taneisha Jackson, a singer/songwriter born in Jamaica, moved to England at the age of 9 where she was raised in the heart of South East London. In 2014 John Legend recorded one of Taneisha's songs called 'A Place Called World' and it became the soundtrack to an international campaign by San Miguel. She's currently working on new material with Electric (Little Mix, Fleur East), Sub Focus, Unorthodox (Calvin Harris/ Disciples), Play Productions (Rascal Flats, Celine Dion). She has cuts on forthcoming releases by artists including Tamera Foster (Syco), Toyboy & Robin (Atlantic), Secaina Hudson (Capitol Records) & BBC Radio 2 favourites Ward Thomas.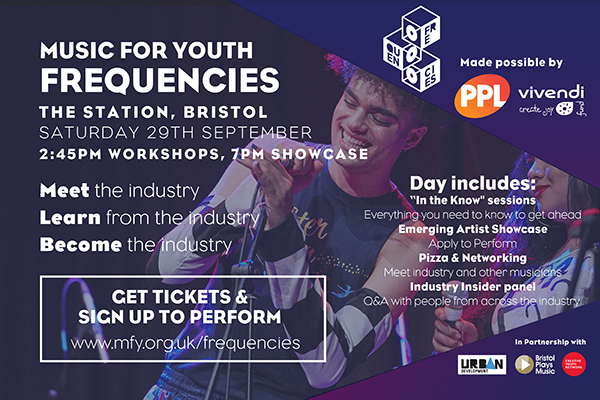 2:45pm - 7pm - Day Sessions, including: Industry insider panel Q&A, "In the Know" sessions, Live Jam Session & Sound Workshop, Pizza and Networking
7pm - Late - New Artist Showcase - Eight emerging local artists. Come along and support your local scene.