Description
Daily 2 hour walking tours of historic Richmond at 12:00 noon daily.
Tours start from inside One Kew Road - immediately opposite Richmond train and tube station with fast and frequent services from all parts of London, Windsor and Reading.

A POTTED HISTORY
Richmond's character stems from its location on the River Thames. Historically a residence of the English monarchy, it soon established itself as a popular riverside resort and place of relaxation. It also boasts the oldest bridge spanning the River Thames within Greater London and sits alongside a riverside development that evokes memories of the 18th and 19th centuries.
Richmond benefits from a timeless charm more akin to a village than a town. King Henry VII named Richmond after his favourite Earldom, Richmond in Yorkshire and the gateway of his stately Palace, favoured by Queen Elizabeth I, still remains on Richmond Green.
The view from the top of Richmond Hill has been a source of inspiration for artists and poets and was protected by an Act of Parliament in 1902. Beyond the Hill lies the 2,500 acre Richmond Park enclosed by King Charles I in the 17th century as a favoured hunting ground, where large herds of deer still wander freely today.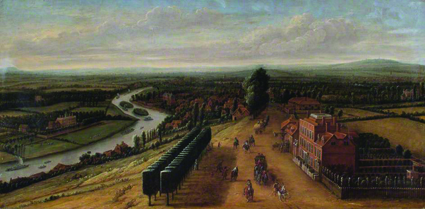 ONE KEW ROAD - where your Richmond walking tours start and finish
Formally the Station Hotel, the current name conceals its major significance and reputation as one of the world's most celebrated music venues and home to the original Crawdaddy Club.
Regular Jazz & Blues had been played here prior to The Rolling Stones securing their first residency on 24th February 1963. Decca Records' Dick Rowe signed them at this venue soon after The Beatles came to watch them perform here in April 1963.
In June 1963, the The Stones played their last gig at the Club before it moved to the nearby Athletics Ground - home also to the National Jazz & Blues Festival which later became the Reading Festival.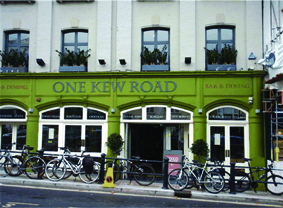 25% OFF YOUR MEAL AT ONE KEW ROAD
Those pre-booking walking tours ONLINE will receive 25% OFF their food & drinks bill (when ordered together). Just show the waiter your e-ticket when ordering. Applies to lunch or dinner on the day of your tour and not redeemable with any other offer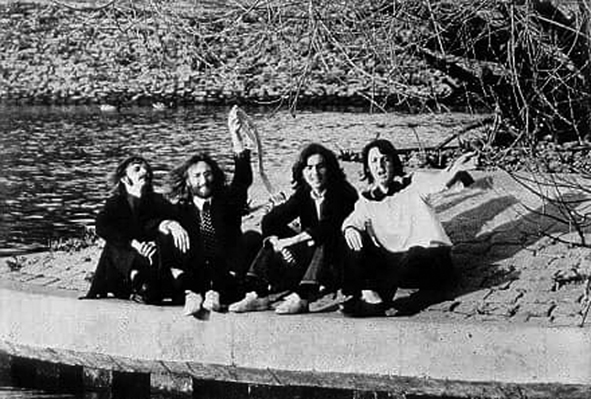 One of last photographs to be taken of The Beatles all together in April 1969 - 'The Flowerpots' in Richmond