About this Event
curated by The Music Works
A ONE-DAY INCLUSION CONFERENCE
Address:
2nd April 2019 // 9.30 am - 4.30 pm
The Pavilion,
Hatherley Lane,
Cheltenham,
GL51 6PN
We welcome presentations from:
Youth Music CEO- Matt Griffiths
Bristol Music Trust/National Centre for Inclusive Excellence
Hugh Nankivell- Composer and Music Educator
The Rising Arts Agency-Leading advocacy & governance with young people
And a performance from 5 mics -vocal collective from Gloucestershire
Who is the Music Inclusion Conference for?
People working with young people in music and beyond & those commissioning services for them:
Music tutors/music leaders,
Teachers & heads,
SENCos,
Music Education hubs,
Pastoral & inclusion staff,
Other professionals working with young people, arts, culture and heritage organisations.
Why you should attend the Music Inclusion Conference:
To find out how you can transform outcomes for young people
***Find out about Local funding for music ***
•Practical advice • Inspiring speakers & performances• Resources and tools •Networking • Resources and tools • Workshops • Cross-sector approach and practical, case study-based examples • Inclusive Leadership examples • Advocacy and governance practice • Network with wide selection of delegates • Peer to peer learning•
* Light lunch provided *
*Please note that this event will be a NUT-FREE Zone *
*If you require sign language support and interpreters for this event, please notify us in advance*
Keep up to date with the Music Inclusion Conference by following The Music Works on social media! 💻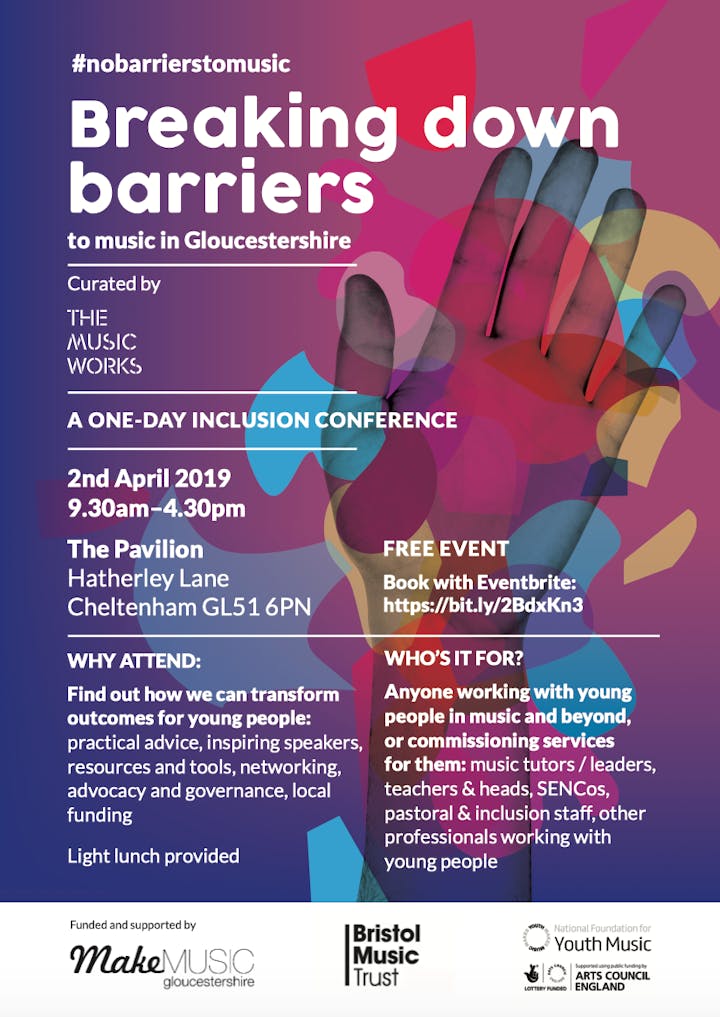 Agenda:
9.30am Registration & Networking for delegates
Refreshments available
10am Introduction and keynote
The Music Works
Youth Music CEO- Matt Griffiths
10.45am 5 Mics performance and presentation
11am Bristol Music Trust &
National Centre for inclusive excellence
Innovating inclusion & progression routes for young people
11.30am The Rising Arts Agency
Voice and advocacy and governance for young people
Leading music from the starting points of creativity and diversity.
1.20pm Facilitated networking
1.40pm Workshops on rotation
*Digging Deeper- Ways of working
Bristol Music and National Centre for
Inclusive Excellence
Alex Lupo/Siggy Patchitt
*How to use music technology in inclusive ways
Lee Holder
Senior music leader, lead for disability
The Music Works
Additional sessions to be confirmed!
3.15pm Refreshment break
3.45pm Panel discussion – Inclusive Gloucestershire
4.10pm Summing up- Matt Griffiths and Young person
Accessibility
We will ask for your access requirements when you book your ticket to allow us to plan timings and logistics for the event, thanks for your help with this.
Parking and travel arrangements:There is parking for 80 cars onsite. Please be aware that on busy days there may not be parking available for everyone so please consider car sharing and public transport. More transport information will be provided before the event.