Sales Have Ended
Registrations are closed
Thank you for your interest in attending this Music Tech Fest Hack event. Unfortunately the sign-up period has now elapsed. If you would still like to attend, please come to the venue during the event to see if any tickets are available on the door. If you would like to be added to the Music Tech Fest mailing list and hear first about upcoming Music Tech Fest Hack events please follow this link http://eepurl.com/1i0L5
Sales Have Ended
Registrations are closed
Thank you for your interest in attending this Music Tech Fest Hack event. Unfortunately the sign-up period has now elapsed. If you would still like to attend, please come to the venue during the event to see if any tickets are available on the door. If you would like to be added to the Music Tech Fest mailing list and hear first about upcoming Music Tech Fest Hack events please follow this link http://eepurl.com/1i0L5
Description
INVENTING THE FUTURE OF MUSIC IN PARIS

Music Tech Fest is coming to Paris. Grab a weekend pass and prepare to explore new ways of creating and experiencing music.
During the weekend of 21-23 November, IRCAM - Centre Pompidou becomes a creative playground for experimentation with new music technologies and new ideas for music performance. Everything is allowed: hacking into existing controllers, collaborating with professional musicians, experimenting with new ideas in situ, impromptu jumping on stage. The Music Tech Fest "Gunk" (Geek Punk) ethos means you can be totally hands-on with technology, rough and ready with making noise, and experiment with immediacy of self-expression. We do not encourage smoothing over cracks, fixing it in the mix, or autotune. Nothing is a mistake and there are no rehearsals.
Friday 21 November 6pm - 10pm
Saturday 22 November 4pm - 10pm
Sunday 23 November 4pm - 10pm
Want to be part of our overnight hack camp? SIGN UP HERE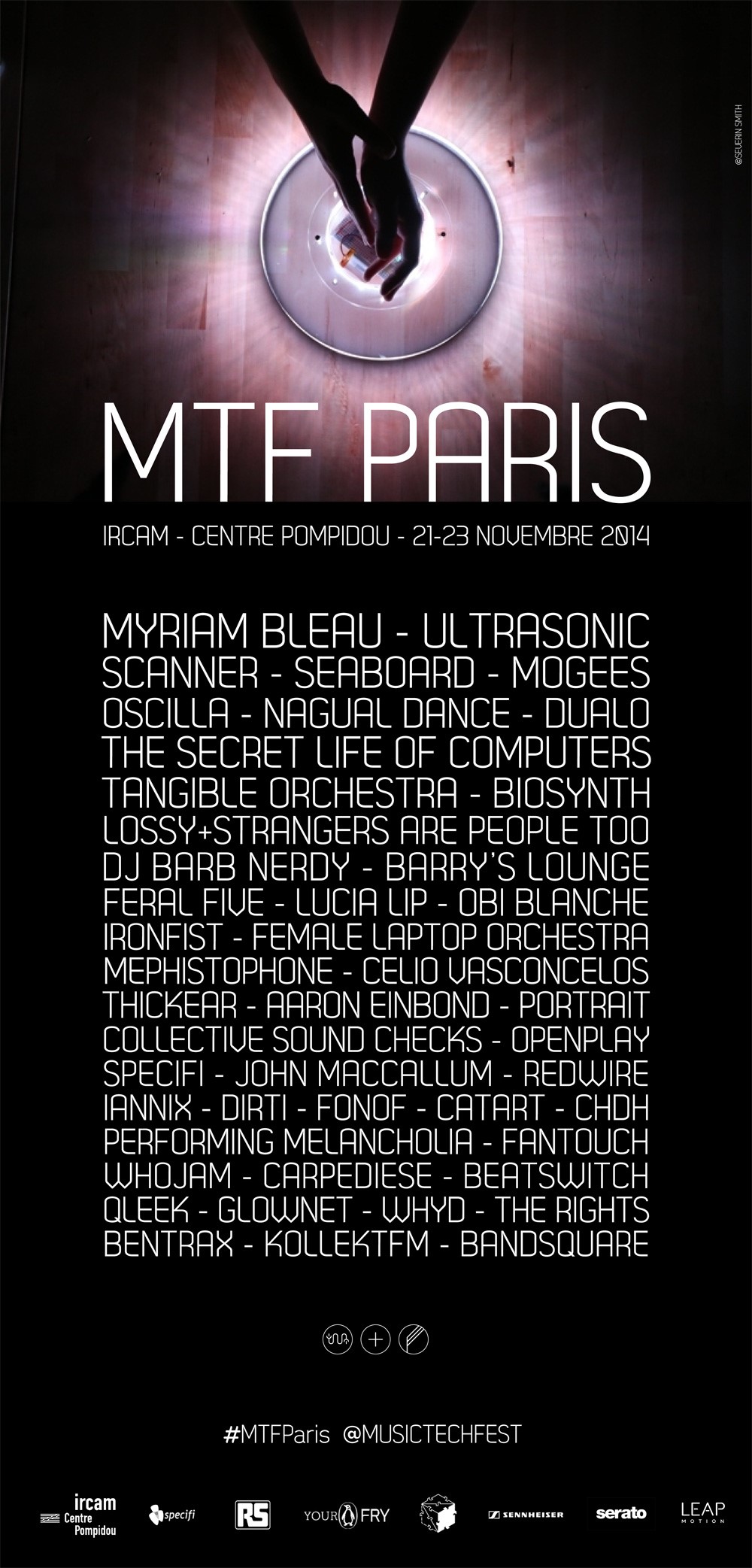 _____________
Music Tech Fest is the "festival of music ideas". It brings the entire music technology ecosystem under one roof. It provides a creative platform for collaboration and co-creation by hackers, musicians, innovative startups, independent and major music labels and technology companies.
The weekend is packed with back to back performances, demonstrations, and presentations from artists, technologists, entrepreneurs, academics and ideas people. The festival is the place where we celebrate and invent the future of music.
At IRCAM, Centre Pompidou, the festival will feature some fantastic artists and innovators showcasing and performing their projects. We want to ensure all of the great ideas from IRCAM and the Paris music tech startup community are demoed / performed on stage.
The festival is filmed and streamed live online to audiences in over 70 countries and all professionally edited videos of presentations are made available for sharing and embedding.
_____________
After a series of successful events in New Zealand, Boston, London and Berlin this year, Music Tech Fest is heading to Paris. Since its launch, the event has been requested in multiple worldwide locations and has since expanded from Europe into a global music technology network with events currently running across several continents.
In addition to the main festival stage, the festival hosts a 24-hour "hack camp" at which artists and technologists collaborate to invent new types of instruments, new ways of making music and new ways of experiencing music. The hack camp is a 24-hour collaborative laboratory in which the best technologists, programmers and DIY electronics enthusiasts from all ages and backgrounds team up with artists and innovators to respond to creative challenges.
Rather than focusing on screen-based software projects, Music Tech Fest challenges prioritise performance with physical objects in three-dimensional space: creative projects that combine the Internet of Things with performance and co-creation of music. In this way, innovative new projects emerge and unlikely collaborations are formed. The best of these are supported to go out into the world to become new art projects, research initiatives or commercial products.
Organiser of Music Tech Fest Paris - FREE ENTRY
Music Tech Fest is the Festival of Music Ideas. It's an experimental and improvisational space where ideas are showcased, performed, demonstrated and discussed. It's a place where musicians and hackers come together to collaborate and try things out. It's about sharing your idea with a community. It's a place where industry and academics, artists and technologists come together to both celebrate and invent the future of music. 
As well as the main festival stage, we also run a 24-hour hack camp where our hackers are challenged to create new types of instruments, performance interfaces and musical experiences and all those get performed on stage on Sunday.
Follow us @MusicTechFest.