'Music with Meaning' feat. MINNA, CAITLIN, AURA & Special Guest Birdy 7:30-11pm @ The Bedford, London.
About this event
'Music with Meaning' in support of Music for Mental Wealth
MINNA, CAITLIN & AURA
PLUS Special Guest BIRDY
Hosted by Laura Westcott and Tony Moore
Thursday June 17th @ 7pm (Live Music 7:30pm - 10:30pm)
Join us for a very special event that empowers musicians to share personal stories behind songs in a friendly and loving space.
Line-up:-
Minna is an upcoming Scottish folk singer/songwriter from the Scottish Borders. She has recently spent two years in Spain studying and performing various styles from Jazz to Cuban with a band of local musicians around venues in Madrid. It is also where she first picked up the acoustic guitar, and began to write her own music. Minna is now under the wing of renowned guitar William Lovelady. Minna is in the process of releasing her first two singles with a swift and sweet ode to her Celtic roots. Inspired by the traditional poetry and guitar stylings of an array of artists including Bob Dylan and The Corries and to artists with a more modern take on mood such as Bon Iver. Her soulful voice so sweetly runs like a Scottish river upon an experimental and moving folk sound.
Caitlin was born and raised in the New Forest a few miles outside the seaside town Lymington. Her mother and uncle are both concert pianists, her father - a writer, and her brothers and sisters - musicians and artists; she grew up surrounded by culture. Caitlin trained to be a jazz singer and got regular gigs at well-known London clubs and bars doing the classic standards and hanging around with incredible musicians and performers.
Aura (aka Laura Westcott) is a mental health campaigner and the founder of Music for Mental Wealth and Music with Meaning. She trained as a classical singer before experiencing anxiety and stage fright which spiralled into agoraphobia. Laura quit her aspirations of being an opera singer and instead joined the London Philharmonic Choir and worked as a reviewer and PR manager for The Times in London & NYC. Laura overcame her anxiety through mental health coaching and founded Music for Mental Wealth to help musicians before they have preventable mental health issues. Laura received a voice recorder for her birthday during lockdown and has created an album with composer Chris 'Wood' Marshall to help improve mental wellbeing. Fans include Joanna Lumley: "Aura is literally hypnotic. A beautiful and valuable contribution." This will be Aura's debut performance as she takes to the stage to perform her new soundscape for transformation 'MetaMorphosis'.
- Special Guest Appearance by Singer/Songwriter Birdy
We look forward to another beautiful night of music and storytelling in support of mental health. Money raised goes to our bursary fund to coach musicians BEFORE they have mental health challenges.
For those of you who have not yet been to a 'Music with Meaning' event before - welcome to the family!
Please note that this is a seated only show, seats will be assigned on arrival based on group size - Full menu available - Maximum 6 per table
We also have hotel rooms available for those who wish to stay over - please contact info@thebedford.com for more info - 020 3976 8007
Under 18's must be accompanied by an adult and not buy or consume alcohol
DOORS OPEN AT 7pm.
SHOW STARTS AT 7:30 & FINISHES 10:30. VENUE MUST BE CLEARED BY 11PM.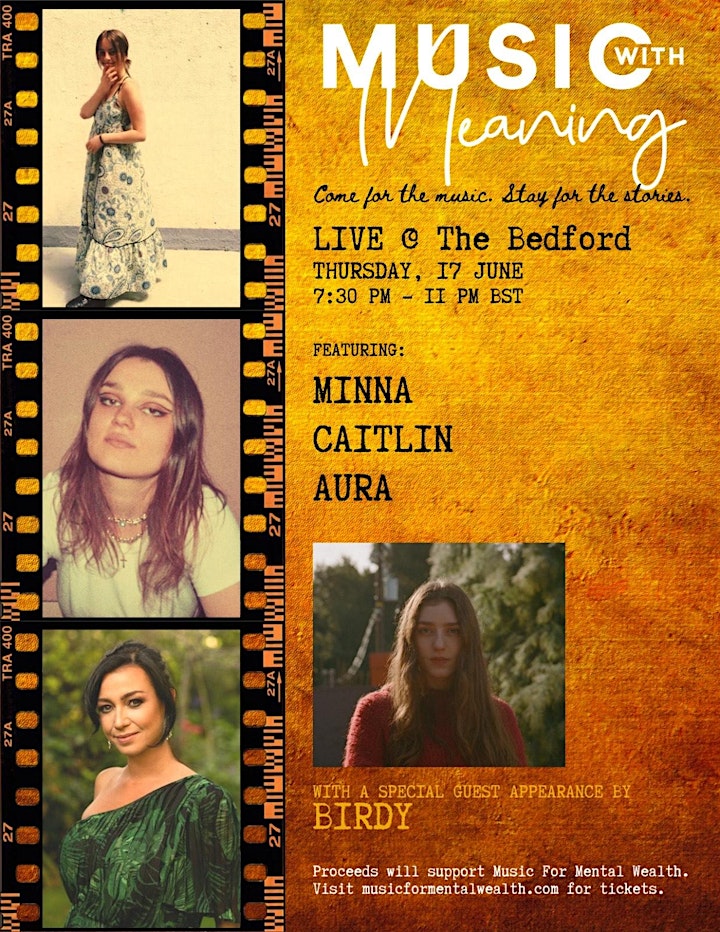 Organiser of MUSIC WITH MEANING - LIVE @ THE BEDFORD