"Music Wonderland" Festive Gala Concert & Masquerade Show
Description
Musica Nova International Academy of Music

"Winter Carnival in the Music Wonderland" Festive Gala Concert & Masquerade Show
Sunday, 10 December 2017 at 5.30pm
St. Stephen's Parish Church, Southwell Gardens, Gloucester Road, London SW7 4RL
Performers:
Young artists of "Musica Nova" Academy, winners of national and international competitions alongside with distinguished teachers and celebrity guest artists will perform exclusively for this event.
The programme:
Well-known and rarely performed vocal and instrumental music, classical and contemporary music excerpts, jazz improvisations, Gospel music, Christmas carols and famous Russian romantic songs (Ballads).

Special presents will be given to young audience members for the best masquerade costume.

Adult Ticket: £10 Family ticket (2 adults): £15
Presents voucher: £5 Children: free
0783 2341745 // www.musicanova.org.uk // 0207 8330502
Facebook: https://www.facebook.com/MusicaNovaRussianBritishMusicAcademy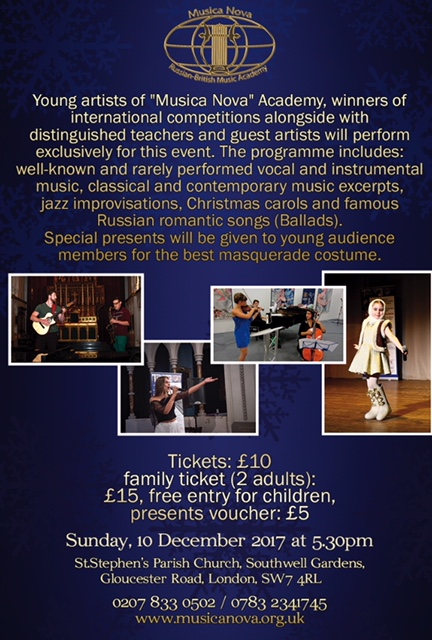 "Musica Nova" International Music Academy celebrates Its 17th Anniversary
"A music wonderland transforming young talented artists into the hottest stars of tomorrow"
Stuart Penney. London Independent Locals
"Musica Nova" International Music Academy is the unique bilingual establishment in the UK that combines the best of British and Russian principles of teaching and offers complete professional music education for children (starting as early as 3.5 years old) and adults (up to advanced professional level), with six categories of classes geared to maximise the potential of the student in musical styles and genres as diverse as classics, jazz, pop, dance and drama. Students from all over the world receive quality music education at the "Musica Nova".
The programmes are specially designed to lead and direct students from very first steps in music to Certificate (Grades 1 – 8) and Degree programmes (Performing and Teaching Diplomas) with participation in concerts, performances at the international festivals and competitions, recording experience.
A specially tailored "Music Wonderland" programme is offered for the younger students.
For the past 17 years students of the "Musica Nova" Academy have successfully performed in front of the members of the Royal Family, won a prestigious 2nd place at the Eurovision 2000 international song contest (Alsou) representing Russia and later on became a finalist at the national singing contest "Teenstar Singing & Dance Competition" (UK), performed alongside with Christina Aguilera and Holly Valance, at the Moscow Kremlin, concert hall "Luzhniki", at the Westminster Central Hall, the Whitehall, Trafalgar Square, Rossotrudnichestvo Centre in Great Britain, Pushkin House, the Russian Embassy (UK and France), and also at following international festivals and contests: "The Starry Rainbow" (Bulgaria), "Little Pearls of Odessa" (Ukraine), "GB Dance & Music" (UK and Italy), "Golden Talents" (Estonia), "Youthvision" (Azerbaijan), "Championship of Caucasus" (Armenia), "Maslenitsa" and "Stars of the Albion" (UK).
"Musica Nova" International Music Academy is a founder of the "Stars of the Albion" International Performing Arts Festival and Competition in London. It is the annual event which joins young extraordinary talented musicians and dancers from across the world. The project forms a unique bridge connecting different cultures and in particular of Russia and Great Britain. The next competition will take be held on 16– 18 February 2018. Further information: www.starsofthealbion.org.uk