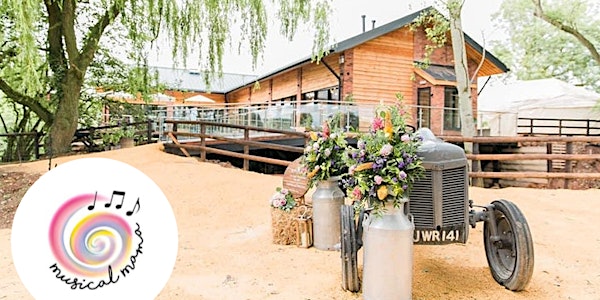 Musical Mama Music Sessions - £7.50 via Bank Transfer (0 - 18 months old
Location
Bennetts Willow Barn
Bennetts Willow Barn
Worcester
WR2 4BS
United Kingdom
Sales Have Ended
Registrations are closed
To secure your ticket please make a bank transfer of £7.50 to: Bank: Halifax Sort code: 11-14-79 Account number: 00027956 You must send us a receipt that you have made the transfer otherwise we will refund your ticket. Our 30 minute sessions are at 10:30 and 11:30 every Thursday and sessions are suitable for new-borns up to 18 months old. Tickets are £7.50. Older babies who attend the session must try and stay in their allocated areas but we know babies will crawl or run away so all we ask is if you can pop your mask back on to go and get your little one. These sessions take place at Bennetts Willow Barn in Lower Wick which has private parking and a café on sight with easy access for prams and buggies. We use music, songs, sounds, nursery rhymes, action songs, musical instruments, different sensory items, baby sign language, baby massage, bubbles and so much more. Our sessions are calm and baby-led. Every week there is a brand new theme and new things to learn for you to take home and practise with your little one. Even though there is a new theme every week it is important to repeat songs we have sang before as this helps your babies development and also helps you to learn them. We have a hello and goodbye song and firm musical mama favourites for you to learn! All our sessions are strictly following suggested COVID 19 guidelines. Deep cleaning of toys and equipment between and before sessions. There are also allocated spaces in the room for you and your little so that we can play in a safe and clean space. All class numbers are kept deliberately low for everyone's safety. If you would like anymore information or have more questions please email us at musicalmamaworcester@gmail.com or visit our Facebook or Instagram pages where you can DM us. Thanks for registering, don't forget to keep your tickets handy, either in the Eventbrite app or print them out and bring them with you. Sessions are held at Bennetts Willow Farm, Manor Farm, Malvern Road, Lower Wick, WR2 4BS. There is a free car park and a café on site. The sessions are in the Event Room next to the café. - You will need to bring a towel, muslin cloth or blanket for your baby to lie on. - You will need to wear a mask in the public areas and when going into the room and the café. Once you are settled in your allocated space you can take your mask off. It must be put back on when leaving the hall or moving around the room. - Please queue 2ms apart for registration and payment via card or contactless payment. - Once inside please queue2 ms apart for registration and payment via card or contactless payment. - You will have an allocated space for you and your baby inside the room. Please make sure you keep to this space, particularly if you have a more active baby. -Please sanitise your hands as you enter and leave the room. -All Toys and surfaces will be deep cleaned before and after each session. -You can change babies during the session if you wish, although there is a Baby Changing room close to the room. If you use the Baby Changing Room please use the wipes provided to clean any surfaces you have touched. -When you leave the session please do so separately and with safe distancing. -These are baby-led sessions and we go at baby's pace throughout. You must not come to the sessions if: - you or your baby have one or more coronavirus (COV:ID-19) symptoms -a member of your household (including someone in your support bubble or childcare bubble) has coronavirus (COVID-19 symptoms) -you are required to quarantine having recently visited countries outside the Common Travel Area -you or your baby has had a positive test -you or your baby have been in close contact with someone who tests positive for coronavirus (COVID-19) You must not attend for at least 10 days from the day after the start of your symptoms or a positive LFD or PCR test. Please do not attend if you or your baby are unwell. We really hope that you will enjoy our sessions, and understand that we are endeavouring to keep you and your baby, and ourselves, safe. Lydia & Anne
Explore with your little one through these magical baby sensory and music sessions using music, instruments, sensory items and so much more!
About this event
To secure your ticket please make a bank transfer of £7.50 to:
Bank: Halifax
Name: Mrs Anne Bradshaw
Sort code: 11-14-79
Account number: 00027956
Reference: Baby's name and date of session you are attending
You must send us a receipt that you have made the transfer otherwise we will refund your ticket. Please make payment of ticket at least 48 hours before the session.
Our 30 minute sessions are at 10:30 and 11:30 every Thursday and sessions are suitable for new-borns up to 18 months old. Tickets are £7.50. Older babies who attend the session must try and stay in their allocated areas but we know babies will crawl or run away so all we ask is if you can pop your mask back on to go and get your little one.
These sessions take place at Bennetts Willow Barn in Lower Wick which has private parking and a café on sight with easy access for prams and buggies.
We use music, songs, sounds, nursery rhymes, action songs, musical instruments, different sensory items, baby sign language, baby massage, bubbles and so much more.
Our sessions are calm and baby-led. Every week there is a brand new theme and new things to learn for you to take home and practise with your little one.
Even though there is a new theme every week it is important to repeat songs we have sang before as this helps your babies development and also helps you to learn them. We have a hello and goodbye song and firm musical mama favourites for you to learn!
All our sessions are strictly following suggested COVID 19 guidelines. Deep cleaning of toys and equipment between and before sessions. There are also allocated spaces in the room for you and your little so that we can play in a safe and clean space. All class numbers are kept deliberately low for everyone's safety.
If you would like anymore information or have more questions please email us at musicalmamaworcester@gmail.com or visit our Facebook or Instagram pages where you can DM us.