Description
Our musicals inpsired menu contains all your favourite songs from the musicals based on Oliver Twist and Mary Poppins. You'll be served by our very own Nancy, Mr Bumble and there may well be an appearance from Oliver himself for a rousing rendition of 'Oomph pah pah'. Washed down with a glass of fizz, lashings of tea and of course 'a spoonful of sugar' to help the medicine go down
Your menu includes
Cheese "Oliver" Twists – a classic afternoon tea treat
Fagin's Nimble Finger Sandwiches – delicate finger sandwiches filled with egg mayo and ham, cream cheese and cucumber.
"You've got to "pitta" pocket or two" – filled pitta pockets, Tuna mayo and Mozzarella, Tomato & Basil – we think even Fagin would be tempted!
"Tuppence" Pasties – Chicken, Mushroom & Bacon, all seasoned and wrapped up in shortcrust pastry. Small enough to cost "Tuppence a bag", inspired by Mary Poppins.
Eliza Doolittle's Flowery Treats – mini Rose and Violet flavoured cakes, perfectly delicate treats for all the "Fair Ladies" (and gents, of course).
Supercalifragi-Custards – our very special Medieval Corporation Custard, renamed in honour of Mary Poppins, and because, well, it is pretty supercali-you know where we're going with this!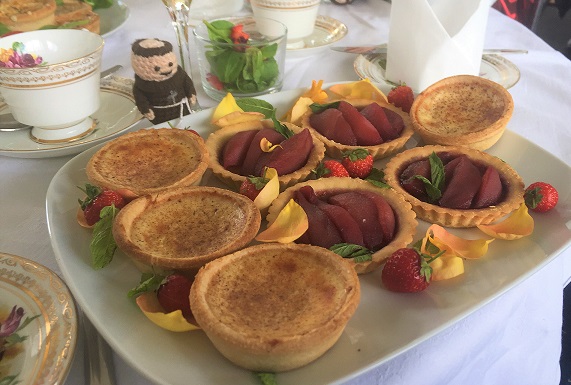 Oompah Pah mini Cakes – yes, they're back, in honour of Nancy, our fabulous Victorian Tipsy Cakes, topped with creamy fresh custard and almonds.
"Spoonful of Sugar" Drizzle mini cakes – a treat that Mary Poppins would surely approve of, because after all, a spoonful of sugar helps the medicine go down, and in the most delightful way. These little lemon and orange drizzle cakes are surely a tasty addition to your afternoon tea.
If you love the musicals then this is the lunch for you.
We have tables of 2, 4, 6 or 8's but these are our final seats for this Saturday so book today to guarantee a place and we look forward to entertaining you. This is Ideal for afternoon teas with your mum, girlfriends or birthday occasions etc "in the most delightful way"