Description

Join us for a scintillating series of 13 talks, discussions and performances as we explore some of the themes in the 'Empire of the Sikhs' exhibition with expert speakers and performances. These engaging weekend sessions will provide insights into the history, art, artefacts, architecture and musical traditions of the Sikh Empire, drawing on new discoveries and fascinating western encounters.
The series continues with our eighth talk, in which historian and ethnomusicologist, Radha Kapuria, establishes how Punjab emerged as a major centre for classical music patronage under Maharaja Ranjit Singh, revealing the particular centrality of sword-yielding, cross-dressing female dancers in his diplomatic negotiations with political rivals.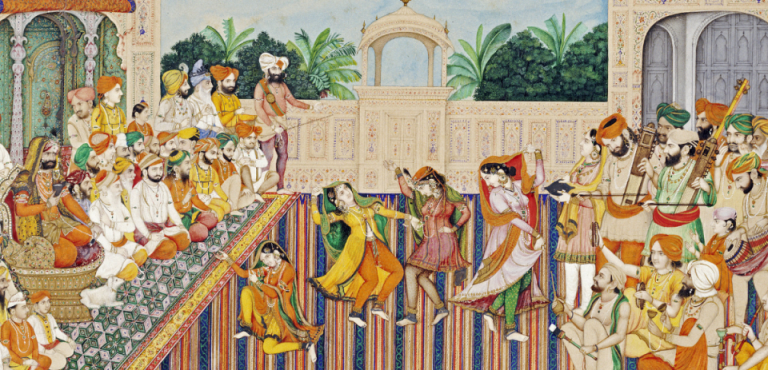 This illustrated talk will be followed by a Q&A session.
---
Radha Kapuria trained as a historian at the University of Delhi before joining the Jawaharlal Nehru University for her MPhil degree. Her research investigated the oldest classical music festival of north India- the Harballabh of Jalandhar, Punjab. She built on this 'micro-history' by researching a more macro-level social history of music in the region during the nineteenth and early twentieth centuries for her PhD at King's College London. She currently divides her time between preparing a book manuscript titled Music in Colonial Punjab: A Social History, based on her PhD, and working as part-time Lecturer in Ethnomusicology at King's.

---
This lecture series has been organised by the UK Punjab Heritage Association (UKPHA) in partnership with the SOAS South Asia Institute (SSAI).

---
Image: Dancing girls and musicians at the Court of Lahore, by Bishan Singh, 1874 (Collection of Prince and Princess Sadruddin Aga Khan)