Description
A new weekend of workshops, performance and more in a beautiful location. Includes camping.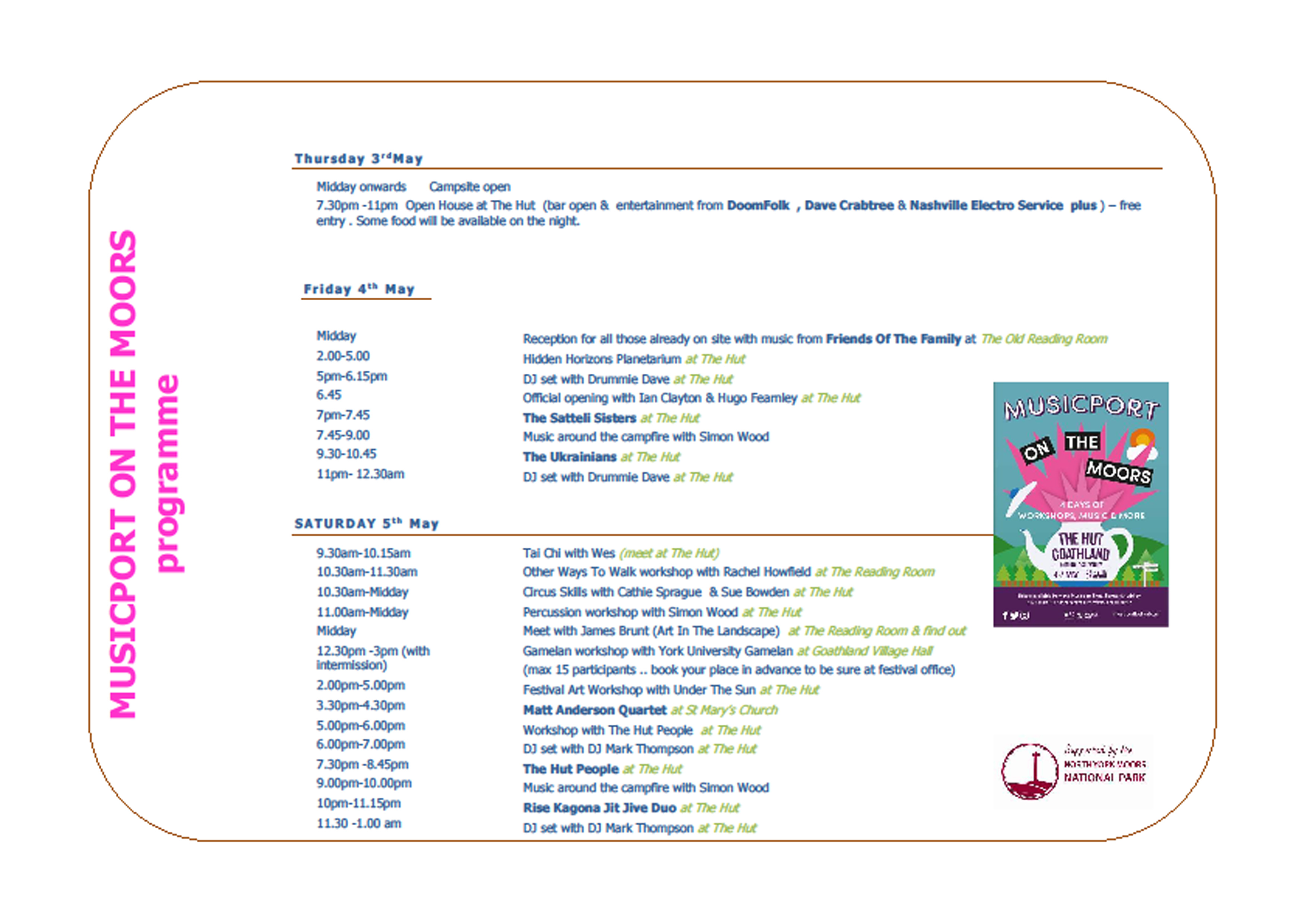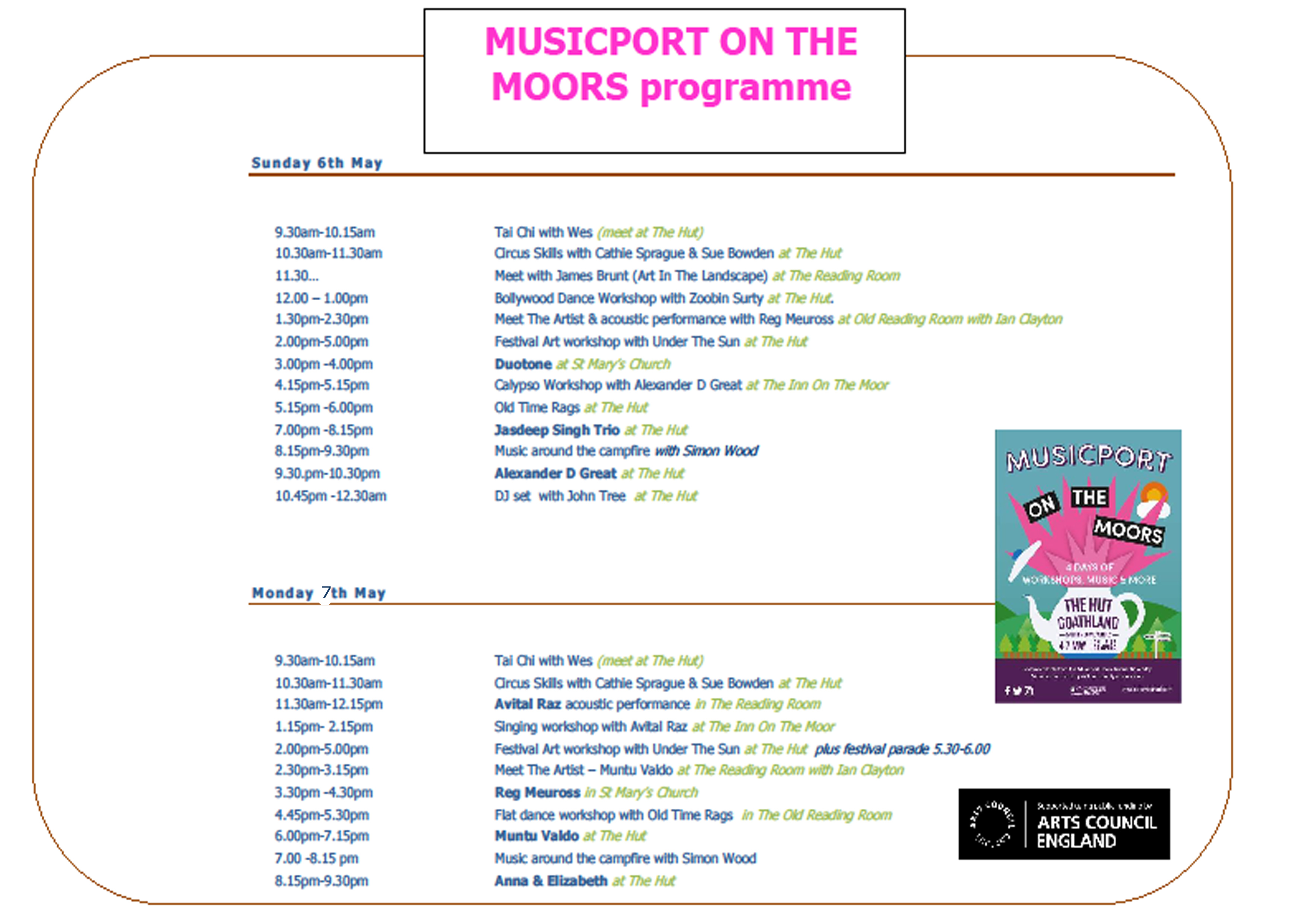 Acts booked include : The Ukrainians, Anna & Elizabeth with Benjamin Lazar Davis, Alexander D Great, Rise Kagona's Jit Jive Duo, Jasdeep Singh Trio, The Hut People, Satteli Sisters, Duotone, Muntu Valdo, James Brunt (landscape artist), Matt Anderson Quartet, Simon Wood, University Of York Gamelan, Avital Raz , Ian Clayton
---
The UkrainiansThe Ukrainians (who grew out of a project started by 80s Indie darlings The Wedding Present) continue to mix up their winning concoction of Western punk-pop and traditional Ukrainian sounds, a blend that's always best served live. As 'Q' magazine says "Going to a Ukrainians gig is like being at the mother of all parties". We loved this band when they played for us before so couldn't think of a better first night headline for this new event.
---
Anna & Elizabeth with Benjamin Lazar Davis........Their show is like no other. Through their immersive creative process and bold interpretations, Anna & Elizabeth's visionary partnership pioneers new ways of presenting old songs and stories to modern audiencesSince 2011, with a deep and shared love of old Appalachian music, they stand at the vanguard of tradition and the avant-garde, transforming traditional music with innovative, modern arrangements. Their captivating performance integrates visual art, movement and experimental film with breathtaking harmonies."Heartbreakingly great." Jeremy Gara (Arcade Fire)
---
Rise Kagona Jit Jive Duo Rise Kagona guitar hero on two continents. The BBC's Andy Kershaw cites him as having changed his life, and the late John Peel famously broke down in tears the first time he saw The Bhundu Boys perform live. Back home in Zimbabwe, Rise is attributed with starting a whole new guitar genre, called Jiti, and his band, The Bhundu Boys, topped the Zimbabwe charts countless times. In the 1980's and 1990's, the band toured the world extensively, and everywhere they went, people danced to their infectious Jiti music. Rise is joined here by Ugandan-born percussionist Andy Cooke. Be prepared to dance.
---
Alexander D Great Workshops & Performance
Born in Port of Spain, Trinidad, Alexander grew up in London. An energetic and inspirational performer, Alexander has appeared at festivals and well known venues across the UK including The Cambridge Folk Festival, Notting Hill Carnival and The Barbican. A qualified and professional teacher, his considerable communication skills make him an ideal and popular workshop leader. His captivating workshops combine Caribbean story, calypso music and rhythms, and group composition.
---
---
Muntu Valdo (Cameroon)Workshop & Performance
Muntu blends the traditions of his homeland, Cameroon, with technical mastery to create mesmerising bluesy music with jazz and soulful beats. He uses loop/sample technology to build up layers of sounds which supplement his guitar and harmonica.
We had to have them perform at The Hut. The duo whose barnstorming set in the cafe at Musicport in 2007 really set their career rolling are still as engaging, inventive and awe-inspiring as they were then. Never have accordion and percussion sounded so wonderfully matched or as international.
---
Duotone performance
Duotone is the alias of songwriter Barney Morse-Brown (cellist with multi-platinum artist Birdy, BBC Folk Award winners the Imagined Village & Syrian musician Maya Youssef). Known for his unique sound, Barney writes and performs his own contemporary acoustic songs. He loops guitars and cellos, percussion and voices to create ethereal soundscapes for his poignant lyrics to weave in and out of. He was recently support on Eliza Carthy & The Wayward Band's national tour.
---
Reg Meuross workshops & performance
true modern troubadour, representing contemporary English songwriting at its best. "There's something special about the way he writes and delivers a song" Townes Van Zandt. His appearances at clubs and festivals throughout the UK and abroad, and his highly acclaimed solo albums have now established his songs as 'the hinges upon which swing the doors of perceptive English folk'. "Powerful and moving songwriting" Martin Chilton, The Telegraph. "A mighty songwriter and an equally fine singer" Martin Carthy
---
Sätteli Sisters Singers and multi instrumentalists Helen and Louise Curtis-Streich, were born to Anglo-Swiss parentage. A predominant part of their childhood was spent in the Bernese Oberland immersed in Swiss traditional culture and family life. They formed vocal duo Sätteli to honour their Swiss heritage, bringing a completely unique sound to British audiences with an eclectic mix of alpine songs old and new. Sätteli were featured on BBC Radio 3 'Late Night Junction' by Mara Carlyle, who described their album 'Sing Es Lied Für Mi' as:"full of perfectly intonated delights"
-------------------------------------------------------------------------------------------------------
Matt Anderson Quartet Workshop & Performance.Originally hailing from Whitby and now living in London, young saxophonist and composer Matt Anderson released his debut album with his band Wild Flower in 2015 to widespread critical acclaim and airplay on BBC Radio 3 alongside a 13-date UK tour and launch gig at Pizza Express Dean Street, London. He is the Winner of the Dankworth Prize for Jazz Composition 2017 and his new album which will be released at the end of April explores the common ground between the folk music reminiscent of his rural upbringing in the North Yorkshire Moors, the bluesy, country strains of Bill Frisell and Scandinavian jazz.
---
James Brunt workshops A visual artist who works in and with the landscape ... James will be working with volunteers through the weekend down by the Mallyan Spout waterfall in Goathland to create wonderful things to complement an already magical space... Musicians will join them to create something that will live long in the memory..
---
Gamelan Sekar Petak (Workshops & Performance)
First assembled at the University of York in 1981 this orchestra of gongs and metallophones (as well as other instruments) originates from the islands of Bali and Java and was named "Sekar Petak" ("white rose") in honour of York's white flower symbol.The ensemble is the first purpose-built gamelan in a British university, and has toured the country extensively and made appearances for children's programmes on BBC TV and ITV.
---
Old Time Rags : workshops/improvised performances The Old Time Rags are a duo who use folk music and dance to create an interactive and energetic street show featuring Appalachian step dance, broom dancing, banjos and the daring accordion balance of doom.They have wowed audiences across the UK bringing their show to Glastonbury, Sidmouth Folk Week, Edinburgh Fringe & last year to Musicport where they were a big hit on the Blundabus.
---
Other Ways to Walk- workshop
Other Ways to Walk is a project by artist Rachel Howfield Massey, who loves walking and loves finding ways to get a bit closer to the place she is walking – forest immersion training, mindfulness, natural navigation and a healthy imagination are some of the ways she does this. Join her to find out more and head out and explore the glorious countryside around Goathland.
---
Under The Sun workshops

Artists Kate Rider, Ste Iredale & Boz Halliday who helped create last year's lovely festival parade will be doing creative things in the marquee over the weekend & will be looking for help to make things that will reappear at Musicport in October.
---
Simon Wood - Workshops

Learn to play the amazing and ethereal hang drum.
---
Ian Clayton - Interviewer/Compere

Broadcaster & writer deeply embedded in his native Yorkshire culture but with an extensive and inclusive world view, a great love of music and a great way with words.
---
DJs
We will be inviting guest DJs from the Hub Collective on each of the days to keep the late night party vibe going
---
Food
Catering on site

---
Hidden Horizons (tbc)
Inflatable Hidden Horizons planetarium that is currently part of the Darker Skies festival to encourage the appreciation of the wonderful night skies that Goathland offers.
---