Description
Latest News Update 7th January
We now have the complete line up of performers for our concert event.
Through the recommendation of Mr. Michael Harris, Organist and Master of the Music of St Giles' Cathedral Edinburgh, we are delighted to include Ms. Caroline Hood as one of the singers for the concert. Caroline joins Claire, Jim and Gordon for what will be a very fine evenings of the Music, Songs and Verse of Robert Burns in the elegant Virgin Money Lounge on St Andrews Square, Edinburgh.
Please join us for an evening's concert style performance of the music and verse of Scotland's undisputed national bard Robert Burns.
The setting for the concert on Tuesday 23rd of January is the elegant Virgin Money lounge on St. Andrews Square, Edinburgh.
On the evening from 18.00 you will be welcomed with a glass of wine or soft drinks, the concert performance will commence with a brief welcome at 18.10 by Mr Kozo Hoshino, Chairman of the Victor Murphy Trust SCO37409 followed at 18.15 with Jim Shields,The Robert Burns World Federation past President and Gordon Jamieson, Edinburgh & District Burns Club's Association (EDBCA) giving us the songs and verse joined by the fiddle playing of Clair Murdoch (professional musician and one half of the popular folk group Muckle Flugga).
A short interval will take place between 18.50 and 19.10 where further refreshments and a light cold food finger buffet are offered.
The concerts second half begins at 19.10 with Jim, Gordon and Clair performing a second set of song, music and verse and the evening will be finished by the closing thank you from the writer, broadcaster and commentator of the Royal Edinburgh Military Tattoo Mr Alastair Hutton OBE, TD.
(Possible a recording/photographs of the evening for The Victor Murphy Trust charity fundraising website and YouTube may also occur). All 100% funraising for the event including ticket price will be given to help secure the future of The Victor Murphy Trust SCO37409. The dress code for the evening is smart casual.
The image we use for the promotion is a large canvas oil painting by Robert Scott Lauder,RSA titled Robert Burns and Highland Mary, it belongs to and is copyright of The Victor Murphy Trust SCO37409.
Images of the performers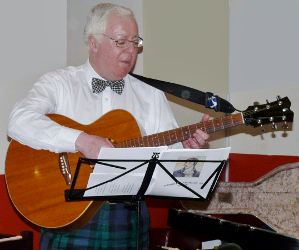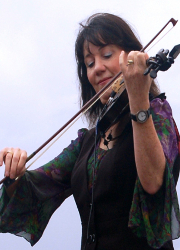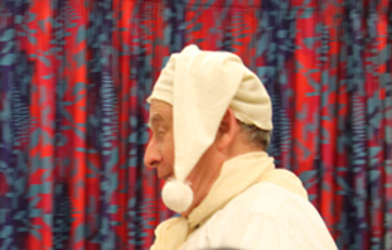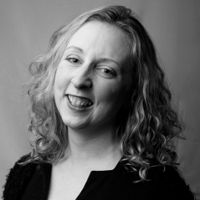 Caroline Hoods background
Caroline began her musical training in the Waverley Singers under the late Pamela Duncan, MBE. Caroline joined the choir of St Giles' Cathedral at the age of 16, and now also sings in numerous other groups including the Calton Consort, Coro Edina, Cantica Alba and the Reid Consort. An inherent love of theatre drew her to join Edinburgh Music Theatre for their 2011 production of "RENT", and her vocal and performance repertoire have since expanded to cover "Ordinary Days" (Green Room), "Jerusalem", "Who's Afraid of Virginia Woolf?" and "A Midsummer Night's Dream" (all Edinburgh Graduate Theatre Group), "Legally Blonde" (BLOC) and Gilbert & Sullivan's "The Sorcerer" (Cat-Like Tread).
The image above of Caroline is by Ian Fallon.
Speakers from The Victor Murphy Trust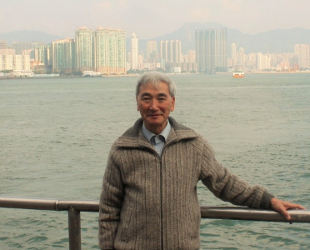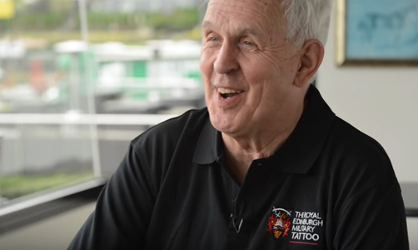 About Robert Burns
Robert Burns, the 'heaven-taught ploughman', is Scotland's most famous poet, her undisputed national bard. He may have been born in rural poverty, the son of a tenant farmer; but he was also a true son of the Scottish Enlightenment- intelligent, articulate, well read and educated.
Born in Alloway, South Ayrshire, in 1759. He began writing poetry and songs at an early age and became famous across Scotland for his writing. Every year on Burns' birthday, 25 January, Scots and Scots at heart from across the globe celebrate his life and cultural legacy by hosting a Burns Event.
Amongst his many songs and verse are four of which we hope will be performed during the evening
TO A MOUSE, ON TURNING HER UP IN HER NEST WITH THE PLOUGH (1785)
To a Mouse focusses on the narrator's thoughts and feelings after he accidentally breaks apart a mouse's nest with his plough.
The best-laid schemes o' mice an 'men
Gang aft agley,
An'lea'e us nought but grief an' pain,
For promis'd joy!
A RED, RED ROSE (1794)
The simple yet timeless lyrics of A Red, Red Rose describes a love that does not lessen with the passage of time.
O my Luve's like a red, red rose,
That's newly sprung in June:
O my Luve's like the melodie,
That's sweetly play'd in tune.
IS THERE FOR HONEST POVERTY (A MAN'S A MAN FOR A' THAT) (1795)
Is there for Honest Poverty is one of the places where Burns expresses his fierce egalitarianism most strongly, stating that good sense and an independent mind are worth far more than titles and finery.
Gie fools their silks, and knaves their wine;
A Man's a Man for a' that:
AULD LANG SYNE (1788)
Auld Lang Syne is one of the most popular songs in the English language. Sung across the globe at the stroke of midnight on Hogmanay (New Year's Eve) this touching song encourages the listener to put the previous year behind them and look forward to the new year ahead.
For auld lang syne, my dear, For auld lang syne.
We'll tak a cup o' kindness yet, For auld lang syne.