MUSLIM MARRIAGE EVENT FOR PROFESSIONALS & GRADUATES - BIRMINGHAM
Description
THE MUSLIM MATCHMAKER .COM

*MODERN MARRIAGE AGENCY FOR PROFESSIONALS & GRADUATES*

CLICK TO WATCH VIDEO 1

CLICK TO WATCH VIDEO 2

**OPEN DAY & MEET A MATCHMAKER**
Following the success of our last event in August we will be back in Birmingham again in October. Our last Event was SOLD OUT, so please book early to ensure you get a place, unfortunatley we are unable to release any more places once we sell out.


We are the Top Marriage Agency for Professionals and Graduates, with UK and DUBAI based offices we have clients internationally with more and more requests from clients to meet us in person, hence the reason we are available for you to come to meet us for one day only on Saturday 27th October.

All our events in the UK to date have Sold Out! We have a unique approach to MatchMaking Clients on an Individual basis, we will bring out our Client Book of Profiles and Photographs so you can have a look at the calibre of clients we work with.

We are committed to helping you find the best person that Matches your individual Prefrences and Requirements.

Please have a look at our work and the services we offer on our website before attending.

Our website is www.TheMuslimMatchmaker.com
Email is Consultant@TheMuslimMatchmaker.co.uk


1-2-1 with a Matchmaker
Join us at our offices in Central Birmingham for the chance to find love and marriage. Full address will be given after booking.
We have organised events since 2014 and attract people from all sorts of professions, city workers, IT specialists, medical, legal, etc. Our network also expands to professionals outside of Manchester, to Dubai, America and Europe.
Registration is now open to 20 males and 20 females only, on a first come first served basis.
The programme will start on time so you get the opportunity have a full 1-2-1, please arrive 15mins before your start time. This event is non refundable.
No tickets can be purchased on the day. Anyone arriving on the day without a ticket will be turned away as we vet all attendees beforehand. Parents also need to purchase their tickets in advance.
Further details to be provided to booked guests near the time.
Event Programme:
View Single Clients

Private 1-2-1 with Matchmaker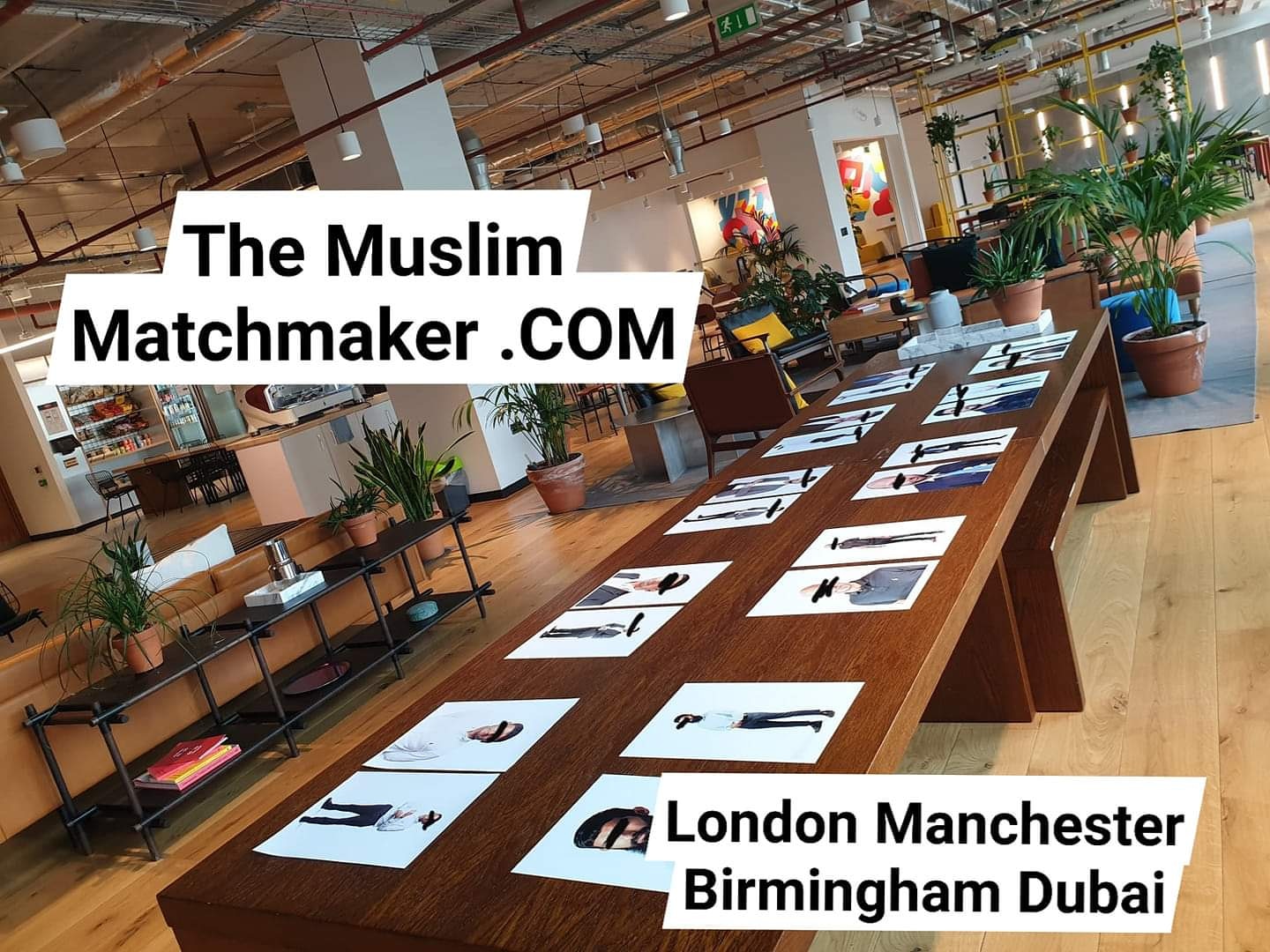 Upgrade:
We can introduce you to single professionals that meet your criteria. Professional photographs and full profiles can be viewed beforehand. We put you in contact directly with the family so you do not waste your time and effort.

View website for Terms & Conditions