An informative and interactive workshop for anyone interested in a career in the media.
About this event
Accurate Muslim representation in the media means increasing Muslim voices.
In this workshop, we will hear from our panel of Muslim media professionals on how they started their careers, what challenges they faced, and what still needs to be done in the industry. We will then have break out sessions where participants can discuss their concerns on Muslim representation, get advice and guidance on engaging with the media, and how to start a career in the media.
Don't miss out on this unique opportunity to meet leading Muslim professionals in the industry.
Booking is essential!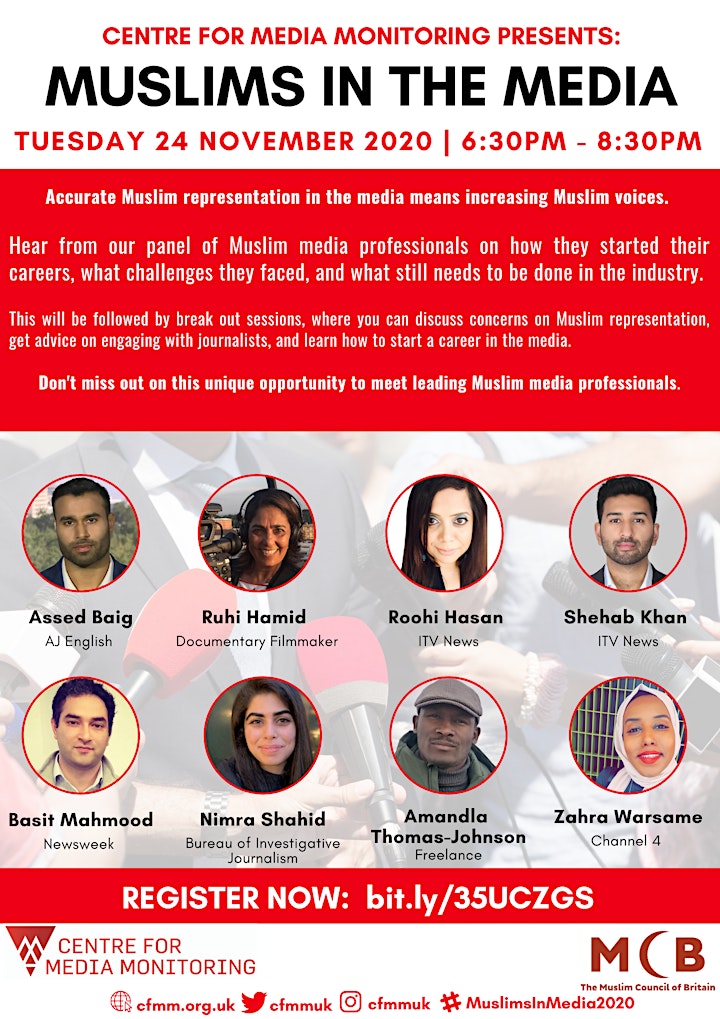 Organiser of Muslims in the Media
About the Centre for Media Monitoring:
Academics and specialists across the world acknowledge that mainstream media reporting on Islam and Muslims is contributing to a febrile atmosphere and rising hostility towards Muslims, and other minority groups, in Britain. A project of the Muslim Council of Britain, The Centre for Media Monitoring was set up two years ago with the aim to:
Create an evidence base on how Islam and Muslims are reported in national broadcast and print media;
Develop insights on potential areas of improvement through evidence-based analyses, reports and guidelines;
Advocate change through constructive engagement with key stakeholders;
Empower Muslim communities to proactively engage with the media and help change the narrative.
CfMM holds roundtables, publishes reports, sits on advisory boards and is working closely with all stakeholders including the media, regulators, policy makers, and community organisations.