Description
Miss Uganda UK™ invites you to our 2017 Campaign Against Child Sacrifice Fundraiser and Awareness event on Saturday, 1st April 2017 at Youth for Human Rights Interational, 146 Queen Victoria St, London EC4V 4BY from 2pm - 5pm. Hosted by Miss Uganda UK 2016/17 Bridget Katungi.

Bridget and the team will be travelling to Uganda from 8th April to 8th May 2017 to continue to raise awareness about child sacrifice in Uganda.

Come and see the work Miss Uganda UK™ in partnership with the Jubilee Campaign UK have been doing over the years, and find out about this year's campaign mandate and how you can support the cause. The afternoon will include some light entertainment and raffle draws.

This is a free event with complimentary snacks and drinks served. Registration is required for all guests.
(Suggest donation of £10)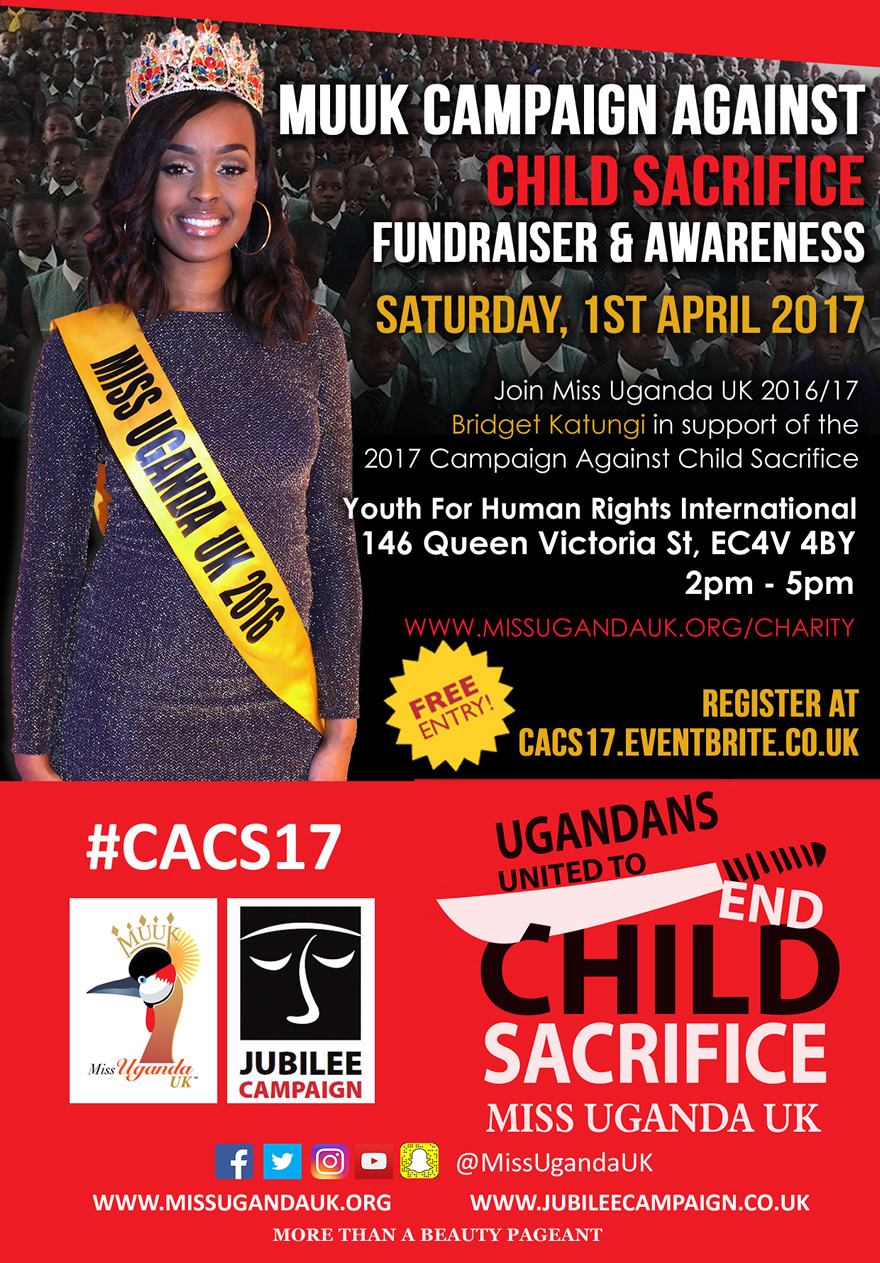 ---
Miss Uganda UK™ has partnered with Jubilee Campaign UK to raise awareness about child sacrifice in Uganda; a barbaric practice that seems to be on the increase in Uganda and Africa driven by superstition, exploitation, witchcraft and extreme poverty. The campaign is also lobbying for the president and speaker of the parliament of Uganda to introduce laws that can protect children from this crime.
"Children and parents live in fear of kidnap and murder. Innocent children's body parts are cut off and used in ritual ceremonies in the belief that they will be consumed by spirits in exchange for good health, riches, success or solve other problems," read a statement from Jubilee Campaign UK who were delighted to have the additional voice of Miss Uganda UK™ to their campaign. www.jubileecampaign.co.uk