Bringing strategic masterminding, powerful community and tailored support to big thinkers and business leaders.
About this event
Women's Business Club is a thriving, creative and diverse global community of big thinkers, business leaders, SME founders and corporate executives who are committed to breaking down barriers and making a difference in the world around them.
My Boardroom is a monthly virtual mastermind event for female founders and employed senior business leaders. These are powerful peer groups, providing valuable knowledge, experience and accountability to help you smash through your personal and professional barriers.
See the full prospectus here.
Membership is £197 + vat per month, no contract. Sign up here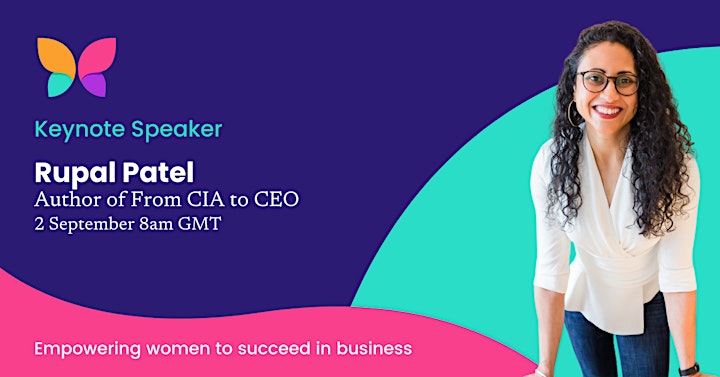 Rupal Patel
Rupal Patel's high-octane career has taken her from jungles and war zones to corporate boardrooms and international stages. After a thrilling career at the CIA, she earned her MBA from London Business School and started two award-winning businesses.
Called a 'Power Woman' by Harper's Bazaar Magazine and a 'Super-Strategist' by her clients, Rupal is a sought-after international speaker and business consultant who has energized thousands around the world. As a sitting CEO, author, advisor, coach and mentor, Rupal helps founders, corporate executives, and next-generation change-makers cut through the noise of living and leading and make the impossible possible.
Her new book From CIA to CEO: Unconventional Life Lessons for Thinking Bigger, Leading Better, and Being Bolder was named one of summer's "best business books" and provides a powerful new toolkit that reveals how the techniques of the CIA can help anyone thrive in the world of business without conforming to stale stereotypes or dated "best practice".
With surgical insights and unique exercises, Rupal helps her clients and audiences leverage the CIA mindset to remake the rules of success and become unstoppable.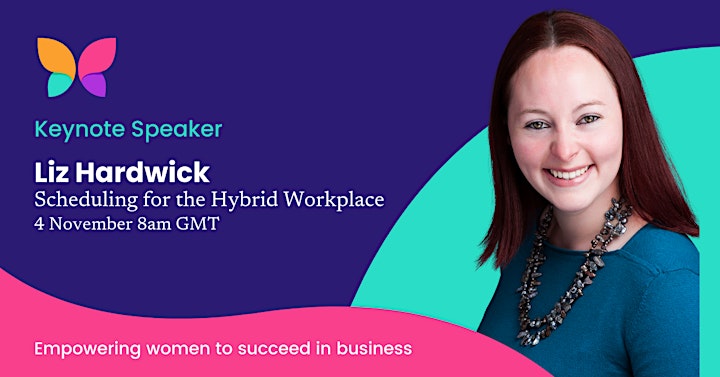 Liz Hardwick
Liz Hardwick helps business owners, leaders and their teams reclaim their time, energy & focus, with tried-and-tested productivity methods and digital tools, to achieve that iconic 4 day working week.
She regularly speaks at events internationally and online, on topics such as Digital Productivity, Focus and Time Management, Digital Technology and her own Email Management System, ZenForInbox.
Liz is a Digital Productivity Specialist, Professional Speaker, Trainer and Tech Founder, and has been sharing her expertise and experiences of "harnessing digital for human benefit", for over 15 years through engaging talks, trainings and virtual seminars, and via her online eLearning Platform.
Liz has been recognised for her achievements in the TechWomen100, TechWorld's Top 111 UK Women in Tech Speakers, BC's 101 Female Founders in Tech, and the Digital Leaders UK 100.
Alongside a full calendar of speaking engagements and training for clients including BBC, Arts Council, UNI Global, and more, Liz also volunteers a lot of her time to supporting non-profit organisations, including as Director at CIC Digital Lancashire in her home county, Chairing the National Womens Committee for BECTU UK, and is part of a Global Media Womens Working Group focusing on campaigns to support women in(to) Media & Digital.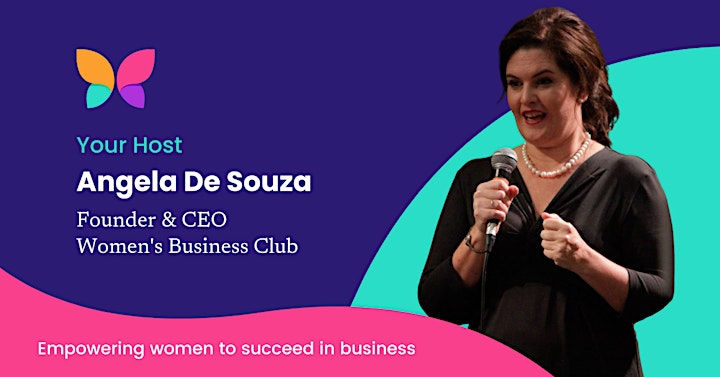 Angela De Souza
CEO and founder of a fast-growing business network, Women's Business Club, Angela is on a mission to empower women to succeed in business. She is passionate about unlocking the hidden potential that lies within each person and their business.
With many books under her belt, a wealth of business experience, and an ever-increasing passion to see people, and especially women, grow and flourish in life, what Angela brings to the table will help you change your game!
As a trained, experienced speaker, presenting to both men and women at events across the globe, her talks range from 20-minute inspiration slots to full-length keynotes and all-day training.
In her spare time, Angela prefers to do simple things such as decorate her house, gardening, have cuddles with her husband, children and grandchildren on the sofa in pyjamas, practice her piano or Bob Ross painting.