Refund policy
Contact the organiser to request a refund.
Eventbrite's fee is nonrefundable.
Bringing together female business voices around a range of trending topics affecting women at work.
About this event
Join us as we discuss issues affecting women in business and brainstorm possible solutions to further empower women to succeed.
10 Mar - Improving diversity and inclusion with Naeema Sajid
14 Apr - From Burnout to Balance with chair Kelly Swingler
12 May - Menopause in the Workplace with chair Deborah Garlick
09 Jun - Making your Voice Heard with chair Sue Keogh
14 Jul - Empowering Women through Self-leadership with Jasmine Mbye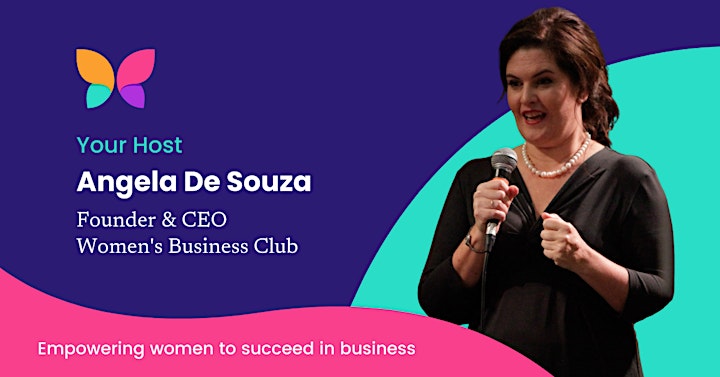 CEO and founder of a fast-growing business network, Women's Business Club, Angela is on a mission to empower women to succeed in business. She is passionate about unlocking the hidden potential that lies within each person and their business.
With many books under her belt, a wealth of business experience, and an ever-increasing passion to see people, and especially women, grow and flourish in life, what Angela brings to the table will help you change your game!
As a trained, experienced speaker, presenting to both men and women at events across the globe, her talks range from 20-minute inspiration slots to full-length keynotes and all-day training.
In her spare time, Angela prefers to do simple things such as decorate her house, gardening, have cuddles with her husband, children and grandchildren on the sofa in pyjamas, practice her piano or Bob Ross painting.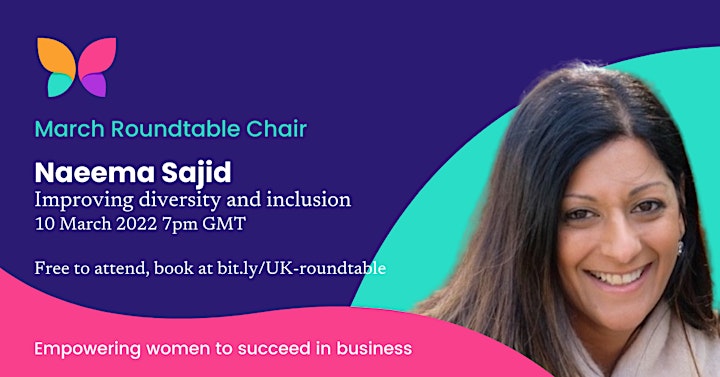 I am a solicitor with over 20 years experience in the Scottish Legal Sector. I have held posts in both public and private organisations. My most recent role was as a partner specialising in child and family law, for a large commercial law firm.
I am a passionate advocate of equality, diversity and inclusion, in all its forms. I enjoy learning from others experiences, whilst sharing my own. Over the last few years my interest and knowledge in this area has grown and increasingly I have been asked to assist organisations and individuals to improve their policies and procedures, with the aim to improving productivity and performance.
As a result I created Diversity+, a bespoke consultancy which assists businesses in the legal and financial sector find strategic, long term solutions to improve diversity at all levels.
Diversity+ aims to assist by using collaborative and innovative method to ensure workplace culture change; to help remove barriers and build supportive structures and strategies with long term, measurable goals.
I use my lived experienced and knowledge to offer unique relatable model guidance and support.
Diversity+ is a unique Scottish grown business created specifically to find D & I solutions for Scottish business's. It is the first organisation in Scotland to offer this service.
I am also a member of the Law Society of Scotland's Child and Family Law Sub-Committee and co-founder of the Scottish Ethnic Minorities Lawyers Association (SEMLA).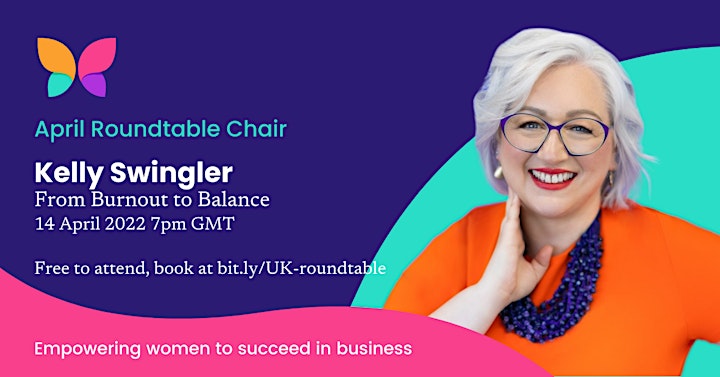 In 2013, I had a successful 15-year leadership career, yet I was burned out, exhausted, and missing out on life with family. Determined to enjoy the success that I had earned, I've created a life of balance and boundaries that is also highly successful.
"What I came to realise after my Burnout in 2013 is that the way women are working isn't working. How we are taught to define success is outdated, and yet it doesn't have to be this way. When we live and lead from our core, we can enjoy being successful women on our terms and in our own way."
Today, I help women leaders all over the world to succeed without giving up their career or jeopardising their wellbeing.
In my spare time I love spending time with the five men in my life, long walks with my rescue pooch, writing and reading and teaching yoga at my local studio.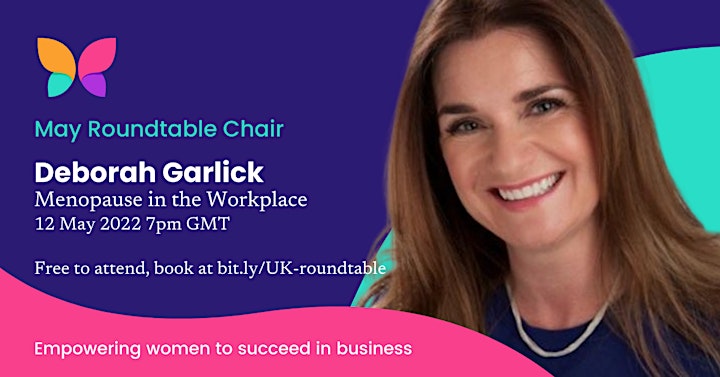 Deborah is frequently on TV and radio talking about menopause and what it means for organisations and colleagues. She has worked with a range of organisations and businesses – UK-wide and international – to take the mystery out of menopause at work and make it easy to introduce the right training, policies and practices. This is to raise awareness and education of this critical area by supporting colleagues, leaders and teams.
Organisations we've worked with experience the benefits, which include:
- Understanding menopause and how it can affect a woman at work. Supporting a culture of inclusivity, diversity and equality.
- Retaining talent, and reducing absence and sickness.
- Supporting line managers: helping them understand menopause, employment law, how they can support colleagues and have good conversations.
- Understanding best practice in this uncharted area, reducing the risk of employee relations issues or even tribunals.
We're an ageing population, with 1 in 3 of the workforce over 50, and over half of these are women. Putting in place the right awareness, education and support is good for colleagues and also good for an organisation's bottom-line.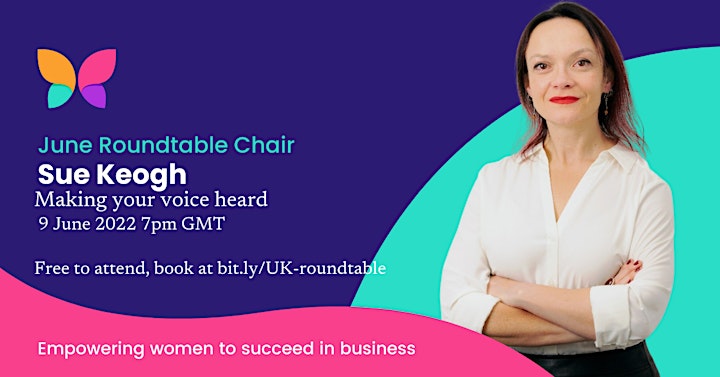 Sue is an agency founder and digital specialist who loves good content and comms! She'll chair a discussion on the topic of Making Your Voice Heard.
How can you stay visible in times of hybrid working? How have current trends in workplace communication like Slack, social media and WhatsApp groups replaced water-cooler conversations? And how can leaders communicate effectively and create an environment where those starting out can find their voice?
From helping produce BBC Radio 2 programmes from a shed in Cambridgeshire to managing websites for ITV.com from their glossy London HQ, with a heap of freelancing in the middle, Sue has seen workplace communications from a multitude of perspectives. Running a marketing agency means she gets to go even further behind the curtain of businesses of all shapes and sizes. A Sage Business Expert, judge at the National Business Women Awards, and host of The Business of Cambridge radio and podcast series, she is fascinated by the ways business communicate and looks forward to chairing a lively discussion.
I am the Empowerment Champion, a Multiple Award winning, TEDx International Speaker, Trainer & Coach who uses professional expertise and personal experience to inspire and empower women and teen girls to show up authentically, speak their truth confidently and allow their abilities to shine boldly. So they can achieve their goals and dreams. Working with individuals and organisations to unleash female potential.
I help women and teen girls who feel like they're not enough and are afraid to be truly seen, to STOP hiding and gain the confidence to get their life back through developing personal leadership, enhancing employability and improving wellbeing.
I do it because I know what it's like to look fine but need help overcoming abuse and feelings of not being enough. To fear being truly seen yet wanting that desperately. I believe that it is your God-given right to be authentically YOU, to own your story and speak your truth with confidence and to allow your abilities to shine boldly. We're each capable of achieving our goals and dreams.
Through inspirational, empowering speaking, training and events. We empower women and teen girls with the tools and techniques on our face-to-face, live virtual and online programmes to develop their confidence and courage, get clarity on their passions and purpose, through developing personal leadership, enhancing their employability and improving their wellbeing.
Using over 20 years experience of personal development and over 14 years experience of developing others, I empower those I work with to using the 3 Rs so they can find purpose and achieve impact.