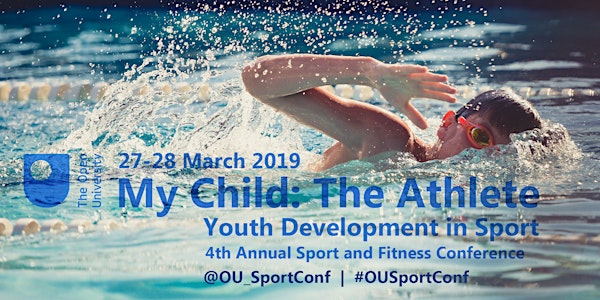 My Child: The Athlete (Youth Development in Sport)
Event Information
Location
Hub Theatre
Open University
Walton Hall
Milton Keynes
MK7 6AA
United Kingdom
Description
My Child: The Athlete
Twitter: @OU_SportConf
---
The 4th annual OU Sport and Fitness Conference focuses on youth development in sport with particular attention paid to contemporary issues such as:
Youth physical development


E.g. Strength and conditioning | Injury prevention | Physical literacy | Skill acquisition

Psychological development


E.g. Building resilience | Coping with and learning from failure

Parental support for talented athletes


E.g. Research to support parents of talented athletes | Effects on siblings and family members | Family dynamics and youth development

Coaching considerations when working with children


E.g. Planning training and practice | Coaching behaviours | Managing expectations | Managing the needs of each athlete | Working with talented athletes
With three world-leading keynotes confirmed, this promises to be an illuminating and thought-provoking two days: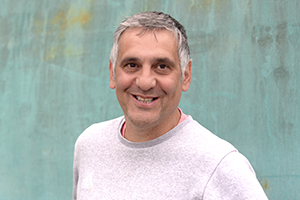 Toni Minichiello - UK Sports Coach of the Year 2012, Senior Coach Representative for British Athletics, and Coach to GB's 2012 gold medal-winning Olympian Jessica Ennis-Hill. (Day 1 evening keynote presenter)

Presentation: 'From Beginner To winner'
Dr Jean Côté - Professor at Queen's University, Canada and world-renowned researcher within the fields of youth sports and coach development.
Presentation: The Interaction of Activities, People, and Settings for the Development of Personal Assets through Sport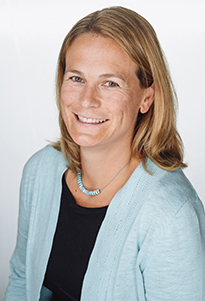 Dr Camilla Knight – Associate Professor at Swansea University and leading expert on the psychosocial experiences of children in sport, with a particular focus upon the influence of parents.
Presentation: Understanding and Optimising Parental Involvement in Sport
Whether you're an academic, a student, a coach, teacher or parent, we invite you to join us for two action packed days full of dissemination, discussion, and learning opportunities.


Conference Presentations:

We have an exciting and packed programme lined up with presentations from academic researchers disseminating their findings in a variety of topics areas, coaches discussing their work in the field of youth sport and their application of theory into practice, through to athletes sharing their highs and lows throughout their journey in youth sport pathways. Below are all of the conference presenters with their presentation titles:
The Open University Student Keynote Presenter:
Annabel Chaffey
GB Bobsleigh Youth Athlete, 2014-2018
Sliding to Success: The Realities of Youth Sport
Breakout Presentations:
Theme: Physical Development
Ben Pullen
PhD Student, Youth Physical Development Centre, Cardiff Metropolitan University and School of Sport and Exercise Sciences, Swansea University
The effects of strength and conditioning in physical education on athletic motor skill competency, physical self-efficacy and motivation to exercise: a pilot study.
Daz Drake
Owner of Athletic Performance Academy (APA) Ltd, and Head of Strength & Conditioning Gosling Tennis Academy
Developing strength and power in the rotational sport youth athlete: A tennis case study.
Graham Williams
Lead Practitioner & Athletic Development Coach, Millfield School, Somerset, UK
A longitudinal analysis of movement competency, fundamental movement skill and muscle capacity in sports pupils in a UK independent school.
Theme: Parent and Child Voice
Francesca Cavallerio
Senior Lecturer in sport psychology and qualitative research, Cambridge Centre for Sport and Exercise Sciences, Anglia Ruskin University
Using ethnodrama to encourage reflection: workshops to support youth sport parents.
Olivier Rouquette
PhD Student, Laboratoire Sport et Environment Social (SENS), Université Grenoble Alpes, Grenoble, France and School of Sport and Exercise Sciences, Swansea University
Young athletes' perceptions of parental responsive support.
Linda Plowright
PhD Student, Faculty of Wellbeing, Education and Language Studies, The Open University
"I like to climb and pick coconuts": towards a child-guided agentic participatory research methodology to better understand 7-11 year olds' expectations of physical activity.
Theme: Siblings, Confidence and Pathways
Robin Taylor
Lecturer in Sports Coaching, Institute of Coaching and Performance, University of Central Lancashire
The reported impact of siblings on talent development in sport.
Iain Greenlees
Professor of Sport Psychology, University of Chichester
Elite youth soccer players' sources and types of sport self-confidence.
Sean Connor
UEFA Pro-Licence coach and MSc Student, Sport & Exercise Psychology, Ulster University
Do developmental pathways exist in elite soccer players?
Theme: Injury and Pain
Aaron Ryan
Lead Physiotherapist, Millfield School, Somerset, UK
The impact of injury and subsequent time loss on the development and performance of pupils at an independent boarding school within the UK.
Nicole Kimpton
St Mary's University, Twickenham
Parental perceptions of their child's pain and injury experiences in elite women's gymnastics.
Theme: Parents in Sport
Charlotte Downing
PhD Student, Swedish School of Sport and Health Sciences
Early specialization in aesthetic activities: perceptions of parental involvement.
Maita Furusa
PhD Student, School of Sport and Exercise Sciences, Swansea University
Parental involvement and children's enjoyment in sport.
Theme: Engaging young people in sport
Emily Owen
PhD Student, School of Sport and Exercise Sciences, Swansea University
A realist evaluation of a sport-based multi-component intervention for disengaged young people.
Emily Reynolds
Head of Sport, Youth Sport Trust
Redefining competitive school sport.
Theme: Children and Coaches in Sport
Jennifer Agans
Assistant Professor, College of Health and Human Development, The Pennsylvania State University, USA
Sampling and specialising in youth sport: what is the goal?
Maria Laura Elvira
PGA Senior instructor (PGA Argentina & Spain) at JR Golf Coaching, Retamares Golf Club, Spain
A non-linear approach when coaching junior golfers (a case study).
Sergio Lara-Bercial
Reader at Leeds Beckett University
No Coach, No Maximum Gain: The central role of the coach in the deliberate personal development of youth performance athletes.
Theme: Wellbeing and drop-out
Katie Uzzell
PhD Student, School of Sport and Exercise Sciences, Swansea University
An interpretive description of wellbeing in elite development swimming.
Graham Williams
Lead Practitioner & Athletic Development Coach at Millfield School, Somerset, UK
"I didn't make it, but…": Examining experiences that facilitated future success of athletes deselected from formalised and selective talent development pathways in youth sport.
Neil Graney
Assistant Professor in Management and Marketing, Durham Business School
"From wonderkid to Billy Elliott to a world class academic" - featuring a nervous breakdown.


Programme*:
(*subject to change)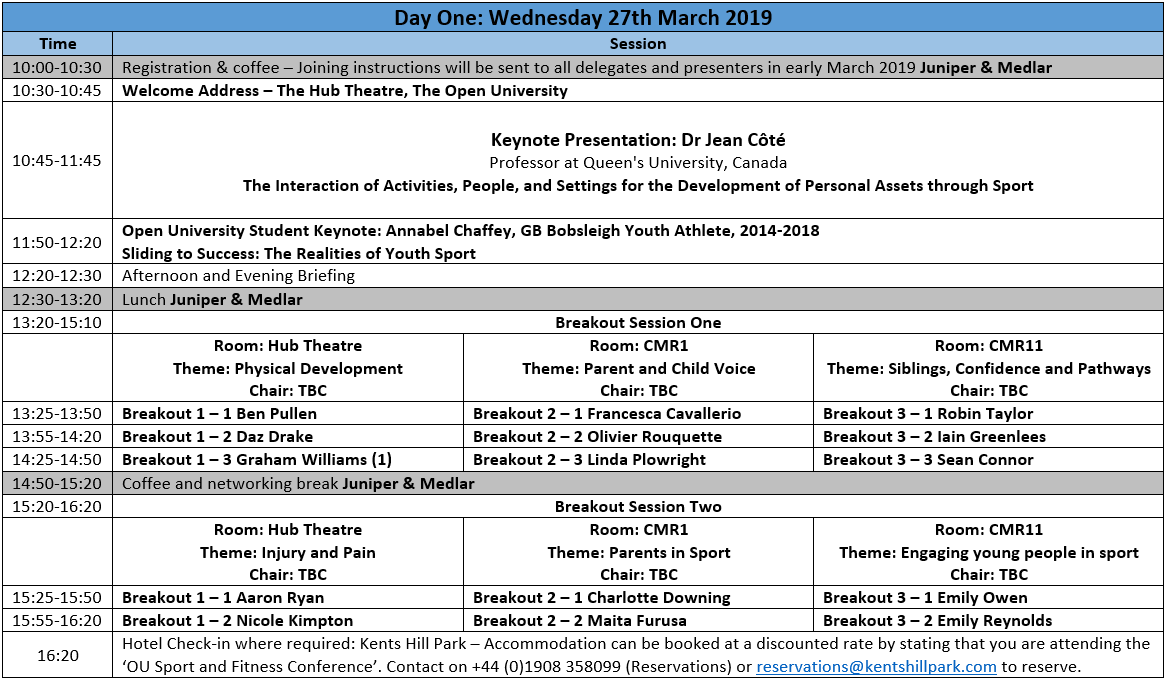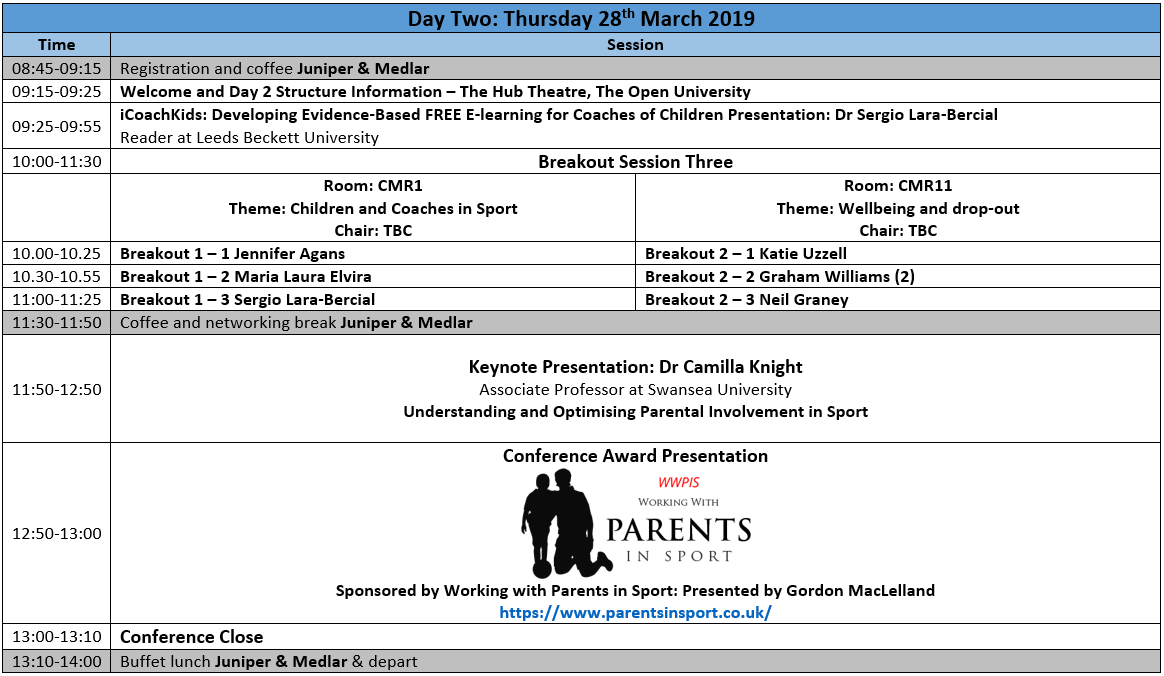 Delegates:
Full conference packages:
Access to the whole two days - keynotes and breakout sessions
Three course conference dinner on day 1*
Lunch and refreshments on both days
*Please note - we have a limited number of tickets for the evening session - book early to avoid disappointment.

Evening only package*:
Access to the evening session on day 1

Keynote presentation from Toni Minichiello
Q&A Panel with Toni, Dr Jean Côté and Dr Camilla Knight
Three course conference dinner
*Please note - the evening session will take place at Kents Hill Park Training and Conference Centre, MK7 6BZ. There are a limited number of tickets available for this session so please book early to avoid disappointment.
Joining instructions, accommodation discount codes and further details will be communicated with all registered delegates.
We look forward to welcoming you to My Child: The Athlete in March 2019!
For any conference queries please contact WELS-Research-Events@open.ac.uk
Date and time
Location
Hub Theatre
Open University
Walton Hall
Milton Keynes
MK7 6AA
United Kingdom