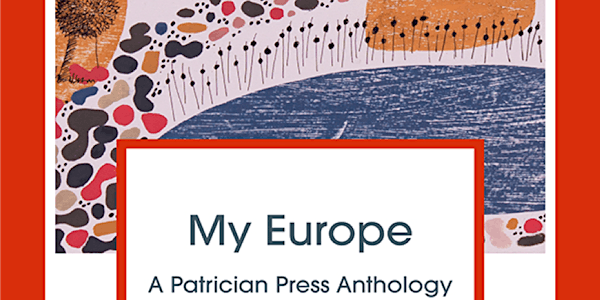 MY EUROPE - A Patrician Press Anthology: Book Launch
Location
University of Westminster
309 Regent Street
London
W1B 2HW
United Kingdom
Description
This diverse and varied anthology of poems, short stories and essays includes contributions by Suzy Adderley, Mark Brayley, Wersha Bharadwa, Uwe Derksen, Petra McQueen, Giacinto Palmieri, George Szirtes and Stephen Timms MP, who will be participating in the event.
My Europe is one attempt to get the story straight, to explore the idea and the reality of Europe and our place in it, through a variety of sources – expert scrutiny, fiction, poetry, drama and personal testimony.
The book will be on sale for £10. This includes a copy of the book and a donation to two European charities.
Speakers include:
Suzy Adderley: a visual artist working in textiles and installation and also a writer. She studied Fine Art at Reading University and has a Textiles MA from Goldsmiths, University of London. She has written on Jackson Pollock and Alighiero Boetti. She recently exhibited The Parachute Files at the Constance Howard Gallery at Goldsmiths.
Wersha Bharadwa: an award-nominated journalist and writer. Wersha's immersion and campaign journalism, essays and features have been published in The Guardian, The Independent, The Observer, Glamour and Marie Claire. She also lectures and runs workshops. She is the recipient of an Arts Council award for her first novel and for her debut full length stage play which​ is in development. She contributed a short story to Refugees and Peacekeepers, the first Patrician Press anthology, published in 2017.
Giacinto Palmieri: who studied Philosophy in his native Milan and later for an MA at Birkbeck. In parallel with a career in IT, he then started to perform as a stand-up comedian, deriving humour from language and cultural differences. He has recently received a PhD from the University of Surrey with a thesis on bilingual comedy.
George Szirtes: born in Hungary in 1948. His first book of poems, The Slant Door (1979) won the Faber Prize. He has published many since then, Reel (2004) winning the T S Eliot Prize,for which he has been twice shortlisted since. His latest book is Mapping the Delta (Bloodaxe 2016).
For more information about My Europe please visit:
http://patricianpress.com/book/my-europe-a-patrician-press-anthology/
Patrician Press:
The philosophy and aim of the non-profit Patrician Press is to encourage and promote writers of high-quality fiction and poetry. We are small, independent and courageous. We strongly believe that it is imperative to uphold and maintain the quality of contemporary literature in today's challenging, competitive and ever-changing technological world.
The Contemporary Small Press:

The Contemporary Small Press project is based in the Department of English, Linguistics, and Cultural Studies at the University of Westminster, and hosted by the Institute of Modern and Contemporary Culture. Run by Dr Leigh Wilson and Dr Georgina Colby, the project and the site seek to provide a forum for contemporary small publishers of poetry and fiction.