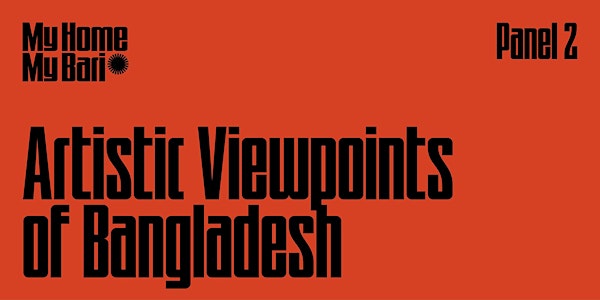 My Home, My Bari: Artistic Viewpoints of Bangladesh Panel Discussion
Event Information
Location
Kobi Nazrul Centre
30 Hanbury St
London
E1 6QR
United Kingdom
My Home, My Bari: Salon 2 – Artistic Viewpoints of Bangladesh
About this event
My Home, My Bari: Salon 2: Artistic Viewpoints of Bangladesh
History begins at home, and as a celebration of the 50th anniversary of Bangladesh's independence, acclaimed artist Rahemur Rahman is working collaboratively with a group of artists as well as young people from Tower Hamlets to represent the living spaces of the British Bangladeshi community. The exhibition will open at the Kobi Nazrul Centre, in the heart of Brick Lane, on 26 November and run until the seminal date of 14 December, Martyred Intellectuals Day.
Three salons will accompany this dynamic and multi-sensory installation, and as well as using sight, texture and scent to recreate the ambience of a 1971 home in east London, our salons provide more scope to go beyond the abstract notions of 'home' and discuss in more detail the ideas behind the artwork.
For Salon 2, Danielle Patten will be joining panellists to discuss the artistic ideas coming out of Bangladesh with young creatives in the diasporas living in the UK.
Globalisation has spawned a fusion of influences in all artforms and across all countries but how much space is given to the emerging artists, ideas and work coming out of Bangladesh, how much prominence does it get on the world stage and what changes are afoot through the pandemic?
We will be thinking about the past and learning about the present in order to understand how we can work better in the future.
Danielle Patten is Head of Creative Programmes and Collections at the Museum of the Home. She has worked on the development and production of the Museum's new displays and galleries as well as initiatives to increase the Museum's contemporary collections of people's homes. Since April 2020 she has worked on the 'Stay Home' digital collecting project, which seeks to explore how Covid-19 has changed the way we live, and to think about the future of home life. She is currently leading on a rethink of the Rooms Through Time displays to include the many stories and voices missing from the displays.
Date and time
Location
Kobi Nazrul Centre
30 Hanbury St
London
E1 6QR
United Kingdom