Description
** FREE EVENT ** Book Launch **
WHEN: Friday, 21st September 2018 (18:00pm)
WHERE: East London Mosque, 82-92 Whitechapel Road, E1 1JQ (nearest station: Whitechapel)
Refreshments will be provided!
The talk will be chaired by Ajmal Masroor, Imam, broadcaster and writer!
If you're coming by tube, the nearest stop is: Whitechapel - Parking may be available but there are very limited spaces.
Join us for a talk and book launch with the activist and community figure, Dr Muhammad Abdul Bari discussing his memoir, his personal journey being at the forefront of the British Muslim community's most pressing challenges whilst trying to find the middle path.
Following the talk Dr Bari will be signing copies of his book: A Long Jihad - My Quest for the Middle Way
'Muhammad's contribution to London life is nothing less than a gold medal performance.' - Lord Colin Moynihan, Former Minister for Sport
'Dr Bari's efforts to cultivate relationships within and beyond the Muslim community to contribute towards a better understanding and foster positive relations is a great example of how Muslims can play a positive role in society' - Shaykh Akram Nadwi, Islamic Scholar & Dean of Cambridge College
About the Book
As the leader of Britian's largest Muslim organisation and mosque, since that fateful day Abdul Bari has been at the forefront of the British Muslim community's most pressing challenges. In this memoir, he offers an insider's perspective on the Muslim experience in modern Britian, presenting his blueprint for 'The Middle Way'.
He offers Muslims and everybody else guidance on a path that rejects extremism and works for the common good of all: living a life of moderation that is, as the Qur'an says, "justly balanced".
---
About the Speaker
Muhammad Abdul Bari MBE is an educationalist, community activist, parenting consultant and author. He has written for various newspapers, blogs and journals. Moreover, he's the author of a number of books on marriage, family, parenting, identity and community issues from contemporary British Muslim perspectives.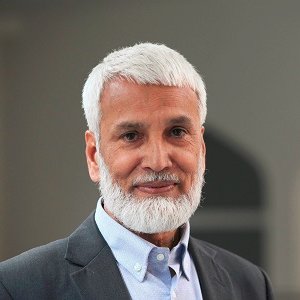 ---
The book will be available to purchase at the event.
For any futher inqueries please contact: info@kubepublishing.com