Description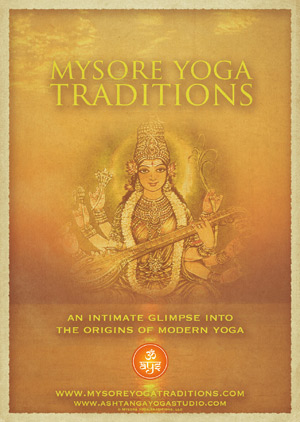 Image: Official Film Poster
Mysore Yoga Traditions is an inquiry into the cultural background of yoga in Mysore, India. This film attempts to understand the Indian way of seeing yoga and to articulate how teachers from this area turned yoga practice into a form with a global reach and enormous impact. It aims to provide an intimate glimpse into the yoga of Mysore, in which the elders, scholars, philosophers, yogis and spiritual leaders of the community express their views on what yoga is, its original intention, and how they feel about the way it is being taught and practiced around the world. Much has been said about yoga in Mysore by western scholars but in this film the people who are the keepers of this vibrant yoga tradition speak about their own legacy, in their own words.
This screening will be followed by a discussion between director and producer Andrew Eppler and Dr Mark Singleton, author of Yoga Body: The Origins of Modern Posture Practice, chaired by Dr Jim Mallinson, Senior Lecturer in Sanskrit and Classical and Indian Studies at SOAS.
Speaker Biographies
Andrew Eppler is the producer and director of Mysore Yoga Traditions. Beginning his daily yoga practice at the age of fourteen, yoga has been his lifelong passion. He has taught yoga workshops and retreats in many countries around the world, and he is the director of Ashtanga Yoga Studio in Norman, Oklahoma, USA. Andrew has studied asana practices with Sri K. Pattabhi Jois, Sri BNS Iyengar and many of the senior western teachers of Ashtanga Yoga. For over twenty years Andrew has considered BNS Iyengar from Mysore to be his primary Indian teacher. Andrew studies in the tradition of the Nathamuni Sampradaya, which is the spiritual tradition that Sri Krishnamacharya came from. Having always had a great curiosity as just how old the yoga we are practicing is and how it has evolved into its current state, Andrew has spent years researching this topic in India and many other places. The film Mysore Yoga Traditions evolved out of his efforts to dive deeper into these mysteries.
Mark Singleton's research interests lie in the intersection of tradition and modernity in yoga. His books include Yoga in the Modern World (Routledge 2008, ed. with Jean Byrne); Yoga Body, The Origins of Modern Posture Practice (Oxford University Press 2010); Gurus of Modern Yoga (Oxford University Press 2014, ed. with Ellen Goldberg); and Roots of Yoga (Penguin Classics, January 2017, with Dr. James Mallinson). His work in the Haṭha Yoga Project focuses primarily on the history of physical practices that were incorporated into or associated with yoga in pre-colonial India.
James Mallinson is a leading philologist with expertise on Sanskrit texts on yoga, which he complements with ethnographic data drawn from extensive fieldwork with Indian ascetics as well as a long-term initiatory association with a Rāmānandī Indian ascetic saṃpradāya in which he was given the title of mahant in 2013. He is the Principle Investigator on The Haṭha Yoga Project (HYP).