Description
Join us in a secret bar - through an ACTUAL looking glass (well, it's a mirrored door) - to celebrate the release of Myths of PR (available to pre-order here on Amazon), a book about the myths and misconceptions in and around the world of public relations.
This is the hardest I've ever worked on anything, so I'd really quite like to have a few drinks with friends and the wider PR family to help dull the memory of the 5am starts while writing it.
There'll be a welcome drink on the door, a giveaway or two on the night and some Alice in Wonderland-themed sleight of hand and card trick entertainment from the amazing Richard Parsons (check his profile out on the Magic Circle's site).
Grab yourself a free ticket and feel free to bring a friend - the more the merrier.
Here's a picture I made on Canva, look: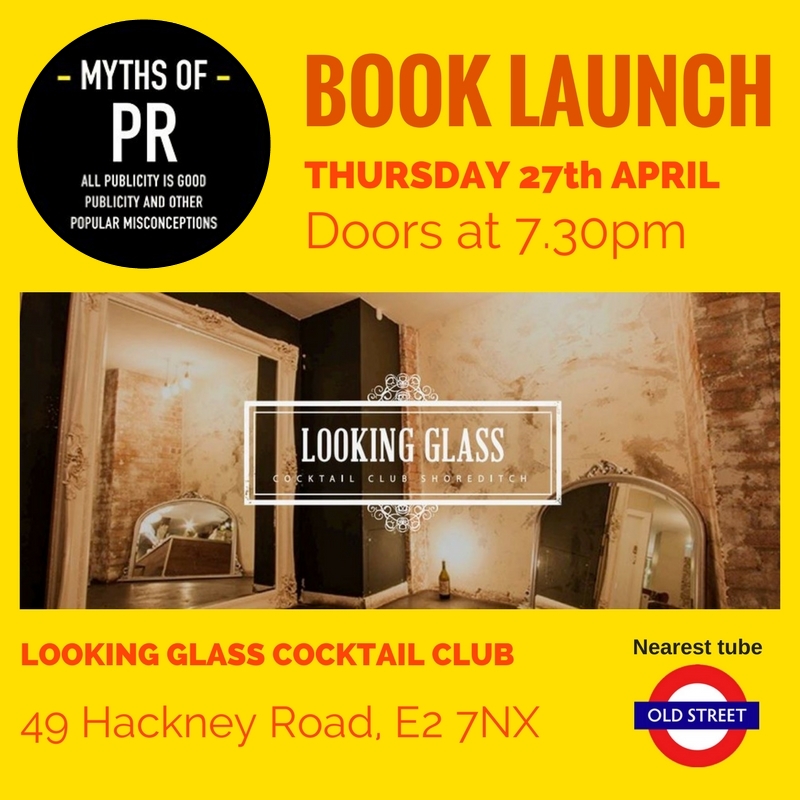 I'll have a few copies of the book knocking around if you'd like me to doodle something crass and phallic on the inside pages.
Huge thanks to Taygan at Design My Night (and Carl Palmer) for helping a yokel boy put an event like this together. If you're looking to put an event on somewhere cool, or are just wondering where to go for a quiet drink sometime, you can't go wrong with DMN.
Looking Glass Cocktail Club (pictures/more info here) is close to Old Street tube station.
If you have any questions, tweet me @RichLeighPR.
Organiser of Myths of PR - book launch
Listed in PR Week's 29 under 29 list and named one of 'the brightest young social media communicators' in the UK, Rich Leigh has a rich and varied PR background, having led award-winning campaigns and household name accounts at digital agency 10 Yetis and consumer agency Frank PR. He now runs Radioactive PR, working with brands big and small, as well as a range of personal PR clients. Rich Leigh created PRexamples.com, dedicated to the best in up-to-date PR stunts and campaigns.