Location
Faslane
Faslane
G84 8HW
United Kingdom
Description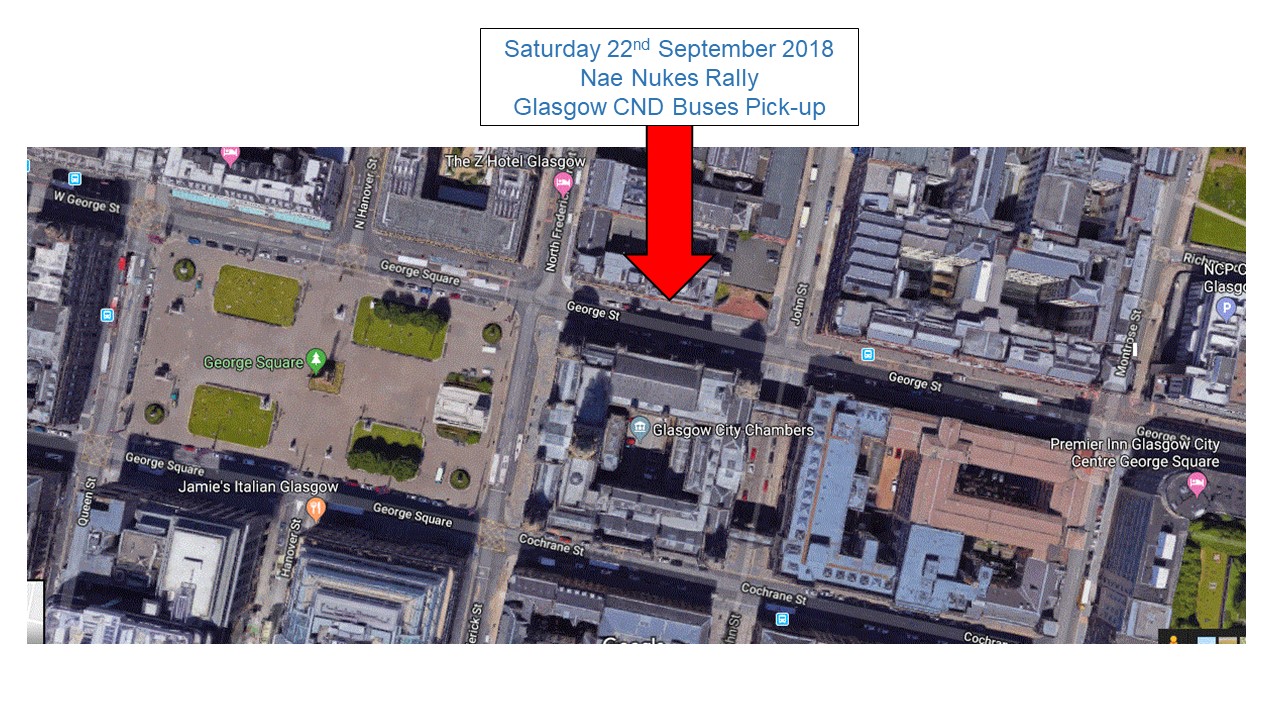 NAE NUKES ANYWHERE! – International Rally at Faslane 22nd September 2018
Marching from the Peace Camp to the North Gate of the base for the rally, a distance of around a mile.
It is proposed to leave from Bus Bays on George Street at the north side of the City Chambers (just off George Square, between North Frederick Street and John Street)), Glasgow at 10.30am sharp which will leave plenty of time for us to be dropped off at the Peace Camp by noon, the Rally is expected to last until approx 3.30pm when we will be picked up adjacent to the north gate and dropped back in Glasgow by approximately 4.30/4.45pm (Call 07937 169575 on the morning if you have any issues finding us)

The aim of the rally is to to highlight the strength of support from many UN member states for Scotland, a country hosting nuclear weapons against its wishes. Scotland is unique as a significant and relatively autonomous part of a nuclear-armed state which opposes its possession of weapons of mass destruction. As things stand we cannot become a party to the new UN Treaty for the Prohibition of Nuclear Weapons but there are lots of ways in which we can align ourselves to the Treaty. The September rally will be a fine opportunity to mark our determination to do so
The rally will feature speakers from many countries. We really need to make this a huge event to show the level of international support for Scotland's opposition to nukes and to present a clear challenge to the UK Government to sign the TPNW, enter negotiations and scrap their nuclear policies. We also need to re-assert our vision for Scotland as a land free of weapons of mass destruction and energetic in our support for their removal from the UK and the whole world.
We are organising coach/bus travel to Faslane for for Nae Nukes Anywhere rally on Saturday 2nd September 2018, Cost set to cover costs and allow concessionary travel for over 60s and disabled visitors. You should be able to provide proof of entitlement to concession on the day.
Refer also to event page: https://www.facebook.com/events/1790639821240340/
and http://www.nuclearban.scot/sep-rally/
and travel sharing discussion page hosted by Faslane Peace Camp:
https://www.facebook.com/events/406417883162380/
A convergence centre has also been arranged in Glasgow for people coming from other areas to attend the march - details: https://www.eventbrite.co.uk/e/nae-nukes-anywhere-march-and-rally-22nd-september-2018-overnight-accommodation-in-glasgow-tickets-47678418433
Should the pre-reserved buses fill up we will potentially be able to book additional transport so please join the wait list should no tickets show as available, you will then be contacted if further spaces become available.