Description

Whether we know it or not we are all sales people! Especially when running your own business.
Stats show that 44% of people give up after one follow-up, yet 80% of sales require five follow-ups. Persistence is key and understanding our customer base and their buying patterns.
Were please to be joined by Tim Hillier of SBR consulting sharing his expertise on how to Nail that Sale!
What we'll cover;
Critical Success factors – Why failure is acceptable. Drill down into understanding stats, how these relate to the sales process and linking to ratios. Recognise the importance of focusing on the process rather than the results.
Buying Cycle – Realisation of the importance of the buying cycle, and the stages a customer gores through, with the result of having a better understanding of how to deal with the client.
Emotional Resilience – Gain an understanding of the self-confidence cycle and how to harness self-talk to be a high performer
Sales Methodology / QUIS – Introduction to SBR sales methodology.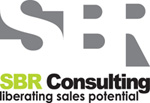 Tim's passion for sales started during a University undergraduate role as a B2B Telemarketing consultant before working his way up to a Team Leader. He has extensive sales experience, at all levels, following a career progression from account manager, to senior sales consultant and sales manager. During these roles he continuously exceeded targets, with his work being rewarded with increasing levels of responsibility.
Tim then went to work in B2B telecommunications sales, starting as a Customer Account Manager before moving up to a Channel Account Manager. After his direct sales role, he went on to spend a number of years managing a team of Account Managers, directly responsible for their performance and development alongside assisting with and coaching to secure the most lucrative opportunities. Tim specialises in transferring this sales and leadership success, working with teams and individuals to elevate sales results through habitual change.
FAQs
What can I bring into the event?
Pen & paper to make notes, plenty of business cards as there will be opportunities to network
How can I contact the organiser with any questions?
For any enquiries please contact Vicky Stevens on Victoris.stevens@natwest.com