Masterclass to help you achieve your career goals, return to work successfully and with confidence after maternity leave.
About this event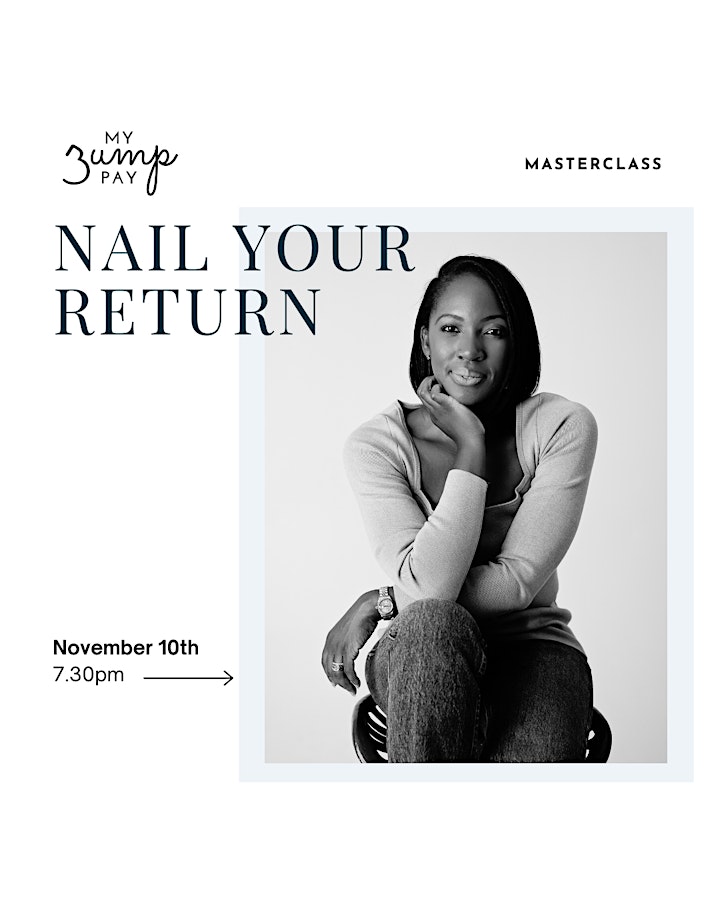 The return to work after a baby can be daunting, and many of us worry about having it all and if we can still have a strong career with children.
I've been so privileged to help so many women successfully navigate this journey. A number of real life success stories have gone into building these resources and they have been shaped by the several conversations I've had with incredibly successful women who have achieved great success on their journey to motherhood.
I have created a live masterclass that will help you to smash the glass ceiling when returning from maternity leave and to do it with confidence.
Think of it as a postnatal class for your career. It goes much deeper than the standard, one size fits all information that is typically offered by HR departments.
This Masterclass gives you all the tools to impress on your return, make a lasting impression and balance your family demands. setting you up with the foundations for a strong and smooth return.
This is perfect for any ambitious woman looking to secure a promotion, advancement or demonstrate performance on their return to the workplace.
There are limited spaces and early bird tickets are available until November 4th.
With this Masterclass you will:
Understand how to set yourself up for an impressive, confident and smooth return to work
Learn the tools to build the confidence you need and help to manage the mum guilt
Master the art of negotiating what works for the business and your family
Learn the tips and tricks and to help you focus now that you have multiple responsibilities
Grasp how to get ahead and achieve your goals after your return
Know the key considerations around childcare and your finances
The opportunity to ask questions in a live Q&A session
You will also receive:
Roles, responsibilities and achievements planner to help you proactively manage the role you return to and document your performance achievements towards your career advancement.
This planner will help you to: 
Manage your role on your return to help you focus on the tasks that add value and really nail them (helping to balance your workload and get ahead)
Record your achievements to support your case for advancement
Position yourself well and evidence your accomplishments for any promotion rounds after your return
Negotiate key elements of the role that you will be returning to
Access to cloud based online productivity tool that can be used to help you focus and complete key tasks at work and at home
You'll also have free access to my closed group (only people who've taken a masterclass or bought a guide have access), where you can network with other ambitious women and get exclusive tips and advice and news of career opportunities.
Is this for me ?
This is for you if you are about to return to work
This is for you if you have recently returned and are struggling to find your way
This is for you If you are motivated to make an impact on your return to work 
This is for you you if you need help with tools to build your confidence 
This is for you if you want to hit the ground running in terms of going after your career goals after a baby
Date and time
Location
Refund policy