Join us for an inspirational session with Serwa Smith, Associate Director in Financial Services, career coach and speaker
About this event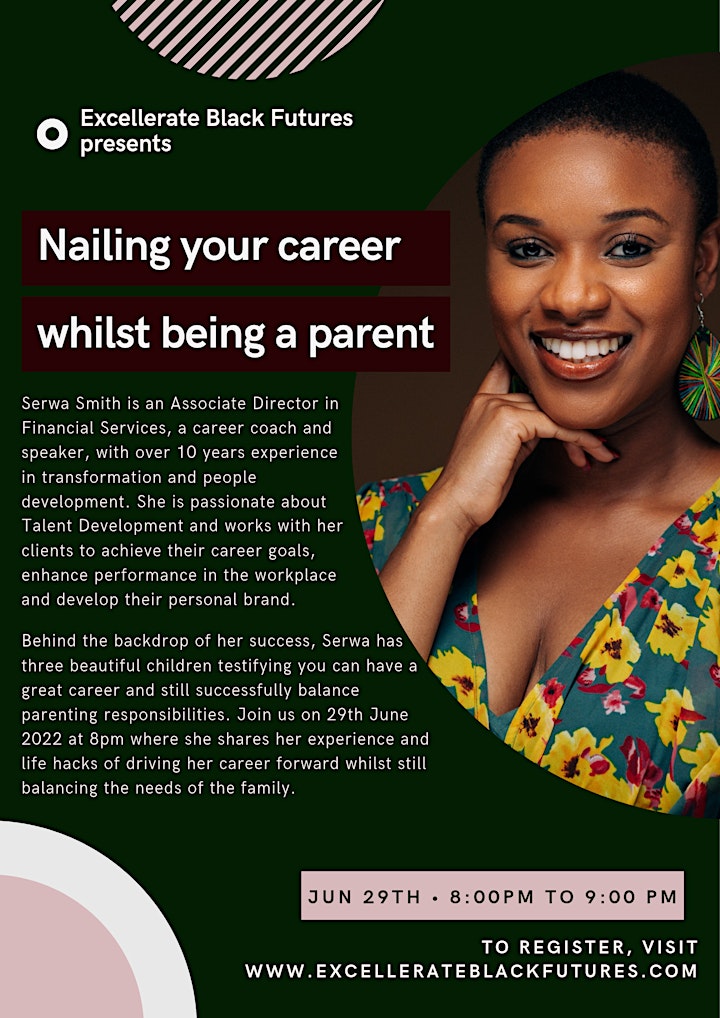 Excellerate Black Futures is pleased to invite you to our Inspirational session with Serwa Smith, Associate Director in Financial Services, career coach and speaker. Within the session Serwa will share her experience and life hacks of driving her career forward whilst still balancing the needs of her family.
This session is designed to be informative, leaving you feeling inspired to take bold steps in your aspirations. There will be opportunities for Q&A, and joining details will be emailed upon registration.
About Serwa Smith
Serwa Smith is an Associate Director in Financial Services, a career coach and speaker, with over 10 years experience in transformation and people development. She is passionate about Talent Development and works with her clients to achieve their career goals, enhance performance in the workplace and develop their personal brand. Behind the backdrop of her success, Serwa has three beautiful children testifying you can have a great career and still successfully balance parenting responsibilities.
About Excellerate Black Futures
At Excellerate Black Futures, we are passionate about helping black talent to succeed. With several years of joint experience in HR and professional backgrounds including Talent Acquisition, Learning, Leadership and Talent, we educate young professionals, entrepreneurs, students and graduates, helping them to excel and accelerate their careers through our six week talent programme and our monthly events. Click here for more information and to join our online family where you'll be the first to hear about upcoming events and opportunities.